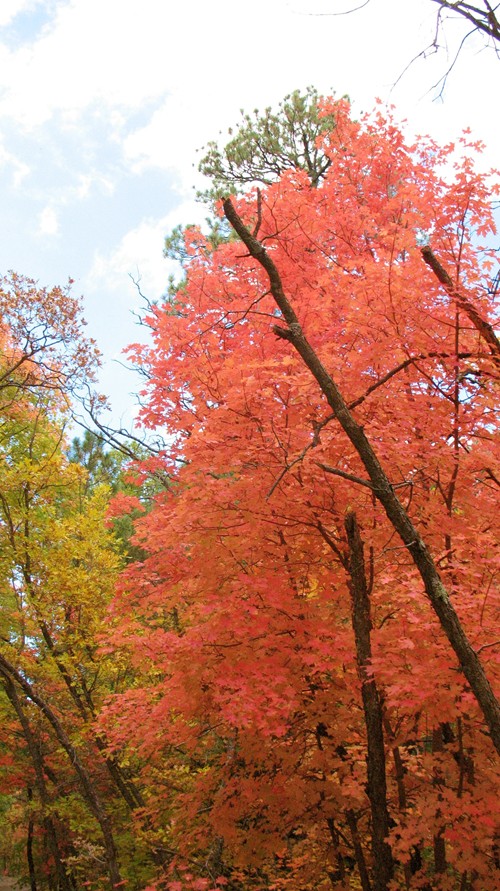 I don't know why we haven't done this before, since the place is so close, but today we went to Fourth of July Canyon to see the autumn maples.
New Mexico mountains were covered with maples during the last Ice Age, but as the continent warmed, the maples were gradually replaced with the pine and aspen that we see now.  There are no more maples in New Mexico, except for one canyon where the microclimate remains ideal.
The first of October is usually the time when you'll want to go, but this year's summer was so hot and so persistent that when we visited ten days ago, the maples had only started to turn.  Now many of the maples are blazing, though the majority of them are still green.  Go now if you're going, because after the first frost, all the leaves are going to turn brown and drop.
So I hiked up and down for over an hour, taking a great many pictures, but it turns out that the best views are within five minutes of the camp site.  It's an ideal setup for lazy people!
Nearby is the old Spanish village of Manzano, which gave its name to the entire mountain range near which it sits.  (Manzano is Spanish for "apple.")  When the first Spanish settlers came into the area, they settled near an old apple orchard, and named the village after it.
But the apple is an Old World fruit.   Who was in the New Mexico mountains planting an apple orchard many scores of years before the first Spanish arrived?
Juanito Appleseed, perhaps?