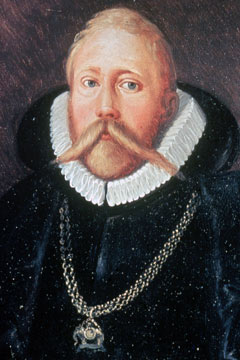 A few years ago I made an effort to visit the crypt of pioneering Danish astronomer Tycho Brahe, which is located in a moderately obscure Prague church called Our Lady Before Tyn.  Tycho's meticulous astronomical observations, all with equipment he designed and built himself, were so good that his Rudolphine Tablets were used well into the 20th century.
Tycho was also a swashbuckler who lost part of his nose in a duel and who possibly left Denmark for Prague because he'd had an affaire with the king's mother.
His death at the age of 54 has also been something of a mystery.  According to his assistant Johannes Kepler, he was paying court on the Emperor Rudolf, and because court etiquette forbade him to go to the toilet, subsequently died of a burst bladder.  Kidney stones and uremia have also been mentioned as suspects.
He was exhumed once before, in 1901, and his mustache and hair clippings were found to contain mercury.  So possibly he died of mercury poisoning, either through exposure in various scientific experiments, or because anyone from Kepler to the Danish king might have wanted to bump him off.
But now he's in the process of being exhumed again, largely to determine his cause of death.   Heavy metal, or burst bladder?  Now we'll know for sure!
But the attempt to solve this mystery has unearthed another— Tycho's wife is missing!  She was supposedly buried in the same crypt as her husband, but neither of the other two bodies in the crypt seem to be her.
Perhaps she is undead and walking, walking, walking . . . until the mystery of her husband's death is solved!