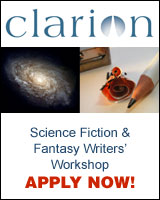 The six-week Clarion writers' workshop is now accepting applications for 2011.
It's a six-week workshop for writers of science fiction and fantasy, featuring six writer-instructors.
It's harrowing, merciless, brutal, and life-changing.  Fifty percent of the graduates eventually stagger on to some kind of career in the field.
Check it out.