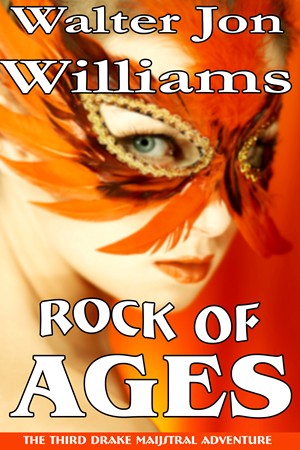 Okay, kiddies, the ebook versions of the Maijstral books are online!
(For some reason the middle book, House of Shards, is held up "for review" at Amazon, and has been for days now.   Which to me indicates some kind of problem with the machinery, and I'm trying to find an actual human being to find out what's wrong.)
All my Nook editions— which does include House of Shards— may be found on one page.
Smashwords has The Crown Jewels, and will have the others shortly.  All will migrate to other platforms like the Sony Reader and iBooks in the next week, assuming the automated machinery at Smashwords knows what it's talking about.
The Crown Jewels, the first book in the series, is on sale at a Special Introductory Offer of $0.99.  That's ninety-nine cents!   The others are priced at a modest $4.99.
The books are also available on Amazon.UK and Amazon.de.
If you're going to read in .epub format (used collectively by Nook, iBooks, the Sony Reader, and others), I'd recommend getting your copy at the Nook store.  I labored over that particular file in order to correct mistakes and formatting errors.  I couldn't fix all of them, but it's very clean, if I say so myself.
The .epub versions promulgated by Smashwords, while perfectly readable, were created by a machine, and pretty much look like it.  For some reason they won't let me upload the prettier version I worked on myself.
And, for what it's worth, I found a buncha my books on the Android Market!
Enjoy!  (While I go staggering off to work on the next book . . . )