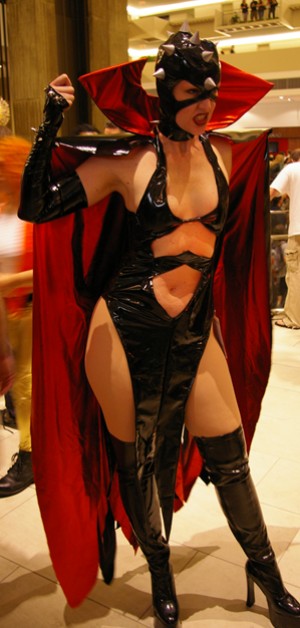 (Dragon*Con sort of wants the asterisk to be there, and I sort of don't.  So I'll put it in the first sentence and the title, and you can take it as read from this point onward.  Right?)
Typographical issues aside, My Horrible Month of Travel is now over.   During the last thirtysome days I've got to spend eight whole nights at home, and the rest on the road.  Though I had a good time wherever I went, I'm not about to do anything like this again.  (Not unless people offer to hand me great fistfuls of cash at every stop.  Then I might reconsider.)
I ended my travels at the biggest event.   To put things in perspective, the World Science Fiction Convention is lucky to draw 5000 people nowadays.  Dragoncon's attendance may well have been over 50,000.
Not that these good people were there to see me.  Or for that matter any but the biggest writers, like maybe Charlaine Harris.  For the most part they were there to see William Shatner, or Stan Lee, or Nana Visitor, or Julie Benz, or various Doctors Who, or maybe even Ernest Borgnine (of whom more anon).  I heard that Elvira was there, which raises the possibility that the woman I saw in the Elvira costume was, in fact, Elvira herself.
The fans line up for hours to see these folks.  They pay rather startling sums for their autographs.  (I give autographs for free, by the way.  That's how you're supposed to do it.)
There are serious fans who attend the programming on the literary track.  My Dragoncon panels tend to be about as well attended as my Worldcon panels, which suggests that the fans of literary fiction at Dragoncon tend to be about the same number as those who attend Worldcon.
And of course there are the costumes.  Wandering thr0ugh Dragoncon is like wandering through some Lewis Carroll world in which anyone can turn up dressed as, well, anything— I have a picture of Elvis taking a picture of a statuesque woman dressed as Gene Simmons from Kiss.  There are so many costumes that the actual costume contest seems redundant.  There are so many costumes that the Saturday morning parade on Peachtree Street, where everyone marches in their finery, runs for over an hour.
This was a convention in which people went out of their way to be kind to me.  Steve and Jan Stirling took me to dinner at the Ritz-Carlton.  The fan Scott Bobo took me to the Ritz-Carlton for lunch.  Fans Quinn and Rikk, who I haven't seen since 1998, nevertheless took me for a fine Turkish dinner at Truva, a restaurant painted with enormous evil-eye amulets.  (I ate several meals at Truva, all good.  I was feeling very nostalgic about Turkey.)
Bill Fawcett, brandishing his Uber-Director ribbon, got me backstage for a live concert of Jefferson Starship performing "Blows Against the Empire."  The sound quality backstage was really awful, but that was okay.  Jefferson Airplane/Starship/Whatever was one of those bands that, for me, made the Seventies what they were.   (I didn't meet any of the band members, though, so I never found out whether Paul Kantner's read any of my novels.  Once the concert was over, the performers dashed for cover at about half the speed of light.)
I couldn't bring myself to stand in line for ages to see the media celebrities, so I didn't.  Nor did I see any of the A-List people in the guest suite, which seemed to be the party of last resort for writers, artists, and lecturers on the science program.  (Which was good, by the way, and very well attended.)
Just for the hell of it I stood in line for Ernest Borgnine, but only because I didn't think there would be a line.  I mean, you got your Sean Patrick Flannery and your Wil Wheaton, who's going to see Borgnine?
Lots of people, as it turns out.  Deeply bemused, I stood in line for half an hour, then waited half an hour for every seat in the auditorium to fill.  Standing room only, for the star of Marty.  Eat your heart out, Katee Sackhoff.
Borgnine's 94 now.  His mind is sharp and he's full of anecdotes, which he tries to make as polite as possible.  He forgets names, but then so do I.
I asked him how he prepared for Marty after Rod Steiger had such a success with the part on television.  "I never saw the Rod Steiger version," he said.  "Why would I?"
Why, indeed.
The convention eventually drizzled out— drizzled literally, with Tropical Storm Lee invading Atlanta airspace and providing a fine light mist that went on for about 24 hours until I got on my Delta 757 and flew home.
So did I convince any of those 50,000 fans to go out and buy my books?  Maybe a few.
Though I was a guest of the convention and a VIP and all that, I never ended up on the web page list of writer guests, so the book dealers didn't know to bring my stuff.  (Didn't find this out till I got there.)  The literary programming people seemed not to know what to do with me, so I wasn't on any literary programming.  Instead I did a couple of alternate history panels (Vikings, English Regency), as alternate history is run by a different bureaucracy.  And I did a panel of Star Wars writers, because I wrote a Star Wars book ten years ago.  (The enthusiasm of the fans was terrific, but I'm not sure if I sold any books to anyone.)
I'll check my stats in the next week to see if there's an uptick in sales, but I'm pretty sure that my three hours of fame didn't make much of a dent in those 50,000 attendees.
I heard from more experienced writers how to game the system and get on more suitable panels,  but I was a relative newcomer and I didn't know till it was too late.
So though I had a very pleasant time, I'm not sure the con was worth the effort in strictly professional terms.
But still I had a chance to connect with 50,000 potential fans, even though it seems I didn't.  And there's always next time, I suppose.