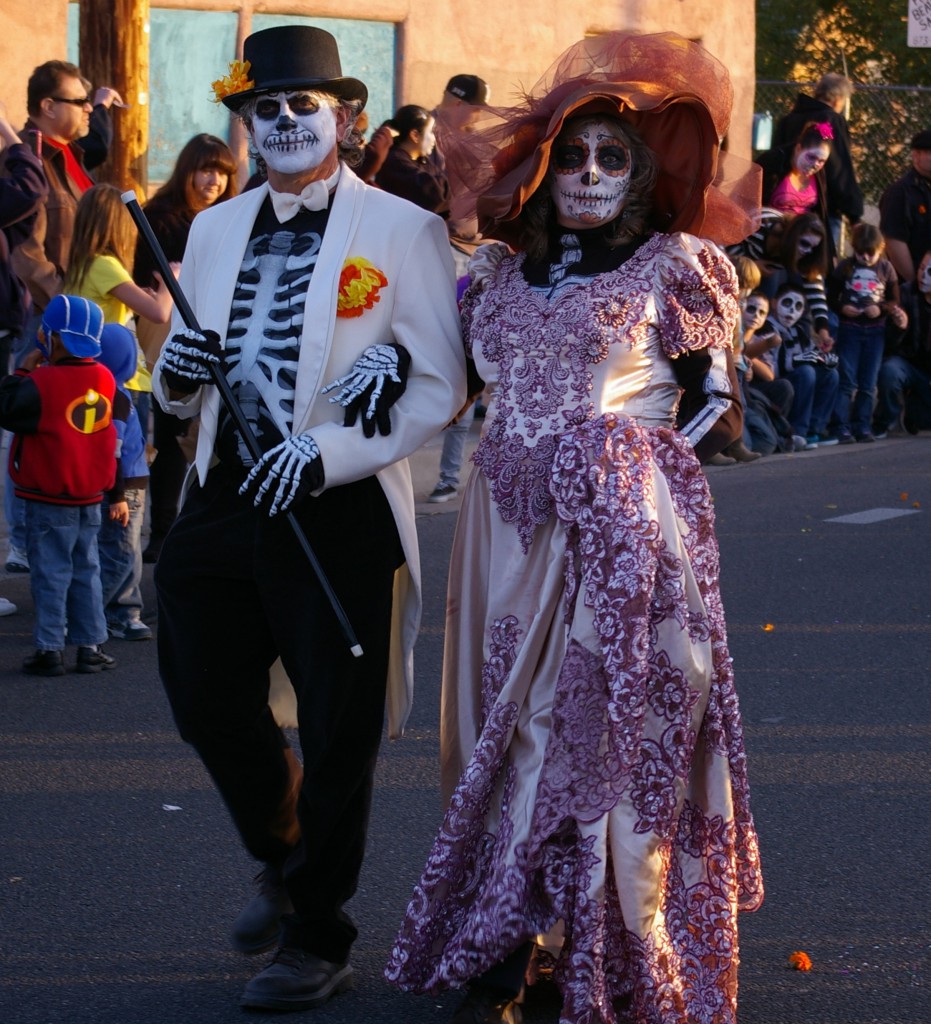 The weekend featured Albuquerque's annual Day of the Dead Parade— though, since it took place several days after the actual Day of the Dead, it was called the Marigold Parade (marigolds, for those of you not into the worship of Mictecacihuatl, are believed to attract spirits).
The local community center was full of ofrendas, improvised altars to one thing or another, often deceased family members.  There was one altar dedicated to Amy Winehouse, who was featured along with Ms. Winehouse's own tutelary deities, Sarah Vaughn and Billie Holiday.  Another was dedicated to the 11 murdered women who were found dead on Albuquerque's West Mesa a few years ago, the presumed victim of a serial killer.
Nor was the parade itself all marigolds and sugar skulls.  Various forms of popular protest were seen: folks carrying a coffin and shouting the names of the unusually large number of people shot by the APD in the last couple years; others protesting environmental destruction; and a bunch of skeletons walking behind a guillotine, handing out dollar bills on which was written, "KILL THE 1%!"  (Now this is getting serious, I thought to myself.)
But most of the folks were out to have a good time.   There were bands, there were mid-school kids representing their schools, there were a lot of vintage cars covered in marigolds.  There was street food (though not nearly enough, in this writer's opinion).  There were lots of cute little kids chasing the candy being thrown by the paraders.
It's about as native and traditional here as, say, Burning Man, and I doubt that very many folks in the crowd could have pronounced Mictecacihuatl, but I don't care.  It's parading popular art, it's a whole neighborhood strutting its stuff, and everyone had a fine old Azteca good time.