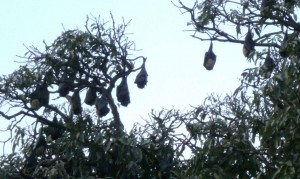 I landed in Cairns in the middle of a heat wave, with temperatures of 38 degrees Celsius.  Which, for those of you on Fahrenheit, is well past the temperature at which Walter melts.
So instead of venturing forth for adventure, I've been hiding in my hotel room, where there's air conditioning, and only leaving for meals.  Hungrily wandering around Cairns, I found it a rather unimpressive tourist town, and then I noticed the vast swarm of large bats flying past.  So that was something I hadn't seen before.
I'll be leaving tomorrow for a week on a dive boat, with no internet.  So you'll have to entertain yourselves for a while.
There's always Youtube.