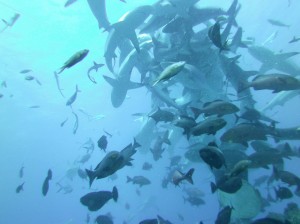 I'm off the dive boat, and back in the rather discouraging town of Cairns.  During the last week I've racked up 25 dives in the Coral Sea and on the Great Barrier Reef, both of which were full of Teh Awesome.
I haven't got my land legs back, so when I walk around, the earth heaves and sways beneath my feet.
I'm flying home tomorrow, which is Friday, and because of the date line, Friday will go on for 48 hours, 30 of which I will be spending in airplanes and airports.
I'll check in when I get home.  But in the meantime, enjoy this photo of an actual shark frenzy.