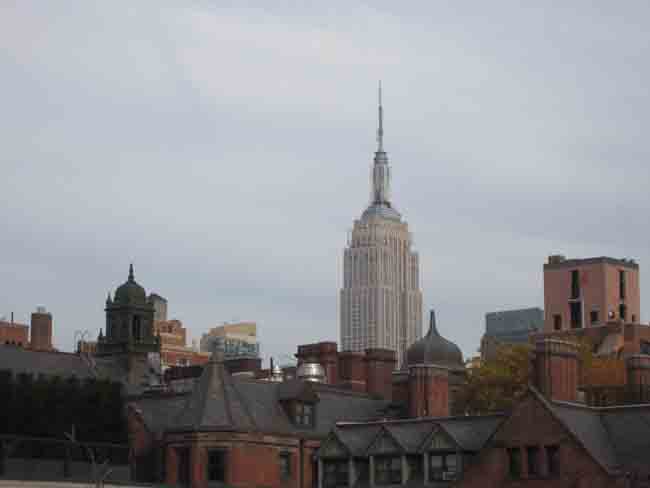 I'm off on a trip to an Undisclosed Location.  And as I have in the past, I've inserted a clue as to my present location in the above photograph.  The clever among you may be able to work out where I am.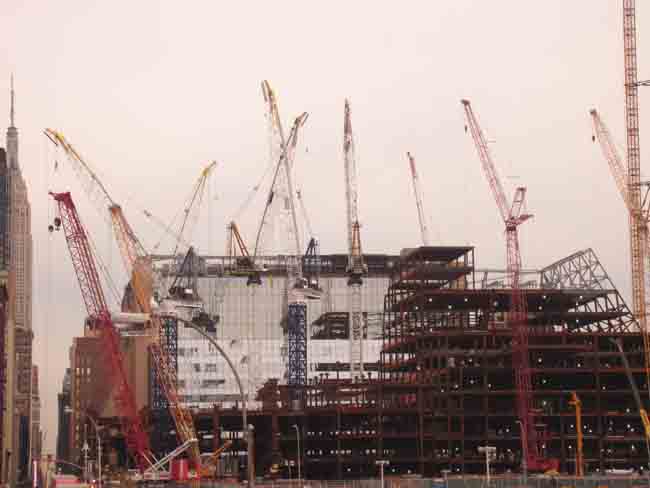 As you can see from this second photograph, business is booming here in the Undisclosed Location.  Any economic downturn that may or may not have been caused by the shenanigans of people living in this vicinity seems to be pretty much over (at least in this vicinity).
Today we visited a newly-built museum here in the Undisclosed Location, code-named the "Whitney," and now the artistic center of the charmingly-named Meat Packing District.  It's a big glass multileveled structure, rather aggressively unattractive on the outside, but very well organized and modular on the inside.  The collection features American art from roughly 1910 to the present, which covers a lot of ground.
So O'Keefe, Calder, Hopper, Marsh, Oldenburg, de Kooning, Man Ray, Pollock, etc.  I saw Calder's famous flea circus, which I'd heard about for years.  There was one Pollock, but it was a mighty one.  Socked me right in the face.  (Pollock is one of those artists that doesn't reproduce well, and so you have to see the paintings close up, and once you do there's a huge gap between Pollock and other artists doing Pollock-type things.)  (I may just be a sucker for Pollock anyway— the first I ever saw was in the National Gallery, and I just had to sit looking at it for 20 minutes while my friends tried to drag me away.)
There was a special exhibition on the black American artist Archibald Motley, who started out as a formally-educated portrait painter in the European tradition, then began to find his own style as he began to observe black and jazz culture.  Many of his paintings dealt with the variation in skin tones seen among African-American peoples, and others depicted uncomfortable stereotypes, though with a knowing, sometimes winking, eye.  Black people would see these pictures differently from whites, and that was Motley's intention.
And then there was a whole floor devoted to Frank Stella, demonstrating his considerable evolution as an artist.  He made a big landing in the 1950s with Abstract Expressionism, but got tired of it and broke the mold in interesting ways.  In the 1960s there was a lot of critical theory about how the illusion of three dimensions in art was some kind of cheap stunt, that paintings should look as flat as the canvas they were painted on.
Which Stella's did, till he literally began to break out.  Early works in this new series looked sort of like canvases cut up and remounted on armatures, but as Stella got more comfortable in the third dimension, the works began to look more as if they belonged there.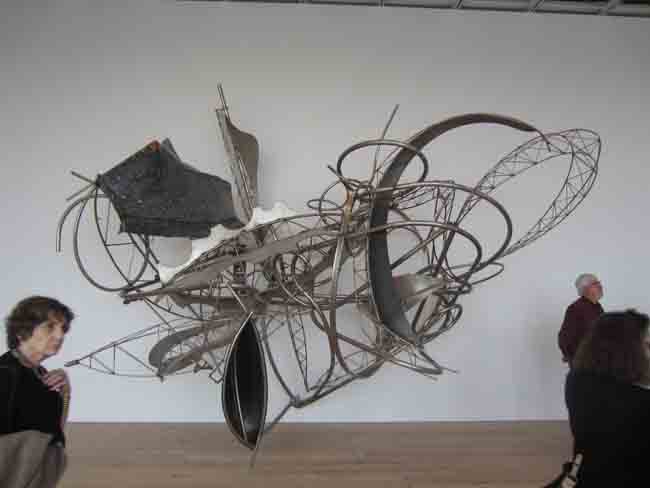 "Are these paintings?" asked one flabbergasted theorist.
"These are in fact paintings," he said.
These structures got into my head in interesting ways, and suddenly I wanted to take up graphic art.  Which, I should point out, I've never done.  Still, you know, when the muse starts yammering at you, etc…
I'm interested in successful creative people who manage to break out of the mold the public sticks them in, and kudos to Stella for basically telling his public to fuck off, and then doing what he wanted to do, and then succeeding.  (Pollock tried to break out of his mold, and failed drastically.)
After the museum there was a long walk along the urban landscaping project code-named High Line, which I'm guessing is the world's largest (if not only) elevated public park.  The autumn trees were at their height, the views featured Meat Packeries, old tenements, refurbished warehouses, and giant glittering postmodernist icicles.  Well worth the stroll.
And then, because we're staying near Murray Hill with what seems to be the largest collection of Indian restaurants in the world, we walked thence for a fine feast.
(Last night we had Jewish-Indian fare, developed apparently by the Jewish community in Kolkata.  Which who knew?)