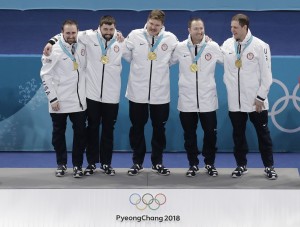 So John Shuster and his buddies went on to win gold in the Greatest Ever Winter Sport, which is to say curling.
The US has never won gold in curling before, but taking 5 points in a single end pretty well speaks for itself.
On the other hand, Canada has never lost a medal in curling before.   This is deeply strange, but then the Strange Winds have been blowing for a while.
And incidentally, all of these guys live within about 50 miles of my birthplace.  Go, Team Minnesota!
In addition to Greater Duluth coining the curling gold, Minnesota put seven women on the gold-winning hockey team, plus Lindsay Vonn who won bronze on the downhill, Jessie Diggins who helped the team win gold in cross-country skiing (another first for the US), and the little village of Warroad has put eight hockey players on Olympic teams since 1960, all but one of which won gold.
I feel like celebrating, so here's Gjallarhorn doing some awesome Ostrobothnian soul music.