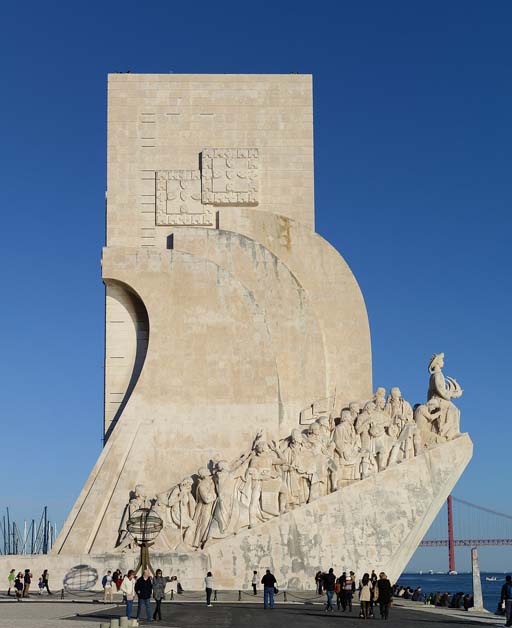 So we skipped across the border to spend a couple nights in Lisbon (because why wouldn't you?). I hadn't met anyone who spent time in Portugal who hadn't loved it, and though we only spend a couple night there, I quite took their point. Beauty, history, kindness, and Fate. Plus great food and night life. What's not to love?
Above we see the Monument of the Discoveries (Padrão dos Descobrimentos), a monument on the Tagus waterfront commemorating the Portuguese Age of Exploration, with Prince Henry the Navigator standing at the stylised prow of the stone-and-concrete caravel, flanked by 31 men and one woman who participated in, or at least encouraged, the great voyages of the period. The one woman is Philippa of Lancaster (third from the left), daughter of John of Gaunt, who married the Portuguese king John I and gave birth to Henry. In addition to birthing Henry, Philippa gave birth to a political-military treaty between England and Portugal that lasted into the 20th century.
One night we set out to the Casa de Fado for a concert. This was a very traditional Fado joint, where we sat at trestle tables, were given a glass of port as an aperitif, followed by a large and very tasty set-piece meal accompanied by several oceans of wine. The stage was tiny and the setting very intimate.
When the first performer came out, I began to experience a slow-motion revelation that began with the realisation that I had dreamt of this music long before I'd ever heard it. In fact I thought I'd invented it.
In my Praxis books, Caroline Sula is a devotee of a highly-stylised musical form called derivoo, in which a single human woman, with a small number of accompanists, sings about tragic encounters with Fate.
Which is more or less what I heard that night. The singers— not all female— were accompanied by a simple, traditional three-piece group of Spanish guitar, Portuguese 12-string guitar, and bass guitar. Though I knew nothing of the language, the singers managed to convey passion, longing, sadness, defiance, and resignation, and I watched entranced through the whole show.
Fado, which means "Fate," is Portuguese soul music, and I seem to have more than a soupçon of Portuguese soul. Who knew?
I invented derivoo because I needed something that would reflect Sula's nihilistic take on reality, and I did it without realising that the thing already sort of existed. Derivoo is more stylised than Fado, and with a more limited subject matter, but the two are alike in power and passion.
I've linked here to a series of Fado videos, most of which are professional music videos that don't convey the intimacy that I witnessed in live performance, but they might give you some idea.
Anyway, I entered the Casa de Fado as a tourist, and left a devoted, if still largely ignorant, fan. Thank you, Lisbon, for the unexpected gift.