Last night we had some friends over for dinner, and I made the black roux gumbo of Chef Francoise Auclaire le Vison, along with a heart-of-palm salad dressed with remoulade sauce. The meal was made more delightful with the appearance of some custom cocktails created by our friend Terry Boren, who has spent the pandemic becoming quite the expert mixologist. More flattering was her naming these creations after characters in my Praxis books, the Blue Gredel and the Lady Sula. (There is already a classic cocktail called the Martinez.)
For the Blue Gredel, start with 2 oz of gin, either Empress or any gin colored with B'lure Flower Extract. In a separate glass, muddle some basil leaf, then add 3/4 oz of limoncello mixed with lemon juice, after which add 2 dashes orange bitters.
Add the limoncello mixture to the gin, and watch Gredel transform into . . . someone else! Someone born to the purple!
You get extra points, if (as befits the character) you add the limoncello mixture with a baby hypodermic.
Here's Terry with a true masterpiece, the Lady Sula.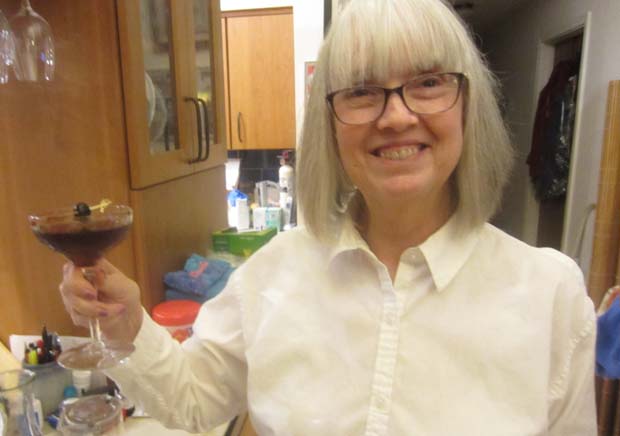 Rim a coupe with Luxardo cherry juice. To an ice-filled shaker, add 2 oz rye whiskey, then add 1/2 oz each Averna, cold press coffee, and dry sherry, then add 1-2 drops black walnut bitters. Stir, then strain into the coupe and add a Luxardo cherry. Cheers!
The black walnut bitters really make that drink, honestly!
I totally encourage people to name cocktails after my fictional characters. Who's next?