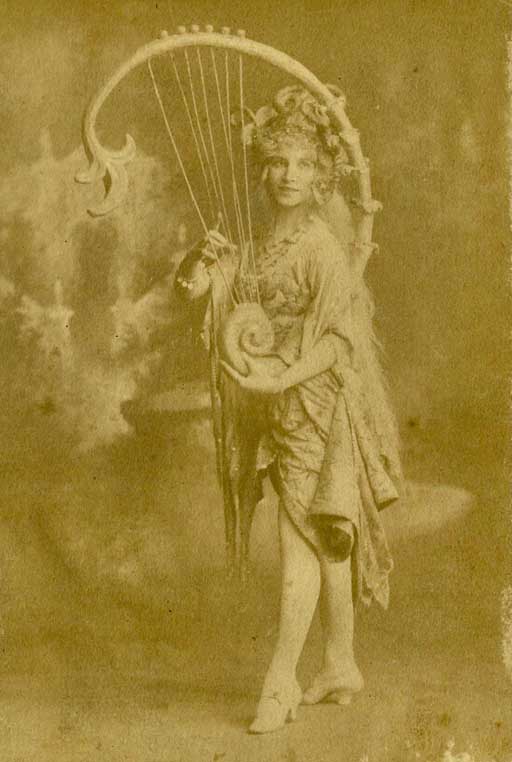 We have Mom's Day this coming Sunday. I don't know if there's a Grandma's Day anywhere in the calendar, but after looking through some of Kathy's old family photos the other day, I thought this might be an opportune time to celebrate her grandmother Estelle Fenn, who sometimes used the stage name Estelle Dupres.
She appeared regularly at the New York Hippodrome, which claimed to be the largest theater in the world— so large that it had its own troupe of performing elephants. People writing for the Hippodrome had their work cut out for them, since whatever action took place on stage had to involve those elephants sooner or later. (Houdini made one of the elephants disappear in a trick that still baffles magicians today. The elephant's name was Jenny.)
There was also a troupe of horses. The cavalry regularly rode to the rescue across the Hippodrome's enormous stage.
Here's Estelle costumed as a mermaid for a spectacle starring swimming and diving star Annette Kellerman, who not only invented the one-piece bathing suit but was played by Esther Williams in the biopic Million-Dollar Mermaid. The Hippodrome had an enormous water tank (because of course it did) which would be lifted by hydraulics onto the stage.
One story has come down to the present day. In one of the Hippodrome's watery spectacles, the chorus of mermaids and/or other aquatic creatures dived into the tank, and then didn't come up. Minutes passed while the orchestra played away and the audience wondered whether all the mermaids had drowned. After a lengthy period of suspense, the mermaid all rose to the surface and took their bows.
The tank held concealed diving bells, where the mermaids could rest and breathe.
Kathy discovered a large number of photos of her grandmother in various costumes that hint at the exotic goings-on at the Hippodrome. I may post some later in the week.
And the stack of photos had a few surprises. I was paging through them and asked Kathy, "Was your dad ever in the service?"
"No. He spent the war in London setting up what became the Voice of America." (He was a radio engineer.)
"Well here are several pictures of him dressed like a sailor. And in this one he appears to be on a warship."
"Huh! A surprise to me!"
I'm guessing he was in the Navy in peacetime, before the war, maybe installing radios on ships.
Probably there are more discoveries to come.