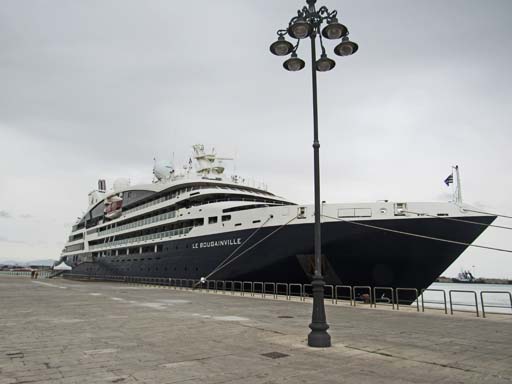 So there came the morning when Kathy tested positive for COVID, followed by a frantic hour that resulted in our separation for nearly two weeks. I went off on the trip without her, and she was condemned to days and days of coughing, confinement, and hotel food.
My digs were rather more posh, and the food more varied. I was croggled when I first saw Le Bougainville, because I expected a much smaller boat, only a bit larger than the Callisto that took us into the Aegean last year. I'd been misled by a list naming the others on the AIA trip, which had only about 35 people on it. But it turned out that there were other groups aboard, all of which would be joining us on our shore excursions. Bougainville has enough room for nearly 200 passengers sleeping two to a cabin, and has a crew/staff of 100. I would be moving in a crowd of people shuttling between destinations in three buses. This meant a lot of time was taken up with loading, unloading, and sorting people generally. I was ill-sorted for all this sortation.
There was an awful lot of rigamarole to board that involved clearing customs, going through metal detectors, and standing in long lines, none of which tasks I excel at. Plus I was wearing a brace on my injured knee, a brace supported by steel springs, so whenever I was around metal detectors I was accompanied by bleeps, bloops, and people in uniforms and blue rubber gloves patting down some of my more sensitive areas.
Cue the Brian Blessed voice shouting, "MY SOFT ENTRANCES HAVE BEEN VIOLATED!"
I had expected an intimate trip, but not this intimate.
Bougainville turned out to be more or less a cruise ship, a category of vessel at which I also do not excel. It had pretty much what you'd expect on a cruise ship: a large restaurant serving large meals, another open-air restaurant on the fantail, a bar, a theater, a "panoramic lounge," a "wellness center," live entertainment, and an infinity pool (very small, I may have been the only person to have used it). The only thing that was missing was a casino.
There was a gift shop, but the person running it had jumped ship, so it was locked for the whole trip. Darn! No bling for me!
But Le Bougainville was designed as an "expedition ship," doing more adventurous things than can be found on your Disney cruise. It was a scaled-down cruise ship with everything made smaller and more efficient, and with the ability to pop in and out of small harbors instead of anchoring offshore and ferrying people in shuttle boats.
I found myself enjoying the entertainment: there was a classical violinist, a classical piano player, and a French boogie-woogie bluesy piano player who sang while doing some kind of accent. (I was wondering if it was supposed to be American Southern, but it never became clear.)
There was also karaoke. One person on board could sing. The others were . . . enthusiastic.
And there was a dance troupe— four women, three dancers and a singer. Given the small number of troupers and the limited facilities, they did an impressive job. They had imaginative routines based on Greek mythology and a spectacle inspired by Leonardo da Vinci— not the sort of thing you'd see in Vegas.
Bougainville is a part of the French Ponant fleet, a whole line of adventure cruisers. As a sometime naval historian I knew that the Flotte du Ponant in the 18th Century was the name for the French war fleet based in the Atlantic, as opposed to the Levant Fleet in Toulon. ("Ponant" means "west," as in the cardinal direction.)
I've never been on any kind of boat where tons of food were not available, and a French ship meant a French chef, so that was a plus. Breakfast was a buffet, though you could also order omelettes and benedicts and such from the kitchen. Lunches and dinners were six courses from starters to dessert, and I learned to order only two or three of what was on offer. Wine and spirits were free, but if you wanted premium booze you had to pay for a subscription— so no single malt for me.
I grew quite fond of Bougainville by the end of the trip. They'd won me over, but I still didn't like being in a large, inefficient crowd. Back on Callisto I would have seen twice as much.