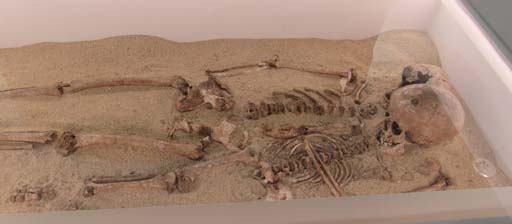 From the National Museum in Reggio Calabria, a rare double burial dating from either the Paleolithic or Mesolithic, or maybe the boundary between the two.
The two were buried in a cave. The man's left arm is around the woman's shoulders, and the woman rests her head on the man's shoulder. I can imagine the two were in love.
Details were lacking, such as how old the couple were when they died and whether they died at the same time, or a later burial was added to the first.
Still, it's a nice reminder that the Stone Age wasn't all brutality and strife, but left room for affection and partnership.