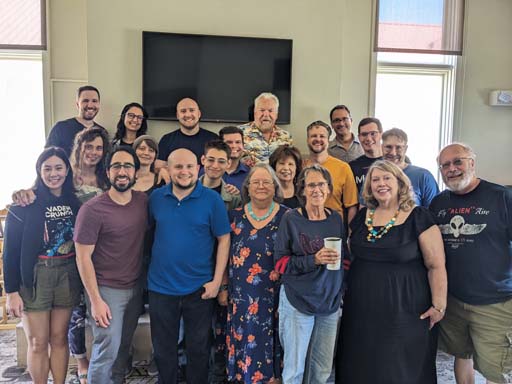 Taos Toolbox for 2023 ended this morning, with all the participants flying off to their splendid futures. The two weeks were busy and exhausting and most of all rewarding. I'd like to thank Nancy Kress for being a wonderful co-teacher, and Emily Mah, Diana Rowland, and George RR Martin for being inspirational guest speakers.
There was a whole room full of talented writers, and I think you'll be hearing from them soon.
Here's our class photo.
Back Row:
Neil Flinchbaugh, Thea Boodhoo, Russ Nickel, Walter Jon Williams, Phil Marshal
Center Row:
Elijah Rain Smith, Elizabeth Hawxhurst, Donald McCarthy, Misha Bazarov, Nancy Kress, Erik Johnson, Chris Balliet, Vivek Arrowmark
Front Row: Sophia Tao, Santiago Marquez Ramos, Jason Hendricks, Sarah Stegall, Murphy Davis, Wendy Wheeler, Mike Glacken