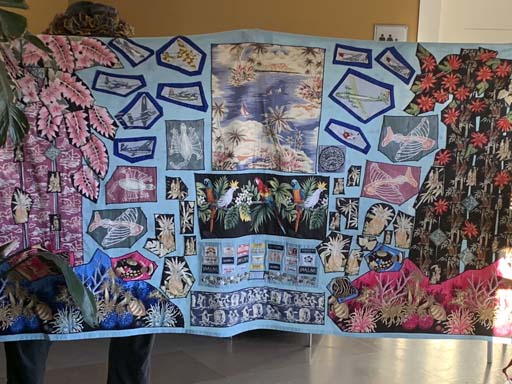 It's not my birthday today, but it's close enough for a celebration, and so we met with some of our friends at the Apothecary Bar for drinks and snacks and good conversation.
The invitation mentioned that no presents were necessary, but some people always ignore that. Terry and Jim gave me a special bottle of Remy Martin commemorating an award from King Louis XV back in 1738 (I think), and Kathy and our friend Nadine Pachanian gave me a tropical tapestry made up of couple dozen of my old aloha shirts.
I've worn aloha shirts for close to forty years now, and every so often one of them falls victim to the Doc Savage effect— one shrug of my mighty shoulders, the shirts tear up the back. Kathy's been collecting the old shirts for decades now, and had talked about making a quilt out of them, but she and Nadine decided that we had enough warm things to sleep under, and turned the project into a tapestry. So I now have a highly personalized, one-of-a-kind wall hanging with tropical flowers, tropical birds, underwater scenes, batik figures, reef fish, aircraft, beer bottles, fruit, and an island map (presumably with treasure).
It was Kathy's idea, but Nadine pretty much did all the work.
What splendid people I know! I will feel a special happiness every time I look at it.