Yidianr Dongxi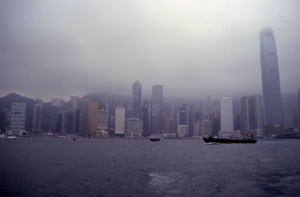 The following is the rather hasty memoir of a journey to Hong Kong and Mainland China taken during February 2003.
(Text and images copyright 2003 by Walter Jon Williams, and may not be reproduced without permission.)

Wednesday, February 12, 2003

"A little something," yidianr dongxi, memories of my Asian adventure.
I was met at the Hong Kong airport by Erick Wujcik , who had offered to play host while I was in town. I'm not sure how to describe Erick to those who haven't met him. He's bigger than me, heavier than me, furrier than me, jollier than me, and more enthusiastic than me. He is a connoisseur of Weird Stuff and Odd Angles. He carries about him a permanent aura of benign disorder and constant flux.
If Erick were a D&D character, his alignment would be Chaotic Good.
Erick turned up at the Lantau airport with a complimentary Hong Kong Starter Kit. This included a cell phone, a street guide, a bus schedule, and my Octopus Card. The Octopus Card is one of those marvels of Hong Kong— it's good for rides on all buses, subways, and ferries (all of which are amazingly cheap). You add cash to the card at machines in the subways or at any 7-11. (Yes, there are 7-11s in Hong Kong. One on every block, just about.) You can also use the card to pay for anything you happen to buy at a 7-11. It's a brilliantly efficient idea.
The tentacles of the Octopus, we should note, will soon get a lot longer. The next version of the Octopus will also serve as the user's drivers' license, bank card, and official Hong Kong ID. Medical and police records are only a matter of time. Thus the amazingly convenient transport
card will turn into what is potentially the key database element of a surveillance-based totalitarian state. With a few strokes of a keyboard, the Authorities will be able to tell who you are, where you've been, how you got there, how much money is in your bank account, and where it came from. Match that with the video cams strung up in many public places and, hey, Hong Kong becomes a lot more, umm, "orderly."
I collected some Hong Kong dollars from an ATM and used the Octopus to board the Airport Express, a fast subway that took us to Kowloon Station, on the waterfront facing Hong Kong, and from thence by cab to the hotel Erick had found for me, the Concourse, in the heart of Mong Kok, which is itself the heart of Kowloon. The Concourse is a block from Nathan Road, which is Kowloon's main street, and in the midst of a deeply funky district, expensive shopping malls mixed with lots of street cuisine, highly specialized local markets, Triad-run massage parlors, and a rather staggering number of travel agents (none of whom, by the way, spoke English).
The hotel was a fairly basic Western-style hotel, with a customer base of mostly Chinese and Japanese. The water was not potable, so the first errand was across the street to the 7-11 for some bottled water.
By this time it was after midnight on a week night. The streets were still very crowded and no one had turned off any of the neon. Erick decided to take me on a tour of the neighborhood, showing me items of interest to the tourist (subway stops, bus stops, how to read bus schedules), and
pointing out a local flyover.
Flyovers are all over Hong Kong. With crowded streets and lots of traffic, the Hongkies have moved the pedestrians upstairs, in long, covered, suspended overhead passageways (usually) reached by escalator. It's an efficient, if ugly, solution to the traffic problem.
Erick, with his usual great enthusiasm, was explaining this and many other things, and politely ignoring the fact that, after 20+ hours in airplanes and airports, I had completely lost the ability to walk in a straight line. The locals seemed fairly tolerant of the big American and his drunken,
weaving friend.
The thing that sticks in my mind from that walk wasn't the traffic or the neon or the crowds or the flyovers (which I have always heard called honkie tubes), but a stroll through the nearby goldfish market. There were 24-hour goldfish stores still open, just in case anyone needed a carp at 3 in the morning. The notion that there were enough such people in Mong Kok to support 24-hour goldfish stores was my first real clue that I wasn't in Kansas anymore.
At this point I began to list rather heavily to starboard, and insisted on going to bed.
In order to successfully negotiate the 16-hour timezone change, I took a sleeping pill, some melatonin, some aspirin, and a tagamet. As a result I slept rather late the next morning.
From my hotel room I looked down at the depressing sight of Hong Kong worker housing, shabby-looking, dirty apartment buildings strewn with laundry and festooned with wires and cables. These places might not have been as depressing as they looked, however— Chinese people seem not to care much about the outsides of their buildings, and the insides might have been bright and well-looked-after.
However you looked at it, Mong Kok did not look as attractive in the daytime as it did at night.
Erick described Mong Kok as "the most Cantonese part of Hong Kong," but to me it seemed the most multicultural, assuming you understand that the cultures involved are all Asian. There seemed a wider variety of ethnic and racial types (all Asian) than in the more fashionable areas, more buzz, more varieties in the biz.
And there were TWO kinds of internet parlors. Some had naked women, and some didn't. At the first type, you pay to sit at a monitor and watch a woman in the next room take off her clothes. This I found another one of those Weird Cultural Moments. The only way I can figure this one out is
that some people are so used to getting their erotica over the computer that the computer itself has become eroticized, and they would rather watch naked women on video than watch actual naked women (who are also available, of course, at the nearby Triad-run massage parlors).
The type of internet parlor that you actually want, it turns out, has the English word "games" on the sign. It's here that you can surf the Web and send email messages. I don't know whether this is a comment on whether porn drives the web or not, but I could never find an actual non-naked-lady internet parlor that was actually open for business. In an area with 24-hour goldfish stores, this is a surprising lack.
Mong Kok is more or less in the center of Kowloon, the peninsula on which most of the seven million inhabitants of Hong Kong live and work. Hong Kong island itself is at a disadvantage, since it's (a) an island, (b) smallish, and (c) distressingly vertical.
Kowloon is a corruption of the Cantonese gai lung, meaning "Nine Dragons." Eight of the dragons are the mountains behind the peninsula, and the ninth is the last emperor of the Song dynasty, who was driven to Hong Kong by Mongol invaders under Kubilai Khan. After a naval battle off Hong Kong, in which the remnants of the Song fleet were defeated, the young emperor committed suicide, along with many of his subjects. He sleeps in the sea off Kowloon, and is commemorated by its name.
(The name may also have something to do with the Nine Little Boys of the Earth Dragon, of which more anon.)
After rising I called Erick to find he was working his usual 12-hour day at Hong Kong Polytechnic, where he teaches computer game and media design to classes of hip, polyculturally savvy young geniuses. His steady, Kate, agreed to look after me for the day, and introduce me to Hong Kong island itself. So I had a peanut butter granola bar I'd carried from the States and set off.
It took me a long time to find the nearest subway station, less than a block from my hotel, because I got confused whether I was traveling north or south. This was a perpetual problem, as it turned out. Hong Kong was usually misty and cloudy, and I rarely saw the sun. Surrounded by tall buildings and with no way to see a horizon, I was frequently disoriented. Since I'm normally a person who finds his way around in strange cities very easily, this was disturbing. (Or I'm getting senile, in which case I won't be disturbed by this for much longer.)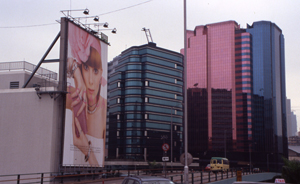 I finally found Prince Edward Station and got on the MTR for Hong Kong Island. (The MTR is the subway, whereas the KCR is the light rail that travels from Kowloon through the New Territories to the Chinese border.) It's easy for westerners to find their way around Hong Kong: all street signs and directions are in Chinese and English, and announcements on the MTR are in both Cantonese and English. (On the KCR they add Mandarin, because of the people coming over the border from the mainland.)
I got off in the vast, wandering artificial caverns of Central Station, which was in short order going to become my least favorite place in Hong Kong, and then took the long, long, long, long tunnels to nearby Hong Kong Station (on another branch of the MTR), where I travelled back to Kowloon, and up to the Waterfront high-rise development, where Erick and Kate live with Erick's cousin Steve and Steve's son, Zack.
Kate, whose name is spelled "Kate" but pronounced "Kay" or perhaps just "K.", like a character out of Kafka (even Erick is a little vague on this matter), is a lovely lady who managed my arrival on her doorstep with gracious aplomb. As the day progressed I realized that though it was Erick who had invited me to Hong Kong, he was working 72-hour weeks at Polytech and it was Kate who was actually stuck with me. I vowed to be as light a burden as possible and to buy her something nice by way of thanks.
We headed back to Kowloon Station and from thence to Hong Kong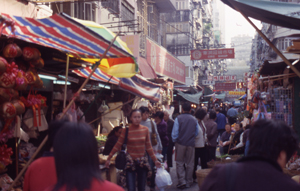 Station on the island, then down the long, long, long, long tunnels to Central Station, then down more tunnels and up escalators and across balconies and along flyovers (pant pant) to Mid-Levels, an area of shops and restaurants on the steep hillside behind the pricey shopping malls and mass transit centers of Central. Fortunately once you reach Mid-Levels most of the actual climbing is done by escalators and slideways. (Getting down, you're mostly on your own.) Kate was trying to find a dumpling restaurant for our lunch, and there was considerable crosstalk on cellphones between Kate, Erick, Steve, and myself before we realized that we'd gone 'way too far and had to backtrack to the sign for the kinky leather bondage store (no exciting window displays, alas), and that the dumpling place was just beyond it.
The dumpling restaurant— it had no name in English, just a sign in Chinese with the two English words "homemade dumplings"— was a typical narrow place of formica tables and bright fluorescent light. I had the Beijing-style dumplings (pork, I think), with noodles, in broth, and iced tea, which in Hong Kong comes in cans and is not brewed fresh. Since it's impossible to make a polite meal of noodles eaten with chopsticks, I slurped away with gusto and enjoyed myself hugely. The dumplings were very fine. The Mid-Levels are a kind of Foreign Restaurant Quarter, with whole streets devoted to Italian, Vietnamese, Thai, or Irish Pub cuisine. Our little Cantonese dumpling shop outshone them all.
After lunch, we wandered in search of a health food store, where Kate bought some ear candles. These are long, hollow, flammable objects which you stick in your ear and then set on fire. The treatment is said to rectify the spirits. After the dumplings I felt that my spirits did not require rectification, and so I didn't purchase any myself.
We wandered along the endless ramps and corridors and tunnels of Central again— already I was getting tired of the place— and then got on the Star Ferry for Kowloon. The Star Ferry has been running ever since the British acquired Hong Kong, and is justly famous. This pleasant 19th century mode of transportation took us across the harbor in a few minutes and gave us spectacular views of Hong Kong and Kowloon along the way.
Architecturally, the remarkable thing about Hong Kong is the enormous height of its apartment buildings. They're fully as tall as the office skyscrapers. If there's anywhere else in the world where people actually choose to live in apartments the size of the Woolworth Building, I haven't
seen it. And the apartment buildi ngs go up and up, up the steep mountain sides of the island, row after row of them.
(And it's a little unsettling, if you get to the top of the mountain, to look down on buildings that tall.)
There are relatively few old buildings in Hong Kong, and even fairly new buildings are regularly knocked down to build newer, bigger ones. Very little is allowed to get in the way of the real estate market. Hong Kong is all about money. Money is what people come there to get, and all other considerations are put firmly to the side.
Not but that the buildings don't have their entertaining side. Many of the big office buildings have been turned into brilliant light shows. Entire flanks of the buildings have been covered with colored lights that flash animated displays. It's like the first scene in Bladerunner , with huge video and sound displays looming down in the little noodle sellers below, in the rain. Except it's beyond Bladerunner now: Sir Run Run Shaw was filming the Hong Kong he could see on his near horizon, but that horizon's well past. Times Square has a quaint early 20th Century feel by comparison.
From the Kowloon Star Ferry terminal, with its famous clock tower, we journeyed along the coast of Kowloon past the modernist turtle shell of the Cultural Center— something that might have been designed by Eero Saarinen— where we checked for upcoming shows. The Rolling Stones, the Paris Symphony, and King Lear done as a Cantonese opera. I thought about attending that, since I at least knew the plot, but grew less enthusiastic when Kate told me it was a one-man show. She'd recently seen "Heroines of the Chinese Opera," an all-fighting, all-gymnastic spectacular, but alas it was no longer in repertory.
Construction turned us inland, and we passed the Peninsula Hotel, one of the grand old buildings that has actually survivied. It's the priciest hotel in Hong Kong, and its afternoon high teas, which cost something like $165 American, are quite famous. I was virtuously content with my $3 bowl of noodles.
Much of Hong Kong has a faintly repellent smell, a combination of diesel exhaust combined with chicken and duck fat dripping from the fowl hung up in the restaurant windows. A Hongkie would find the smell homelike and wonderful, I'm sure. I found it just slightly nauseating.
We continued on to East Tsim Sha Tsui, another district of Kowloon, where we checked out the Hong Kong History Museum, which had a special display on the terracotta warriors of Xi'an (at least some of which turned out to be copies, as I discovered later). The warriors were quite magnificent, though, and helped me make up my mind to visit Xi'an.
Eventually we met Erick for dinner at the Garlic Factory, a neo-Japanese place in Tsim Sha Tsui. We had garlic pizza, which isn't anything like Western pizza but a crispy crackerlike crust drizzled with garlic mayonnaise and slices of fried garlic. We also ate grilled steak sliced thinly and covered with mushrooms and garlic, and slices of eel grilled on a stone heated to 300-degree Celcius, then added to an earthenware pot in which rice was cooked in a tangy sauce . . . very Iron Chef-like. We had other things as well, none of which I remember. Afterwards Erick suggested going up Victoria Peak to see the sights of the harbor below, but I was tired and demurred.
On the way to my hotel, I stopped at the 7-11 to pick up bottled water and a large bottle of beer, which eased my way toward slumberland. My first day in Asia had come to an end.
Thursday, Feb 13.
The morning was spent with travel agents in Mong Kok, trying unsuccessfully to arrange side trips out of Hong Kong to the mainland. Though Mong Kok was crawling with travel agents, one or two every block, I failed to find anyone whose English skills were up to my needs. Even the travel agent in my hotel was a little dicey, but the only trip she had to offer was one to Shenzhen, an industrial city right across the border.
Shenzhen, however, has an attraction in which all the major tourist attractions of China are beautifully reproduced in miniature. To go to Shenzhen is to see every beauty spot in all of China! Why would you ever go anywhere else? Especially as Shenzhen also has an exhibition of world tourist attractions! I could go to Shenzhen and see Mount Rushmore! Probably there are even places marked on the floor where I could be photographed at Mount Rushmore!
I rather spoiled the party by insisting on seeing some actual spots in China. Obviously Mong Kok wasn't up to the job.
Erick had told me that trips to the Mainland were easy, cheap, and plentiful from Hong Kong, and that all I had to do was a little shopping around to find a series of wonderful bargains. While this was perfectly true, it was also impossible. I didn't know which travel agents catered to foreigners, or where they were, or what packages they were offering. The time I spent shopping around for bargains was time that I could otherwise have spent enjoying Hong Kong. I discovered later that my best chance was to go to the island, to an area covered by tourist hotels like Causeway Bay, and deal with companies like American Express . . . but this was later. It would have been better had I arranged the trips through the Web, before I ever left the States.
In fact I went to the island, but to the wrong part, to Sheung Wan, on the western side of the city, where I knew of a travel agent that catered to foreigners (or at least had an English web page). Once there, I found the building the travel agent was supposed to be in— Erick's map had an
index to major buildings, very handy— but the travel agent seemed not to be therein. I declined to search a 50-storey office building floor by floor, and betook myself off to local tourist sites.
Sheung Wan is an area filled with specialty markets. Chinese markets tend to clump up by category— I assume there are some economies of scale involved, or perhaps everyone expects that if you want some dried squid, you head off to Dry Squid Street in order to compare and contrast the wares of the 50 dry squid dealers with shops therein.
So I first went to the Western Market, no longer a market but one of Hong Kong's rare historical buildings, a two-storey 19th Century brick colonial structure with arched windows that looks as if it could have been transplanted from lower Manhattan. Unfortunately the Hong Kong government planted some kind of huge metal air intake, perhaps for the subways, right in front of the building, ruining its appearance.
From thence, grumpy, I went to Wing Lok Street, otherwise known as Ginseng and Birds' Nest Street, because that's where the dealers of those particular items congregate. Narrow shops with narrow counters, birds' nests in huge baskets— buy them by the hundred!—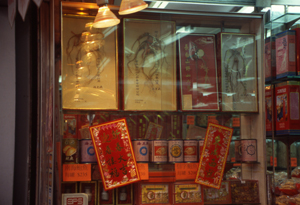 ginseng dried, or in
tonic form, or pills, or tea, or wine. Large, old, venerable ginseng plants were shown, under glass, in shop windows. I know these can go for $75,000 apiece in California— I wondered what they were worth here?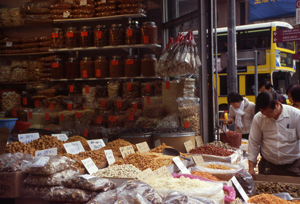 From Wing Lok Street I journeyed to Dex Voeux Road West, otherwise known as Dried Seafood Street. The same narrow shops, the same counters, the same baskets full of items. The smells were rather different, and the sights. Colossal amounts of dried fish, and squid, and seahorses, which are being endangered throughout Asia because of their alleged ability to cure sexual dysfunction. Let the Chinese have Viagra! I say. Leave the acquatic animals and the rhinoceri alone!
Right nearby was Ko Shing Street, aka Herbal Medicine Street, with more baskets of less identifiable objects, but lots of them. And lots of different smells, of course.
From here I wandered through Hollywood Road and Upper Lascar Road (aka Cat Street), which constitute a vast flea market, selling beads and buttons and old jade, brass nicknacks and rusty old Mao buttons, statues of the Buddha and of Taoist gods, fans and good luck charms and jewelry. Behind the street vendors and their carts were much tonier establishments selling gorgeously expensive art and furniture.
I looked at some stuff with thoughts of buying gifts for Kathy, but didn't really find anything that I knew she'd like. I didn't think the Mao buttons were really her style.
I climbed some steep streets to the Man Mo Temple, a Taoist establishment catering to Man and Mo, the gods respectively of literature and of war, a combination that no doubt tells you something about the Chinese mind, though exactly what I will not venture to guess. I was led to the temple by vast gusts of sandalwood incense that bloomed out over the neighborhood. Chinese gods seem to live entirely on sandalwood incense, though if I were Buddha I'd want more variety in my diet.
Chinese-style temples are all built more or less alike, and Man Mo was no exception. They are not solemn places in the way that Western churches are— they're garish, for one thing, splashed all over with red and gold and other bright colors. People are forever thumping drums or ringing bells. I saw few people that could be identified as clergy— most of the officiants seem dressed casually in street clothes.
Chinese temples are divided into three rooms, with the main object of worship in the central part, and subsidiary dieties in the two wings. Before the gold statue of the god is an altar, and before the altar are kneeling cushions so that people may kowtow to the god should they be so inclined. Usually there are gold god statues all over the place, to the sides and sharing the main dais with the main god. Somewhere will be a counter where people can buy incense and other paraphernalia. In front, outside the building, will be large stone or concrete censers (don't know what else to call them) in which people can stick their incense. There are also elaborate cast-iron furnaces in which used incense, or other offerings, are burned.
The locals salute the gods in various ways. Most casually, they face the god, or the door to his temple, hold their hands in the prayer position, and bob toward the god two or more times. Very often they will do this with burning incense sticks in their hands, then plant the incense sticks
in the various censers standing about. Or they will hold a circular container that itself holds the incense sticks, and bob the container so that the incense rattles against the container and presumably attracts the attention of the god. (I saw one young lady do this inexpertly, with the result that burning incense sticks flew out of the container and over the base of the altar, much to her embarrassment.)
This last can also be a method of divination. Each stick is numbered, and when one falls out, you take the numbered stick to one of the diviners around the temple, who will tell you whatever it means.
Others knelt before the god, or kowtowed, or prayed with fervent concentration.
"Smoke towers" hung from the ceilings. These are spirals of incense suspended from the central part, so that the rest dangles down cone-fashion. These are lit from below and burn for several days before being replaced. If you stand under them you get incense in your hair.
You don't do Chinese religion unless you really like the smell of sandalwood.
Since the New Year's celebration was still going on— it lasts half a lunar month, this year from 1 February to 15 February— all China's temples were doing a roaring business. Red lanterns were strung up everywhere. Traditional offerings of fruit— usually oranges— stood in little pyramids on most of the altars, and before the guardian lions at the doors (who also wore, as part of their New Year's paraphernalia, red ribbons with a kind of rosette on the chest).
New Year's is also the traditional time for visiting one's family, including those who happen to be dead. Temples sell kits in aid of this, boat-shaped wicker baskets filled with various paper offerings to dead relations. There was spirit money, on which one wrote the name of the deceased for whom the money was intended, rather like a celestial money order. These were folded in a particular way to form a boatlike shape. There were other, more obscure items in the ancestor kit, including some things that looked like paper snowflakes only black.
Kate bought one of these before I arrived, and sent money to her deceased relations (except for one ancestor who was a son of a bitch and would just have to go without). She had no real instructions on how to prepare the offerings, but fortunately her housemaid was able to help her out.
(Note: this episode became the foundation for the excellent story "Ancestor Money," by Maureen McHugh.)
The temples I visited had whole stacks of these boats sitting on shelves awaiting incineration. The dead would have to wait for the celestial wire to clear before the money could be sent to them.
This led me to Mid-Levels again, where I looked about for a late lunch. The dumpling shop of the previous day was packed, with no hope of getting a table for a while. None of the other restaurants seemed to be actually Chinese, and I thought I'd want Chinese food, as I was in China an' stuff. I ended up at a different dumpling restaurant in Kowloon, which was pleasant and filling though not as good at the place Kate found.
That night I met Erick and Kate for dinner at a seafood place, the London Restaurant, though what it had to do with London we could not see. We were the only roundeyes in the place, which struck us as a good omen. We had many delightful items, including a whole fish steamed in banana
leaves.
It's bad juju in China, by the way, to turn the fish over. You have to just eat clear down to the bottom through the top, unless a waiter notices your predicament (as happened here) and flips the fish for you. Eating with chopsticks makes it rather more challenging.
You also should not point the teapot at anyone, because "to point the teapot" is a homonym for "to die the death of a thousand dogs," or something to that effect. In restaurants, as a matter of politeness, I found myself constantly trying to avoid sending deadly teapot rays at other diners.
(As an aside, I should mention that though I am an adventurous eater, there were certain items I tried to stay clear of. Anything with "fish maw," for example. Or "chicken paw." Or tripe. Though I was tempted to try the tripe, as every so often I enjoy menudo, this being a New Mexican specialty.)
From the restaurant we returned to Hong Kong Island for the cable car ride up Victoria Peak. The cable car was a genuine cable car, like those in San Francisco, toiling up a very steep incline, with apartment buildings on all sides. The terminus on Victoria Peak was a shopping mall filled with boutiques and restaurants. Erick knew of a place outside the terminus with a better view, and this we found.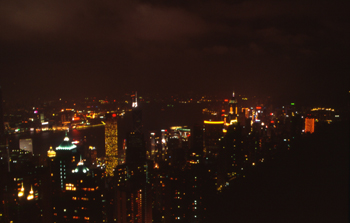 There was Hong Kong below us, with Kowloon beyond, an amazing array of pastel lights, with animated New Year's displays flashing and dancing over the harbor. To one side was Aberdeen Harbor, with the famous Jumbo floating restaurant, a huge neon-lit Chinese palace built on a barge.
From on high Hong Kong looked less like a real city than the setting for a brilliant, hard-edged science fiction film, a mammoth CGI display rather than a real metropolis created by an unlikely combination of greed, politics, and human will. All the weird, funky human bits, the Dried Fish Market and the golden Taoist gods, were invisible, and from the peak you see only the colossus, the great neon-lit economic engine that drives Hong Kong to its inevitable collision with whatever destiny waits in the distant reaches of the new century.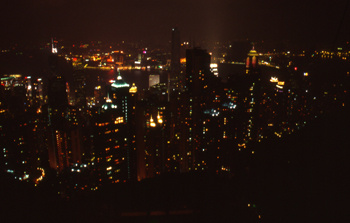 And then we took the bus down to the human level again, a winding ride down hairpin curves in the dead of night, past the slumbering estates of the city's plutocrats to the echoing diesel-filled concrete of Central Station, and the crowded ride home on subway cars packed with the city's sleepless multitude.
Friday, Feb 14
Valentine's Day is a big deal in Hong Kong, the more so this year because it came on the day before the Lantern Festival, which is the Chinese Valentine's Day. So everywhere I went for two days I saw cute young couples holding hands, or smooching on the subways. I began to miss Kathy a lot.
Most of the day was spent squaring away my travel arrangements. Erick had emailed someone in the States who he remembered as having a good deal with a travel agent, and the person remembered what building the travel agent was in , but not its name. We went to the building but were unable to find a travel agent therein, but across the road was a division of CITS, the China International Travel Service, and they proved to have a single clerk who, if not precisely fluent in English, at least had sufficient English to sell me tickets and take my credit card.
What I found was this: the cheap package tours leave on Friday and on Monday, and it was already Friday. The places I particularly wanted to visit were Xi'an, former imperial capital and home of the terracotta warriors, and Guilin, which is the area in south China with the incredible, surreal mountain scenery seen on old Chinese paintings. (Many people assume that the scenes on those artworks are invented, but they're real.)
CITS offered two-night packages to each, but I wanted to stay longer, to allow for more than just a single day of sightseeing in between travel days. If I left the following Monday for Guilin, then stayed three nights, I'd get back on Thursday, which left one night before leaving for Xi'an the
next day. This also left no time for my tickets to get printed— apparently tickets are printed in some central location and shipped to the travel agencies, and electronic reservations aren't done on the cheap package tours. What I should have done was come earlier in the week and spent both weekends out of town. As it was, I didn't relish two trips back-to-back, with no time to do laundry in between, so I settled for Xi'an the following weekend.
Guilin will have to wait for another trip.
I also had to get a visa for the mainland, which I did at the official Chinese travel agency. Less English competence here, and a group of people who got their jobs because somebody in the family was in the Party. They weren't particularly competent, and lost my passport at least once,
but they seemed pleasant enough. And there was one sharp old guy who quizzed me about my views on the war with Iraq. (Since the China Daily was against it, so was I.) I also knew better than to put my occupation as "writer," as the reflex of authoritarian regimes is always to view writers enemiesso as far as the visa application goes, I was a teacher.
That evening Kate, Erick and I went to a movie at Hong Kong Polytech. The English department was sponsoring an English-language film series, with a discussion afterwards, as a way of improving students' English skills. Tonight's film was "Bend it like Beckham," a film not yet released in the States.
But beforehand we had speeches by students and the faculty sponsors— this was an anniversary of the film club or something— and all the members of the club got introduced, and then there was a brief skit involving a soccer ball by a couple of the students. (One has to remember that the principle point of this was that everyone got to practice their English.) The two girls with the soccer ball were grad students but looked and acted about fifteen. The Chinese have a way of preserving innocence in their children that Americans have lost, which is one reason why the Valentine's Day lovers in the subway looked so darn adorable. Compared to these kids, American grad students look like fifty-year-old heroin junkies.
By the way, I had never heard of Manchester United star David Beckham until I saw this film, and suddenly I couldn't get rid of him. He was on every Chinese newscast, and in every Chinese newspaper, aided by a scandal in which his coach kicked him in the head and, no doubt, by the fact he married a Spice Girl. The Sexy one, I think, certainly not the Sporty.
I had to return to the soccer-denying States before I got Beckham out of my life, and none too soon.
February15
I spent most of the Lantern Festival wandering around a number of Kowloon markets. As I mentioned, certain Chinese businesses tend to clump together, and a number of these were near my hotel.
I started at the Flower Market, which was doing a brisk business during the double Valentine's/Lantern Festival holiday. Florists are pretty much the same everywhere, and the unusual thing about these was that dozens and dozens of them were clustered on just a few streets. There were a few unique features, such as living pagodas made up of bamboo . . . I wondered if it was a New Year's thing, or whether these were available year round. And on one occasion I turned a corner and there were dozens of bonsai sitting in an open-air stall, all of them lovely and old and obviously well-tended. Nobody was looking: I could have tucked one under each arm and slipped off to the hotel.
Unfortunately I couldn't buy Kathy flowers, and had no way to ship home stolen bonsai, so I went on to the nearby Yuen Po Bird Garden. It is a Chinese tradition to take your pet birds for a walk, usually in a handmade wooden cage, and this was a place where folks could take their birds. It was new, built to replace an older garden that is probably a high-rise now, and is very well-designed, a lot of traditional Chinese architectural features reproduced mostly in poured and sculpted concrete— it's a little grey, but graceful nonetheless.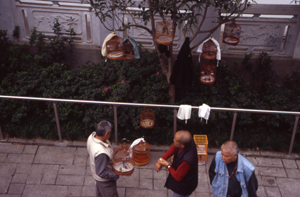 There were trees and lines on which folks— mostly older gentlemen— could hang their cages while they chatted with each other, and there was also a busy, bustling, crowded market where birds waited to be sold in bamboo cages. There was a lot of lively, colorful feathered life on display, and a good many flocks of wild birds come to gobble spilled seed. Grasshoppers were on sale as bird food. Someone told me that endangered species were sold here illegally, but nobody sidled up to me offering me an illegal bird, so I wouldn't know.
One of the nice things about Hong Kong is that there are little parks and garden scattered about, even in the busy, crowded districts. You just come across them in your wanderings, and they're all worth spending a little time in. Most include a water feature, a waterfall or cascade, and I
suspect that's not only because it's good feng shui, but because the sound of the water helps to drown out the traffic noises being generated only a few yards away.
Speaking of gobbling insects, on the way back to the subway stop I passed the shop of the Ant King, who sold ants for people to eat. Traditional Chinese medicine involves balancing heat and coolth, and ants provide heat, so if you're in danger of being overcool, ants are recommended to spice up your diet. The Ant King sold not only ants, but ant extract and ant wine.
I took the subway a couple of stops to Tsim Sha Tsui, where I wandered through the Shanghai Street Market. This sold mostly food, but also nicknacks and whatnots. Among the food items were stacks of squashed duck, cooked or smoked ducks flattened to the shape of a frisbee for easy transport. Apartment buildings towered on all sides of Shanghai Street, which provided an interesting contrast. I liked the fact that I was in a modern city, with high-rises and ubiquitous communication and mass transit, but below in the shadows of the buildings were a whole series of these human-scale, functioning markets, with stalls and venders selling many of the same items that would have been sold a hundred years ago.
From Shanghai Street I meandered to the Tin Hau Temple, dedicated to the Taoist goddess of the sea. Tin Hau's story is this: she was a young girl who needed transport to one of the local islands (probably for some kind of filial duty, I don't remember). All the junk captains refused her a ride,
so she went on a little sampan. A storm blew up and all the junks were wrecked, but the sampan survived, and when Tin Hau stepped ashore, she went to the top of a local peak, golden beams shot down, and she was translated straight to Heaven.
There are temples to Tin Hau all over Hong Kong and its territories, mostly built on what once was the waterfront, but is no longer— much of Hong Kong is built on fill. Kowloon's temple is very much landlocked by now, with tall buildings on all sides, but it's a large, spacious place, with a generously-sized park out front, with banyans and much shade. The temple was doing a roaring business on the last day of the New Year celebration, and many gusts of sandalwood were sent heavenward. This was the only temple where I actually saw a ceremony being performed: there was a man (in street clothes) chanting and beating some drums, presumably in honor of the ancestors of the gentleman who stood respectfully by and who had paid extra for the privilege.
South from the Tin Hau Temple stretches Temple Street, home of the most boisterous night market in Hong Kong, where the party goes on till the wee hours. I visited it later in my journey.
On this particular afternoon, however, I strolled on to the Jade Hawkers' Market, which is contained in several large tentlike buildings. Hundreds of jade hawkers have their stalls here, selling every kind of jade item imaginable: jewelry, sculpture, amulets, beads. Every source I consulted told me that it was unwise actually to buy jade here unless you happened to be a jade expert, so I confined myself to gawking at the beautiful, intricate carvings, the buddhas and lions, the spheres carved inside one another, the stunning jewelry, all in green and amber and yellow and
milk-white.
After that, I was footsore and hot and wanted ice cream and a nap, both of which I hastened to procure.
That night I assembled with Erick and Kate and Zack and Steve for the official Lantern Festival, which was held in a park amphitheater. The cab driver seemed a little surprised at five gwailo going to a Chinese festival, but he was a cheery, talkative sort who delivered us right to the park
entrance, thus avoiding the long, long lines of people who waited on the streets, penned up by police, and who were dribbled into the park in small numbers so as not to overcrowd the place.
Entering the festival we passed by dozens of imaginative lanterns in the shape of insects, fish, and animals, all lit by electricity unfortunately. We acquired popcorn and soft drinks from vendors and headed to the amphitheater where entertainment was going on. There were lots of red lanterns strung up, big red New Year pagodas, and occasional fireworks. The entertainment was traditional Chinese music (we had been promised acrobats, but didn't get any) and then, over to one side, was the quiz show.
Lantern Festival is a traditional night for blind dates, and one of the things you do with your blind date is go to the quiz show, where you are given forms in which you try to explain the origins of obscure Chinese words. This is to discover if you and your date are compatible. This strikes me as perfectly reasonable: for example, I myself am never seen in the company of a woman who can't define "matutolypea."
The Lantern Festival began to lost its energy when one dignitary stood to introduce a bunch of other dignitaries, all of whom then had to give little speeches. Even though I didn't understand the Cantonese, it was clear that none of these people were professional speakers, and that none had
heard the maxim, "Keep it brief."
The Lantern Festival was sort of stuck between two poles. It was too electric and modern for it to be charmingly traditional, but it wasn't Hollywood enough to really grab your attention. When another traditional orchestra mounted the stage and began to play, we wandered off past the long lines of people waiting to gain admittance, found a cab, and went to a most excellent dinner.
February 16
On Sunday I decided to visit what all the Westerners seem to call "Big Buddha"— the giant bronze Buddha statue on the Po Lin Monastery on Lantau Island. Lantau is larger than Hong Kong island, but with few people. Most of it is wilderness reserve, with hiking trails and camp sites. The Po Lin Monastery is at the mountainous heart of Lantau, surrounded by craggy limestone peaks and spectacular vistas that reach all the way to the sea, all the stuff of Chinese paintings.
And as for Big Buddha himself, he is (as the tourist brochures never cease to remind us) "the world's largest seated freestanding Buddha." You would think that "seated freestanding" would be a contradiction, but apparently it's not.
The ferry ride to Lantau is supposed to feature spectacular scenery, but it was misty that morning and I saw none of it. The ferry landed at the small town of Mui Wo, also known as Silvermine Bay, which (in the brief time I spent there) did not look terribly interesting. I hopped on the Number Two Bus, which loaded with tourists began the long, winding trek into the hills.
Most of the scenery was lovely and unspoiled, and even the developed bits had a spectacular side to them— the road went along the top of a massive earthen dam that held the island's reservoir, and I looked at the high-rise, ocean-front apartments built below and wondered how long till the next earthquake.
The central part of the island is quite uninhabited, and if you want a place for an isolated monastery you can't do better than Po Lin, several thousand feet into the mountains and surrounded by picturesque, mist-enshrouded peaks. But Po Lin has always had ambitions that transcended its isolation: the monastery's own guidebook admits that it was founded (around 1900) with the intention of becoming a "rich monastery," and they've obviously succeeded.
Indeed Po Lin was so colorful and crowded that it was easy to think of it not as a religious institution, but as Buddha-Land. The first thing I saw as I left the spacious parking lot was a large group of middle-aged ladies doing a synchronized flag dance in front of the main gate. I have
no idea why. All I knew was that it wasn't martial arts, and it didn't seem overtly devotional either.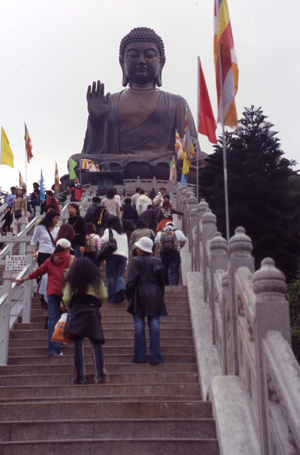 Big Buddha Himself is on a cone-shaped hill reached by a broad stairway with 260-odd steps. The stairway is decked with colorful flags and with small pagodas and incense burners for folks who want to make offerings on the way. He sits over 20 meters tall on a bronze lotus blossom, with his usual serene smile and with one hand raised in what might be called the "Mudra of Howdy." The other hand is open on his lap. On both palms are carved symbols representing the treasure Buddha offers humanity. On his chest is a swastika (in Buddhism a symbol of wisdom), and his earlobes are huge and pendulous (a symbol of wisdom in China).
Big Buddha is cast bronze on a frame of steel. He was finished in 1997— when I set out to visit him, I didn't realize he was so recent.
On Buddha's head are rows of knots that have traditionally been explained as a colony of snails that Buddha in his compassion allows to live on his scalp, but which in fact are the curls of the Greek god Apollo. When Alexander the Great entered Southwest Asia in the 4th century BC, he brought with him hordes of artisans and sculptors who commenced the Hellenization of his conquests, and who planted temples to Apollo and the other Greek gods in exotic places north and west of Persia.
Buddhists had not to that point represented Buddha in their art, but they liked the look of Apollo, and soon Buddha was represented as a lithe, curly-headed young man with the muscled torso of a Greek runner. As the years went by and Alexander and his works faded from memory, Buddha's statues began to develop more Asian features and musculature, and Apollo's curls were reduced and stylized to the point where they became rows of knobs on an otherwise bald skull. The knobs have been explained as snails, and are sometimes portrayed that way.
As it was early in the day and I was still reasonably full of energy, I decided to bound up the hill and visit Buddha right away. In order to climb the hill to visit Buddha, I didn't have to buy a ticket, but rather a meal, in the monks' vegetarian restaurant. Meals were priced at $60-100HK, and I'd been advised to buy the deluxe.
I managed to reach the top without running out of breath, but I hadn't counted on the climate. I'd dressed for the cold, misty morning I'd just left in Hong Kong, but here in the center of Lantau Island it was hot, sunny, and humid. By the time I got to the top of Buddha's pinnacle I was
pouring with sweat, and the sweat didn't stop running off me for, well, quite a while. The other tourists probably thought I was having a seizure.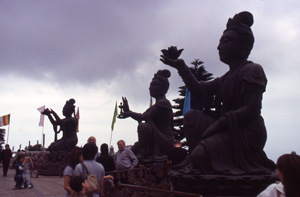 Buddha's bronze lotus flower sits atop a three-storey stepped-back concrete-and-steel structure that is, I suspect, a type of mandala, and which contains a museum mainly about the building of the Buddha. The mandala in turn is surrounded by fifteen-foot-high bronze statues of bodhisattvas kneeling and making graceful gestures toward the Buddha. Each bodhisattva offers a gift— a cup, a flower (gold, frankincense . . . ). Tourists have made a practice of tossing coins so as to land in these offerings, supposedly to bring luck or a blessing. There are signs asking them not to do this, but they do it anyway.
Looking down from the Buddha I could see the temple buildings partly hidden by trees, their outlines obscured by vast rising clouds of incense. There were craggy, mist-haunted peaks, scarlet and saffron temple structures, parking lots, immeasurably tacky souvenir stands, gardens,
pavilions, galleries, and whole swarms of tourists.
I made my way down, and walked through a long shady garden toward the temple complex. It was here that I encountered my one and only monk, standing to be photographed with tourists. When I later mentioned to Erick that I'd only seen one monk in the whole monastery, he remarked that Sunday was probably their day off, and that they were very likely in Hong Kong visiting their families.
I found myself in a side gallery pasted with a large-character poster announcing "The Exhibition of the Secret Documents of the Buddhist Activities in Qing Palace, Part I." I could hardly resist a title like this, so I went in for a recce. Unfortunately the poster was the only English in the exhibition, and the Secret Documents, being in Chinese, remained a Secret to me. There were books, manuscripts, and artworks on more or less Buddhist themes, some lovely, some less so.
I went in search of the restaurant, and my deluxe $100HK ticket procured me a place in a long, tasteful room decorated with long paintings on various traditional themes, not just Buddhist but also nature and animal paintings, and landscapes. The meal was amazingly good: if anything were to convert me to vegetarianism, it would be this. Grilled mushrooms were cunningly disguised, in form and texture, to resemble grilled beef. Something— I suspect tofu— was formed into the shape of prawns, along with realistic combination of pink and white coloring. All this with fresh, flavorful veggies, well presented.
I was getting famished for vegetables by this point. In China, if you order a meat or fish dish, what you get is a dish of meat or fish, with just enough vegetables, scallions or ginger or whatever, to give it flavor. If you order vegetables in China, what you usually get is stir-fried Chinese broccoli with hoisin sauce. In the States, Chinese food tends to have a much higher veg-to-meat ratio. Probably this has to do with the relative dangers of eating veg in the Third World: if your veggies aren't cooked right, you get typhoid. Much better to eat meat, if you can afford it.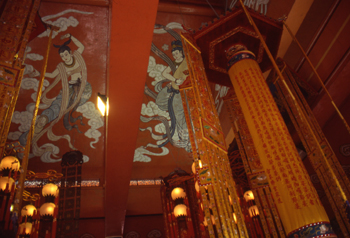 After a leisurely luncheon I made my way through massive clouds of incense to the temple itself: there are actually two, with a courtyard in between. The temple is garish inside and out with scarlet and gold, and features the only stained-glass windows I recall seeing in China. (The patterns were abstract, not ecclesiastical.) The main temple features three gold statues of Buddha ten feet high (Buddha Past, Buddha Present, Buddha Future [Maitreya]), with other, lesser, gold statues on other side. Altars were filled to overflowing with flowers and fruits. Huge scarlet banners proclaiming the Doctrine hung from the ceiling.
The temples were modern, the exterior filled with bas-relief in poured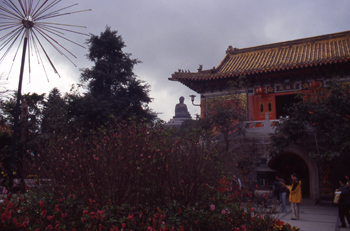 concrete: dragons gaping down from the pillars while the walls themselves were filled with ranked arrays of celestial beings. (The older temple, I think, was behind, but closed to the public.) In the courtyard were large
electric light displays, sunbursty sorts of things on pillars. I don't know whether they were permanent or just there for New Year's, but they were the sorts of objects I could never imagine seeing at St. Peter's Square, not even at Christmas. The whole in-your-face display was quite a
contrast to the more austere Western idea of religion that I absorbed at home. Not even the most gaudy baroque chapel compared to this.
I wandered around the temple complex for some time, trying to work out where the monks actually lived and did whatever it is that monks do. I found very little but banquet halls. Po Lin must do a landoffice business in banquets during the season. Given the quality of their kitchen, I'm not
surprised.
After another walk through the pleasant, spacious gardens I made my way to the nearby bus terminal and joined the long queue for Tung Chun. Rather than retrace my route to Silvermine Bay, I thought I'd take another way home and enjoy more of the island's scenery. The way down the
mountain was just as spectacular as the way up, with additional views of the huge new airport at Chek Lap Kok, a nearby island greatly expanded and now host to the busiest airport in Asia.
Tung Chun was until recently a decaying village, but is growing up fast as a commuter island served by the Tung Chun Line, a subway that will take you very efficiently all the way to Hong Kong Island. It didn't seem a worth a lot of time to investigate the new town of high-rises and shopping
malls, so I had an ice cream at Haagen Dazs, then made my way to the subway. (Kate later took me to task for my ice cream, telling me that Haagen Dazs was the highly expensive province of Hongkie nouveau riches, who only eat there because they can afford to. Just like in the States, in other words.)
That night I journeyed to Hong Kong with Erick and Kate to meet Erick's friend Erik Todd, a computer-game guy whose current charge is The Sims Online, and who had flown in for a major electronic conference taking place the following weekend. Erik was accompanied by his "very expensive girlfriend" Anneke (her description, not mine), who is Dutch but who grew up partly in the States and speaks with an American accent. The two had just arrived after a long flight from the West Coast, but managed to perk up enough for dinner and a wander around Causeway Bay, where their hotel was located. Causeway Bay is a blazing monument to the power of consumerism, with neon displays towering up to the skies and looming over the narrow streets below, with music thundering out from narrow, brilliantly-lit stores that sell CDs and VCDs 24/7, and with all sorts of trendy shops and eateries.
Erik and Anneke crashed right after dinner, and who could blame them, but not before agreeing to join me on a side trip to Macau in a couple days. Erick and Kate and I wandered around for a while, enjoying the flabbergasting neon experience, before I descended into the underground and the long tunnel back to Mong Kok.
February 17
Monday started off with a failed shopping trip. I was trying to find something for Kathy, and ended up tramping over large sections of Wan Chai, Causeway Bay, and the Mid-Levels without finding the Perfect Something that I felt she deserved. Once again I was astonished at the profusion of street markets crammed between towering high-rise office and retail complexes, all very Bladerunner. Most of them were on the steep side streets that connected the main east-west thoroughfares. There were an amazing number of booths and stalls selling women's clothing, some quite gorgeous, none of which would fit anyone of Occidental proportions. A pity, because Kathy would look very fine in a cheongsam
For lunch, because I was in a hurry, I went to my hotel's dim sum restaurant for the worst dim sum experience of my life. The room was full of Chinese roistering over tables of wonderful-looking food, but I couldn't get any of the help to so much as look at me. I suspect the waitresses had
no English and lacked the confidence to approach. Eventually an officious manager, with a very small amount of English, appeared at my table and took charge. I tried pointing at some of the gorgeous food sailing by on carts, but the manager would have none of this. "I would recommend
this, " he snarled, and plopped in front of me a rack of pork in sesame sauce. With this I got the ubiquitous Chinese broccoli with hoisin sauce. The meal wasn't bad, though there were a lot of bones in the pork, but I couldn't help yearning for the beautiful dumplings I saw on nearby tables. For this I paid a vast amount, something like $17 US, with a single exception the most expensive meal I had in China.
Afterwards I gave a talk on plot and structure to Erick's class at Hong Kong Polytechnic. These were a group of well-connected, savvy, high-tech geniuses destined for careers in cinema or computer games, and insanely hard-working besides. (They're expected to complete their
MAs in a year, along with a major project— some of them are making a full-length motion picture filmed at Polytech's own state-of-the-art digital studio.)
While they're immensely savvy on every technical aspect of production, Erick told me that they lacked even the most basic understandings of how to structure a story, and so I gave them the basics, all the "rising action" and "falling action" and "resolution" stuff that most of you probably
learned in junior high, but that they'd never encountered. I tried to relate action to structured ideas of character. I used an episodic TV program as a template— because commercial TV forces a certain structure— and drew my little graph with its peaks and valleys, plotting dramatic tension against time. (They really perked up when I started on the graph— graphs they understand.) Then I related the whole thing to popular films, like "Titanic." (They've all seen the Hollywood blockbusters.)
It all seemed to go well. Only one student fell asleep. Hardly anyone asked questions, but Erick tells me that's normal.
I ended with a brief lecture on into mythology, because Erick ended up running a special class in mythology when he realized that his students hadn't been exposed to any of it. Education over there is so relentlessly focused and contemporary that the students haven't been exposed even to Chinese mythology, and probably their only connection to Homeric myth has been through "Hercules: the Incredible Journeys."
Afterward we dined at the splendid Tai Woo seafood restaurant in Causeway Bay, with Erick and Kate and Erik and Anneke and yet another Eric, in this case Eric Snider, who designs games for the Palm Pilot, and his high-spirited, witty wife, whose name (to my embarrassment) I cannot recall. They were in town for the massive electronics convention taking place the following weekend. I began
getting used to the fact that everyone in the computer game business seemed to be named Eric. We developed ways of making it clear in company to which Eric we were referring— Erick Wujcik became "The Woodge," Eric Snider became "Snideric," and Erik Todd, so far as I know, remained "Erik Todd."
Tai Woo has won multiple awards for its cuisine, and deservedly so. We ordered all the award-winning dishes and others that took our fancy, had a highly satisfactory meal, after which Erick and Kate joined me for a luscious ice cream dessert in the Cafe Eos, a Cantonese-Italian
restaurant where the food seemed sort of odd but the desserts divine. I walked through the colossal electronic onslaught of Causeway Bay back to the underground, Kowloon, and my hotel.
February 18
I'd made arrangements with Anneke and Erik to take a side trip to Macau. We met at the ferry terminal at 9:30 and bought our tickets. One of the annoyances of traveling to Macau is the necessity of clearing customs— I'm not sure why it's necessary to get your passport stamped to travel from the Hong Kong SAR to the Macau SAR when they're both
part of China these days, but I'm sure it helps the unemployment problem. People who regularly commute must have passports black with stamps.
The advantage of travel to Macau, however, is that once you've cleared customs you get to splurge in the duty-free shops, and you can buy duty-free on the ferry. I never did this, as I've never found duty-free shops to be a particular bargain.
The ferry was a hydrofoil and traveled with fine and easy rapidity, delivering us to the customs desk in Macau in about 50 minutes. The accommodations were closer to airlines than to a typical ferry, with assigned seats and lap belts. It was possible to buy meals and drinks.
Once we left the safety of customs, and had acquired the local currency (patacas), we were besieged by tour operators demanding that we take their tour. They left us alone only when we found a taxi and roared off to the Guia Fort and Lighthouse, built on a high point overlooking the harbor.
The old Portuguese fort, now in the midst of a spacious, attractive park that covers most of a plateau overlooking the city, provided excellent views of the city. Macau has the reputation of being Hong Kong's slovenly, mildly retarded older brother, but that probably isn't true
anymore. Our view provided examples of bustling economic activity in the forms of high-rise buildings going up on all sides, but (unlike Hong Kong) mercifully sparing the historic buildings in the city center. Some excellent
examples of colonial administrative architecture were visible from the fort, as well as views of the harbor. (Macau is a peninsula connected to the mainland by a narrow, fortified neck, and thus nearly surrounded by water.) Macau isn't as compulsively tidy as Hong Kong, but then nothing
is, except maybe Disneyland.
The Portuguese first glommed onto Macau in 1557, which makes it three hundred years older than Hong Kong. The name is a corruption of the Chinese A-Ma-Gau, meaning the Bay of A-Ma, the Goddess of the Sea (called Tin Hau in Hong Kong), whose story was related earlier and who ascended to Heaven from a spot on the southern end of the peninsula. The city was nominally Chinese until the local governor chucked out the last Chinese customs inspectors in the mid-19th century. In the 1970s the
Portuguese tried to give the city back to the Chinese, but the Chinese weren't having it, and didn't annex the peninsula until 1999, two years after they'd absorbed Hong Kong.
The city was attacked by a superior Dutch force in 1622, who paraded inland past the forts containing the despairing inhabitants, until a cannon shot fired by a Jesuit priest hit the Dutch powder supply. The resulting explosion badly confused the invaders, and the Jesuit rallied the Portuguese garrison and their Chinese auxiliaries and drove the Dutch
into the sea with much slaughter. The Dutch succeeded in seizing the East Indies and the Japan trade from the Portuguese around the same time, however, which made Macau a commercial backwater known for its poverty and vice. For a time it was known as the "island of women" from the number of prostitutes and child-slaves who were abandoned in the
town by their owners.
The old fort includes the chapel of Our Lady of Guia, which features a statue of the Virgin whose cloak miraculously repelled Dutch bullets during the invasion. The walls and ceiling have the remains of old frescos, Christian motifs executed in the Chinese style by local Chinese artists.
They are simple and charming, though what remains are only fragments of the whole.
We walked down through the park, and took the cable car to the city below, passing over a large analog clock set in the grass, presumably so that gods floating overhead will know what time it was.
From here we headed along hot, crowded, noisy streets to the Kun Iam Temple. The streets of Macau, unlike Hong Kong, are always loud with the annoying rattle of scooters and mopeds. Overhead was a spaghetteria of electric wire, a colossal city-wide tangle that any electrician would probably find horrifying.
On the way to Kun Iam's temple we passed by the Lin Fong Miu, or Lotus Temple, which looked interesting but was closed. Due to the inexactitude of our map, we got somewhat lost on our way to visit Kun Iam, and wandered past a local Catholic school, with hundreds of Chinese students in neat uniforms, and past a cemetery, where cremated ashes reposed in lockers, each with a photo of the deceased and a little
vase for flowers.
Kun Iam is known in Hong Kong as Kun Yum, and elsewhere in China as Kuan Yin, the Buddhist Goddess of Mercy. (The Lotus Temple, a few streets away, is Kun Iam's Taoist rival.) Kun Iam started out as the Indian Avalokiteshvara, one of Buddha's more powerful manifestations, who was male, but underwent a sex change when he came to China. The
Chinese explanation for this is that mercy and compassion are female attributes, so Avalokiteshvara is best represented as female, but I suspect there was already a female goddess of mercy established in China when the Buddhists turned up, and she was promptly syncrecized into
Buddhism the way so many pagan traditions, like Christmas, ended up in Christianity.
Kun Iam's temple is about 400 years old, and is very large and ornate,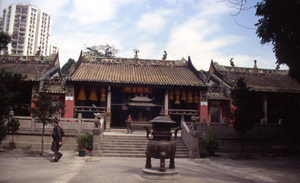 with formal gardens in the courtyard, full of beautiful old banyans, and a row of porcelain figures along the ridgepole of the roof. A constant cloud of sandalwood incense drifts from the courtyard toward Kunlun, the Western Paradise, where Kun Iam is said to hang out.
The Chinese tend to build their temples in threes, as I've remarked, and there are three outer temples under one roof that form a kind of gatehouse to the courtyard, after which a flight of steps takes you to the three altars of the main (central) temple. On the third altar is Kun Iam Herself, dressed in red as a Chinese bride. She is surrounded by
statues of the Eighteen Wise Men of China, one of whom— the one with round eyes and a pointed beard, on the far left— is none other than Marco Polo, who is said to have become a Buddhist on his visit to China.
Kun Iam is merciful and compassionate, as I've mentioned, and gives her followers many chances to become lucky. You can touch the little bonsai in the shape of the Chinese character for "long life," or you can rotate the balls in the mouths of the stone lions three times to the left. (I did none of these things, as I didn't know about any of this till after I left Macau.)
Feeling more than usually merciful on my way out of the temple, I gave some change to one of the beggar ladies sitting on the temple steps, and was immediately besieged by all the other beggar ladies, all demanding coins. I distributed all my change, but none of it was in the local currency, so I don't know whether they were happy or not.
We headed to the center of town for lunch, where I had a lead on some Macanese cuisine. This was a long and hot march, longer and hotter than we intended, and I managed to get us lost at least twice, which Erik and Anneke took in good part. I have to compliment them on their tolerance for my vagaries. They are much more patient than I am.
On the way we passed by a number of old restored Colonial buildings, high-ceilinged buildings with tall pillared verandas and louvered French doors, painted in tropical colors, ochre yellows and greens.
We dined at the Restaurant Afonso III, highly recommended in my guidebook. The Chinese waitress spoke only Cantonese and Portuguese, and a couple of Portuguese businessmen at the next table had to interpret. I was hot and thirsty and bolted a liter or two of the local beer, which isn't bad.
Macanese cuisine is a combination of Portuguese, Brazilian, African, Indian, and Cantonese. Afonso III turned out to be more Portuguese than not: I ordered a dish of lamb and potatoes in gravy, Anneke had a huge chunk of cod that appeared to be spiced India-style, and I seem to remember that Erik had fish as well. I ordered a huge plate of spicy
sausage as an appetizer and shared it. My lamb was very good and very European. Anneke didn't care for her cod, but I suspect this was because she was Dutch and cod isn't very interesting to a Dutch person. Erik was enthusiastic for whatever it was he ordered.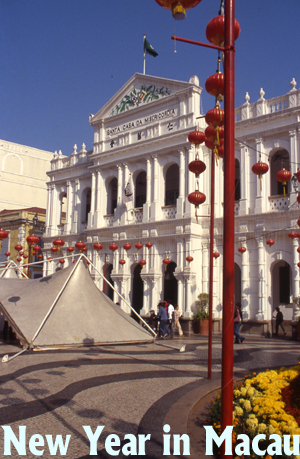 From this we got lost again on our way to the town's main square, which was still filled with red lanterns, red pagodas, and other displays for the New Year. The brilliant New Year displays contrasted with the baroque Portuguese colonial buildings on all sides, and with the ornate Jesuit
church. From here we wandered down Rua Sul do Mercado de
Sao Domingos through the Chinese market, lots of old traditional buildings, cut by narrow alleys festooned with webs of electric wire, featuring antique and trinket shops, where Mao buttons, old jade, and cheap brass buddhas compete for your attention in the stalls.
Few of the streets were on my map. Of course we got lost again, but this district was interesting enough so that this wasn't very distressing. By and by we came out at the Jardim Luis de Camoes— that's "Camoes" with a tilde over the o— which is a beautiful park with a fountain and old
banyans and gentlemen taking their pet birds for a walk.
From here we went to the old cathedral of Sao Paolo, which burned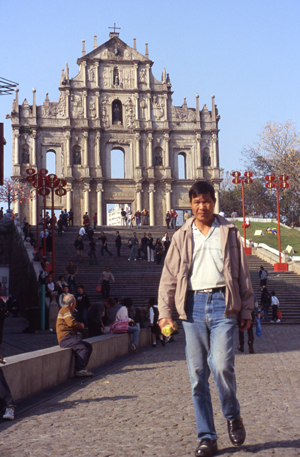 down nearly 200 years ago. All that's left is the facade, a single tall wall like a giant playing card jammed on top of the hill. The facade is an eerie baroque Jesuit monument covered with statues and reliefs meant to
illustrate Bible stories for the benefit of illiterate Chinese converts. There was Heaven, Hell, saints, devils, and of course the Savior, all of which looked even more alien after our walk through the Chinese mercado.
Tucked in a corner of the old cathedral complex, under the eaves of what would have been one of the back corners, was a tiny Chinese temple, a local god no doubt grinning at the misfortune of his mighty rival.
Looming above Sao Paolo was the huge Fortaleza del Monte, a massive stone fort still spiked with old cannon. Inside this is Macau's museum, which I highly recommend. It's one of the best historical museums I've ever seen, with nicely balanced displays on the history of Macau and its many cultures. The final display, no doubt installed since 1999, was a huge display on the history of the Chinese revolutionary flag, complete with patriotic music and an honor guard from the mainland. For the benefit of the soldiers I tried to look impressed.
After a refreshing snack we made our way down the mountain, then took a cab back to the ferry. By the time we got back to Hong Kong we were hungry again, and Erik and Anneke took me to an Indonesian restaurant near their hotel. Anneke, being Dutch, has a zest for Indonesian cooking, and this place was okay, though the bami didn't seem right to me. We
found a much better Indonesian place later, near the lair of the Scots Guards Lady, of whom more anon.
February 19
The day opened with a great dim sum experience in Causeway Bay, with myself, Erick, Erik, Anneke, and newcomer Joe Williams, who had just arrived to participate in the electronics conference to be held that weekend. Apparently we'd reached our quota of Erics, and now we were collecting people named Williams. The lovely dumplings just kept on
coming, one course after another. I was particularly fond of the rice cooked in lotus leaves— grilled perhaps, since the rice had a nutty, charred flavor. Erick spent most of the breakfast trying to program the complimentary cellphone that the hotel had given Joe.
Afterwards I got to play tour guide to Erik and Anneke. They wanted to see the sights of Kowloon, and I needed to go to Tsim Sha Tsui to pick up my tickets for Xi'an, so I thought we'd go by the most scenic route available, the Star Ferry. Unfortunately once we got to Tsim Sha Tsui I managed to get thoroughly lost in the search for the travel agency,
and we probably wasted half an hour or more stomping around
hot, noisy streets, gazing at identical tourist traps and fending off scores of Pakistani tailors all salivating to make us new suits. It turned out we shouldn't have taken the ferry to Tsim Sha Tsui, but to Hung Hom, where the ferry terminal empties out onto the square right where the NITS
agency has its offices.
Duh.
Once I got my tickets, we took the flyover to Hung Hom station, and the train to Mong Kok, where I was living in my hotel. We toured the Goldfish Market— which to that point I hadn't seen in the daytime— as well as the Flower Market and the Bird Market. Unfortunately we were rather in haste, caused by my getting lost earlier, and getting lost a couple
more times with in blocks of my hotel didn't help matters. We never did get to the Ladies' Market (textiles, apparently).
After a quick return to my hotel for a shower and a change of clothes, I was off for an evening at the Happy Valley Racecourse, one of Hong Kong's legendary sites. The electronics conference had rented a part of the Jockey Club and was putting on a buffet supper, and Erick had been nice enough to get me a ticket.
So now we had the whole gang: Erick, Kate, Eric, Erik, Anneke, Kelly, Joe, and Erick's semi-nephew Zack. Problems developed early on, as Zack could pass for sixteen on a good day, but definitely not eighteen, which is the legal age for attending horseracing. Zack had to go home, and Erick with him as escort.
The rest of us had a jolly time, though, talking, enjoying the free food and liquor, and making the acquaintance of the locals. I met and chatted with several Chinese businessmen who will, I'm sure, be absolutely useless at advancing my career. I overheard a couple of Englishmen lamenting the
fact that nobody wants to be a race steward any more. The buffet was divided into Western and Chinese and Dessert. I concentrated on the Chinese and on the Dessert. I should also make note that it was the swank Happy Valley Jockey Club that produced the only meal in China that gave me a (fortunately minor) case of turista.
We had each been given a complimentary race ticket on entering. Mine were complete duds, of course, as I'm always unlucky at gambling. Kate was luckier, and probably made some money.
Our deluxe skybox didn't give us a complete view of the track, there being a roof that obscured a corner of the raceway. We could have seen everything from the cheap seats. Since the Chinese are notorious for their addiction to gambling, and Happy Valley is one of the few places they
can indulge this tendency legally, I had been looking forward to seeing 20,000 locals going insane all at once, but we were so high up that the crowd was a rather distant abstract.
Horse racing, like baseball and cricket, is one of those sports from an earlier, more leisurely time. It has its own slow pace, with twenty or twenty-five minutes between each race, in which you have the time to amble down to the paddock and inspect the horses, or to call for another
bottle of champagne. I'm afraid that we of the video game generation got bored, and left before the last race, wandering out of the racecourse toward town to find a cab back to Causeway Bay.
Our taxi driver was both voluble and insane, and wished to communicate his geopolitical theories. His English wasn't quite up to it, but he punctuated his points by using his hard little knuckles to punch the person next to him (in this case, me). I would have socked him back, but he was
driving at great speed through Hong Kong's equally crazed traffic, and if I'd taken him out there would have been unfortunate consequences for all of us.
His theories, strongly flavored with geomancy, are difficult to reconstruct in retrospect, but he thought that America was great but that China would win in the long run, so long as certain temples remained standing. The Tin Hau temple featured heavily in this. He thought that Osama bin Laden
had picked the wrong target in the World Trade Center, and that if he'd only taken out of the Statue of Liberty instead, that America would be doomed.
Thinking of this, and with a sore arm, I headed for Monk Kok and bed.
February 20
Erik, Anneke, and I planned to visit Stanley Market for the day, but Erik needed to polish his speech for the electronics conference, and decided he'd catch up with us later. The speech took more time and energy than he'd expected, so in the end he managed to join us for dinner.
So Anneke and I headed again to the horrors of Central, this time to catch the bus to take us over the island to the town of Stanley, on Repulse Bay.
Anneke and I climbed onto the top deck of a double-decker bus and sat in the first row, the better to enjoy the scenery on the long climb up. We headed up the long switchback highway, filled with gorgeous view of Hong Kong below. We rose above Happy Valley, where we'd enjoyed the races the previous night, and past little Chinese graveyards stuck precariously on the mountainsides, either because it's good feng shui or because it's the cheapest property available in a very dear market.
The descent into Repulse Bay was equally spectacular, with the mansions of the wealthy on all sides, the celestial blue of the sea below, and heart-stopping dropoffs and vertiginous cliffs.
Repulse Bay, by the way, isn't so named because it's repellent in some way, but was named after HMS Repulse , the ship that drove the pirates off the south side of the island in the 19th century. In fact the bay is charming and spectacular, a wide semicircle surrounded by craggy cliffs
and with smallish white beaches contained in the coves.
It's principally a summer resort, with hotels and bars that still cater to sailors, though the Limies have by now been replaced by Yanks, whose warships were staging through Hong Kong, I suspect on their way to Iraq. During World War II, the British headquarters was at a resort hotel in Repulse Bay, and the Brits congratulated themselves on hiding their
generals where the Japanese would never find them . . . this until the Japanese soldiers came charging down from the hills and bagged the entire general staff. The British weren't sending their brightest sparks out East in those days.
Repulse Bay is now becoming another bedroom community for Hong Kong, with high-rises going up everywhere, surrounded by webs of bamboo scaffolding. One new building, constructed along the architectural lines of a cooling tower at a power plant, was festooned with bamboo scaffolding, which seemingly had no trouble enveloping the odd shape.
The town of Stanley is a smallish community built around its thriving market, hundreds of stalls snaking along little alleyways. I'm not much of a shopper, normally— Kathy accuses me of the worst shopping sin imaginable, which is going to a store, buying what I want, and then leaving— but I quite enjoyed Stanley Market.
I bought Kathy a clutch of five colorful silk scarves, and went on a lengthy search for pashmina shawls— pashmina, for those of you who haven't encountered it, is "like cashmere only better," and like cashmere is imported from, well, Kashmir. Some of the shawls were very cheap, and had probably been adulterated with rayon. Some were rather pricey, by Hong Kong standards. I soon learned the "feel test"— I'd feel up the pricey shawls, and then see if I could find cheaper ones that felt as downy and soft. Eventually I found some medium-priced shawls that felt as
good as the best available, and I got down to the enjoyable task of bargaining over the price.
Except maybe at the 7-11, no price in China is final. You are expected to dicker, which is all right because, by American standards, you're dickering for pennies and the whole exercise is damn near theoretical. Erick recommended asking "How much for ten?", which will get you near their base price in a hurry.
For myself I bought some tropical shirts, all of which shrank in the wash once I got home, even those that I washed in cold water and hung up to dry. (What the hell kind of fabric does that?)
The Stanley Market features an excess of gimcracks, jade, inlaid boxes, custom tailoring, t-shirts, fancy chopsticks, and "chops"— the seal stones onto which artisans will carve your name in Chinese. I was nearly tempted by these, but the thought of hauling a hefty rock home in my luggage
dissuaded me. I also tried on a cashmere sweater, which was amazingly cheap, but it was uncomfortable and looked weird. Even a bargain isn't a bargain when it doesn't fit.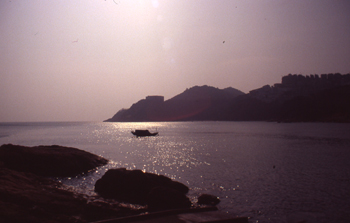 After our shopping experience we wandered out to the waterfront. Standing on the rocks overlooking the bay, I felt I could be at any seafront resort in the world, in California or Mexico or Greece, and then I noticed sampans bobbing in the water and knew I was in Asia.
From thence we wandered into town to visit the local Tin Hau temple, which is venerable for Hong Kong, being nearly 250 years old. Displayed inside is the skin of a tiger shot by an Indian policeman in 1842, rather small and black with age.
The ride back to Central was enlivened by sharing the ride with a group of (I believe) young Israelis, who spent the trip shouting at each other in what I can only call "Hebrish," a mixture of Hebrew and English. I never did work out what they were yelling about, but it was at the top of their lungs and they seemed to be having a good time.
After returning to Causeway Bay we rendezvoused with Erik and Joe and went forth to a local hot pot restaurant recommended by their hotel concierge. We found the building all right but went into the wrong lobby entrance. When we took the elevator to the floor where the restaurant was supposed to be we found only a dark, deserted corridor full
of dust and old furniture. If this were a horror movie, this was the place where we'd go wandering and die horribly when the monsters attacked, but it wasn't and we didn't, and we returned to the ground floor to circle the building and find the right entrance.
We found ourselves in a restaurant the size of a football stadium, all filled with Chinese having a roaring good time. Once again we were the only gwailo in the place. The staff had no English to speak of but made up for it with cheerful, ebullient service. One wall of the restaurant consisted of
vast aquaria in which our food still swam. We inspected our dinner through the glass while our dinner inspected us, and ordered prawns, scallops, and a whole steamed fish ("grupa"). All was excellent, as we had come to expect.
The abalone was the most expensive item on the menu. Joe and I, being I guess from the middle of the country, had never had abalone. The others didn't care for it, but Joe and I decided to experiment, and we ordered one abalone for the two of us. The waiter brought our abalone, cooked in
its shell with sauce and vegetables, and Joe and I divided it and ate. I noticed that this unusual operation had attracted the attention of many of the wait staff, and I now conclude that "to divide the abalone" is now colloquial Cantonese for "behaving like an insane foreigner."
Oddly enough, we didn't have hot pot.
After returning to Mong Kok for the night, I packed for
China and set my travel alarm for 5am, so that I could catch
the plane to Xi'an.
February 21
I was up at five for my flight to the mainland. From the hotel I took a cab to the terminal for the Airport Express train, which oddly enough was more or less in the basement of Erick and Kate's apartment building.
To my delight, it turned out I could check my bag at the Airport Express terminal, which meant I didn't have to haul it on and off the train. So I had a pleasant train ride in the darkness of the early morning, with a lengthy wait in the vast, character-free emptiness of the Hong Kong terminal
before getting on my Dragon Air flight.
Dragon Air was an excellent airline, with good food and attentive cabin attendants, especially as compared with the slightly shabby China Air that had taken me across the Pacific. I note that all Chinese airlines must have some kind of "really big gwailo" code they can insert into their computers, because I flew on a total of six Chinese aircraft on my stay, some of them quite crowded, and I always got my aisle seat, and I never had anyone
sitting next to me, so there was room for my big shoulders.
Xi'an, in Shaanxi Province, is a very friendly city except for the airport, which is designed as a Gray Socialist Edifice and is not for mere mortals to understand, all despite the big-character posters promising "warm service."
There didn't seem to be any way to get from the airport to the city. I changed some Hong Kong dollars into renminbi, and a lady tout, armed with an umbrella, took me in hand and got me a taxi ride to my hotel. (Renminbi, "people's money," are also known interchangeably as yuan, and there's a third name that I forget. [1/10th of a yuan is a jiao, and 1/10th of a jiao is a fen.] When you get change, you get a fistful of
tiny bills that can be worth up to 1/100 of a yuan. There are coins in some districts, apparently, but there aren't many in Xi'an. All denominations have Mao's picture on them.)
It turns out there was a standard fare of 110rmb (slightly more than $10US) from the airport to anywhere in Xi'an. Since the distance is something like 50km this isn't bad. Also, you don't tip taxi drivers in China, because taxi drivers are considered to be richer than practically anyone.
Most of the drive featured misty, bleak winter countryside, muddy fields waiting for spring. Occasionally there would be a small village of rather shabby buildings, a large farmhouse— some of which seemed to be in good shape, with traditional architecture that presumably predates the
current regime— an old tumbledown pagoda, or a graveyard.
The route was over what would be considered a freeway in the States, two lanes of traffic each way, limited access, with occasional tollbooths, and overpasses featuring big-character posters. The Chinese are obsessive about keeping their streets and sidewalks clean, and this holds
true also for the freeways: the highway verges were cleaned by workers using primitive brooms— straw tied onto a stick— but so large they were sculled with two hands. The workers wore fluorescent vests, but this seemed scant protection against the hazardous nature of Chinese traffic.
I never took a ride in Xi'an that wasn't terrifying, and this first introduction was no exception, particularly once we got off the freeway and into the city. The concept of a "lane," as a place which vehicles are more or less expected to remain in, and in which traffic moves only in one direction, is on the mainland best described as highly provisional. A lane seemed to belong to the most aggressive vehicle occupying it at any given moment. Vehicles regularly swerved into oncoming traffic in order to get around slower-moving obstructions, and would stay in the oncoming lane as long as the driver damn well felt like it.
The vehicles were a heterogeneous lot. Volkswagens seemed popular, particularly among taxi drivers. Big diesel buses charged around at great speed. There were a lot of bicycles and minibuses, motorcycles and mopeds and scooters. There were also mutations, as when an (inevitably rather small) motorcycle was converted to a kind of pickup, with two
wheels and a flat bed attached to the back, or alternatively with a large enclosed cargo space that was often used as a kind of ricksha, carrying rather cramped passengers. The little Yamaha or whatever on the front of these vehicles always seemed hopelessly inadequate to the job of hauling
all this stuff around, and it probably was.
The upshot was that if you were in a reasonably powered vehicle, like a Volkswagen taxi, you had to do a lot of bobbing and weaving and playing chicken in oncoming traffic to avoid all this underpowered clutter, and if your passenger died of a heart attack it was just one of the risks of the job.
This was made more dangerous by the fact that Xi'an is not blessed with a whole lot of traffic lights. There was one every mile or two, and none at all in the central square. Pedestrians had better things to do than to walk extra miles in order to cross a street safely, and so we had no choice
but to step out into the onrushing traffic whenever there was a chance, and to cross one lane at a time because there was never a moment when the street was entirely empty. The streets were full of pedestrians, usually in clumps, waiting patiently between two lanes for a break in the traffic.
That they survived at all seems to me to be proof of telepathy.
I was off the telepathic hotline, so I learned to cross the street with a clump of Chinese, doing my best to keep them between me and the oncoming traffic. If I were going to be smacked by a bus, it was going to have to go through a line of locals first.
Our route to the hotel took us past miles of what I took to be the old city wall all built of near-black stone, which has been restored (along with its dry moat), and looks quite splendid, particularly at night when the Christmas-style lights show off its crenellations. On the other side was
modern China, not all of which was exactly modern.
There were a lot of featureless concrete buildings, all of them slathered with bright advertising for cellphones or cameras or scooters. In between and behind were older buildings, some of them made of mud brick, and many of which were in one stage or another of demolition. Every so often
you'd see a bright new high-rise structure that looked as if it were imported from Hong Kong, or a new, large elaborate restaurant covered with red signs and red lanterns and looking like a palace from the Tang Dynasty. And, because it was February, there was a lot of mud, and people obsessively sweeping it off the sidewalks and into the gutters, from which vehicles would splatter it back onto the sidewalks again.
China is very much a place in transition, moving as fast as it can from the grey Maoist past into bright, wired postmodern consumer culture, but it hasn't completed the transition yet, and the result is kind of uneasy patchwork. My reaction ranged from the puzzled to the mildly disturbed,
until I realize what was bugging me. I was experiencing a conflict in paradigms. The concrete Third World architecture was something I was used to seeing in the tropics , not in a wintry temperate zone. If I'd seen
these same buildings in Quintana Roo, or in Palau, I wouldn't have felt the same unease. Throw in some palm trees and I would have felt at home. But for some reason I'd expected a more First World setting to go with the wintry skies, and the result was a mild dissonance that hummed uneasily beneath my perceptions.
The Hotel Jianguo was a huge palatial object, mostly empty in the off-season, that consisted of several towers surrounding a ornamental lake complete with ducks and geese. The picturesque quality of the lake was offset by the fact that the geese woke me every morning well before my alarm went off. The hotel had at least five restaurants, one Western, one Szechuan, one Cantonese, one hot-pot, and another that featured some type of regional cuisine I'd never heard of, and which I could never find in the maze of buildings anyway. (Every time I went wandering in the
hotel, some tall, monolingual, green-uniformed militiaman would turn up giving me the hairy eyeball, until such time as I returned to a part of the hotel more suited to foreigners. I wonder if all the other hotels for foreigners had so many cops assigned to them.)
It was a little past lunch time, so I went into the Szechuan restaurant to stoke up for my first excursion into Xi'an proper. I had been told that Xi'an specialized in lamb dishes and in dumplings, and searched the menu for these items, finding none. I ordered Szechuan pork. I was the
only guest in the restaurant and the intense gaze of the hostesses, watching my every move, made me nervous. The sauce tasted a lot more Hunanese than Szechuan to me, but what do I know? I signed for the meal, finished my beer, and left.
When I returned to my room, I found a gang of Chinese workmen working away with oxyacetylene torches on some of the fittings of my window heater, which they'd yanked out of its place, leaving a large hole now occupied entirely by the winter wind. Though I tried to tell them they could stay, that all I wanted to do was use the toilet and grab my
jacket and camera, they insisted on replacing the heater and leaving. I heard them banging and cursing in another room as I made my way out.
The hotel conveniently provided me with a map of Xi'an, along with some cards. (You show the cards to taxi drivers, or whoever, to help overcome the language barrier. My breast pocket was by now stuffed with cards, for hotels, restaurants, and individuals I'd happened to meet along the
way.) The concierge called up a taxi, and I pointed at the map to tell them I wanted to go to the Bell Tower, in the center of the old city. (I had learned enough Mandarin to say, "I would like to go to . . . ", but I had no words for Bell Tower, so pointing seemed easier.)
Off we went at the usual terrifying pace, passed through the wall at the Changle Gate, and zoomed down East Street, a broad boulevard, shaded by very nice trees but choked with traffic, pedestrians, and mud.
Xi'an was, off and on, the capital of China from the Chou Dynasty of 500BC to the Mongols, who moved the capital to Beijing, and Xi'an is also the terminus of the Silk Road, so you might say it has a lot of history. The huge wall— over twenty kilometers in length— I'd just passed through turned out not to be the old city wall, which no longer exists, but the wall of the Tang Dynasty imperial residence, its Forbidden City. Xi'an was so populous and so prosperous under the Tang that it required twenty miles of walls just to house its royalty.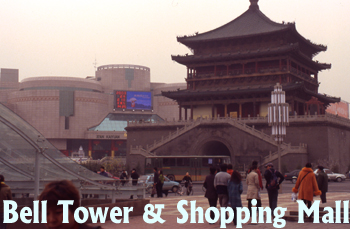 The Bell Tower isn't the geographical center of old Xi'an, exactly, but it's at the intersection of the old east-west and north-south highways, so that's where I asked the cab to drop me off. He took a detour of sorts to put another yuan on the meter, but the cab ride still cost me less than a
dollar.
The area around the Bell Tower shows the contrasts of modern China most vividly. Around the tower careens a huge traffic circle marked by careening autos, diesel-belching buses, and clumps of nervous pedestrians. On the southwest corner is an enormous shopping center right out of Blade Runner, seven or eight stories tall with more shopping space underground, complete with a diamondscreen display running
24-hour commercials and loudspeakers ordering the locals to buy in a shrill, piercing brand of Mandarin. On the northwest corner is another shopping center, though this one's underground and lit by skylights. Elsewhere the buildings are bulky, solid sorts of prewar construction full
of large, crowded shops.
The Bell Tower was the bulking, tall, multi-roofed structure— a naive Westerner might call it a pagoda, but it isn't, it's sort of a huge gate house without an actual wall to put the gate in— which held the large bell that
was sounded every morning to let the gate guards know to open the city gates. Likewise, the huge drum in the nearby Drum Tower was beaten in the evening to tell the soldiers to close the gates for the night.
The Bell Tower was on a tour I was taking later on, so I passed by. I wanted to visit the Muslim Quarter with its Grand Mosque and see how one of China's ethnic minorities was getting on, but the taxi driver's little jog had got me turned around yet again, and I found myself walking in the
wrong direction, and crossing streets with horrifying traffic that I would only have to recross later. I found myself in a poor residential area where a number of ugly Mao-era apartments were being demolished to make way for newer housing— nice, but I noticed the rubble was still
being carried away by old men dragging barrows.
Once I got my mental compass sorted out, I finally figured out where I wanted to go, retraced my steps, and found the Muslim Quarter was entered through the arched gate under the nearby Drum Tower. I paid an insignificant amount of money for admission to the tower and received a fistful of tiny bills in change.
The tower was six hundred years old and built in massive style, with multiple upturned eaves and the complex roof-bracketing systems for which the Chinese style is famous. I was the only tourist in the place. One whole floor was devoted to an exhibition on Chinese furniture, which I like, as it's quite livable and comfortable as well as being gorgeous— I'd love a house furnished with top-quality Chinese furniture, but first I'd have to be able to afford a house nice enough for the furniture.
The young woman in the gift shop probably hadn't had a sale all day, and pursued me as I walked past, frantically calling out ever-lower prices for all the stuff I didn't particularly want.
From the Drum Tower I got a good look at the Muslim Quarter, a maze of narrow alleyways and mud-brick buildings with dark tile roofs, many of which were overgrown with vegetation.
When I passed over the muddy cobbles beneath the Drum Tower, it was clear that the buildings were scrupulously maintained. Many still had bright red New Year decorations pasted to the doorposts.
Islam came up the Silk Road, which terminates at Xi'an, so it's not surprising that there are many Muslims there. (In fact they're in pockets all over China.) Chinese Muslims are known as Hui, and have been intermittently persecuted over the years, first for not following any of the three conventional Chinese religions, and later for hanging onto
their faith in the face of Marxism. The last big persecution was in the 1950s, when a great many were killed, and since then the Hui have been considered a protected minority.
The Hui are indistinguishable from the locals except for the slightly baggy skullcaps worn by the men. Some of the women wear headscarfs, but most seem not to.
The merchant spirit brought up the Silk Road is far from dead. The street was lined with tables selling, mostly, tourist crap. For some reason I heeded the call of one young lady who wanted to sell me something, and I ended up in the Traditional Art Institute of Xi'an, which was headquartered in the old compound of a wealthy family, a large house built around many courtyards, with big sliding doors with heavy paper windows that I associate more with Japan.
The lady was a student, and she wanted to sell me paintings. She was soon joined by an older colleague, who tried to flatter me by telling me that the size of my ears indicated that I was a lucky person. (I suppose I won't disagree, though I don't see what my ears have to do with it.) The
paintings were all on traditional themes— bamboo, nature, birds, horses, pictures of famous sages or characters from history— and ranged from rank student work to some very fine pieces indeed.
I wasn't in the market for art, exactly, since the walls of our house are lined with bookshelves and there isn't anyplace to hang a picture really, but I was looking for gifts, particularly something for Kate to thank her for
looking after me while Erick was busy at Poly Tech. In the end it came down to some expert black-on-white paintings of bamboo, and some very colorful pictures of songbirds. I opted for a songbird, as the monochrome bamboo might be a little depressing if you didn't look at it the right way. My interlocutor complimented me on my excellent taste, and told me I was a generous man for buying the work as a gift.
Once I was back on the street again with my painting tucked under my arm in its mailing tube, I took off through obscure, winding lanes for the Grand Mosque. My guidebook gave very detailed directions ("turn left at the third lane past the tower . . . "), but as it turned out there was
adequate signage, and in English too.
I was slightly nervous in the Muslim Quarter, as my nation was at that very moment gearing up to bomb the living shit out of a whole lot of Muslims in Iraq, but the chief reaction of the Muslims to an American in their midst was to urgently and vocally try to sell him a ton of tourist crap.
The lane to the mosque, once I found it, was lined with tables full of faux jade lions, lucky charms, pottery tea sets, fans, seal stones, and handsome sets of chopsticks.
I passed by all these and handed my money to the young man at the gate of the Grand Mosque, who rather disdainfully gave me a ton of tiny little bills in change. (Tariff was 0.12rmb, I seem to remember.)
Think "mosque," and what comes to mind probably resembles the Taj Mahal. I'd seen (though not entered) the mosque of Hong Kong, which looks like a cross between the Taj Mahal and a slick modern hotel.
The Grand Mosque of Xi'an doesn't look like anything you'd expect. The architecture is Chinese through and through— it's a long series of courtyards separated by elaborate ornamental gates, the kind that in Japan would be called torii though I don't know the Chinese word for it. The courtyards are beautifully landscaped in Chinese style. Large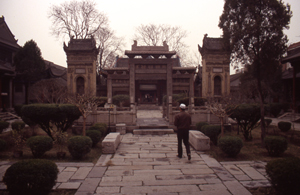 inscriptions in (mostly) Chinese and (sometimes) Arabic are prominent on the various halls and other structures. The roofs of the buildings have traditional upturned Chinese eaves, and traditional Chinese ornaments,
including dragons (which, being mythical, might be permissible under the Islamic prohibition against representative art). One building is known as the Phoenix Pavilion from its resemblance to a bird crouching preparatory to takeoff.
I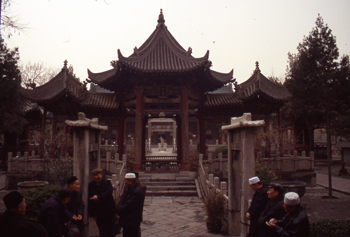 n one of the courtyards is a pagoda (traditionally a Buddhist structure) from which the muezzin used to call the faithful to prayer until the invention of loudspeakers.
Though the Hui have been persecuted in the past, at present the Grand Mosque gets government money devoted to its restoration, and the money shows. The buildings have been lovingly and carefully restored, and the old mud-brick buildings of the Muslim Quarter have been protected from development (though I would consider this a mixed benefit).
The mosque has a large number of pavilions and halls. One hall has the entire Koran carved in stone, with a translation in Chinese.
The ultimate courtyard terminates in the prayer hall, from which non-Muslims are barred, though it was open to the courtyard and I got a good look. The direction of Mecca was indicated in glowing blue neon, and there were rows of prayer rugs laid out for the knees of the faithful.
The call for afternoon prayer went off while I was there, and various men in skull caps, mostly elderly, began to mosey their way to the prayer hall, chatting, hawking, and spitting as they went. (I should point out that mainland Chinese spit a great deal, particularly the older men, and that before spitting they clear their throats in a particularly revolting, nerve-shredding manner guaranteed to make a Westerner cringe right down into his socks. I grew to dread that sound, and it never failed to raise the hackles on my neck.)
While the service commenced, I sat quietly in the various courtyards and enjoyed the peace and beauty of my surroundings. It was a pity that I was there in February and that the landscaping was brown and dead, but I could imagine what it would be like in summer, under blue skies,
and I was very much sorry that I was visiting Xi'an in the season of mud.
As I left the Muslim Quarter the supper hour was beginning, and the streets were full of wonderful smells, kebabs and bread and things cooking in broth. "One dose of typhus can ruin your whole day," I told myself as I walked past this gorgeous, mouth-watering display. I was getting hungry.
I headed northeast, because the guidebook said there were some good restaurants on Jiefang Road near the train station. The route took me past the headquarters of the Shaanxi Provincial Government, a white monument guarded by soldiers with chrome-plated assault rifles, and which was opposite Xin Cheng Square, a truly enormous park-cum- parade ground that clearly dated from the Mao days, when the
government might be called upon at any moment to fill the square with half a million people for a demonstration against the common housefly.
My walk also took me past the Renmin (People's) Hotel, another period artifact, the name of which provides a political contrast with the names of newer, showier hotels, like the Hotel Royal Xi'an and the New World Dynasty.
Jiefang Road was a washout where food was concerned. I parked myself in a pleasant-looking little bistro, where my seat was actually a porch swing nudged up to the table. The menu turned out to be Italian. I decided against eating a Northern Chinese idea of Italian food, not when I'd just seen gorgeous local fare in the Muslim Quarter, so I had an
appetizer and a couple beers and moved on.
No fabulous restaurants presented themselves, and it was getting dark and cold. I ended up buying some stuffed pita from a Muslim vendor— typhus be hanged!— one with meat and one without. Both were tasty, but the "pita" was dense, chewy round bread, not at all like the puffier sort of pita I'm more used to, and I left some of the bread in a trash
can.
(For food I should just have headed back down East Street. Plenty of restaurants there, mostly of the fast-food variety.)
It was dark and cold, so I took a cab back to the hotel. "I would like to go to the Hotel Jianguo," I said in my finest Mandarin, and presented the hotel card. (I'm lucky I remembered this much Mandarin, as ten days in a Cantonese-speaking area had pretty much blown all my carefully rehearsed Mandarin out of my head.) The cabbie looked at the card and
scratched his head.
"Jianguo," he said, as if correcting my pronunciation. To my ear he seemed to be pronouncing the name the same way I had, with a rising tone on the first dipthong and a falling tone on the second.
"Jianguo," I said.
"Jianguo," he repeated, and put his car in gear.
This dialogue was repeated every time I took a cab to my hotel.
There was a string quartet playing in the lobby of the hotel, so I listened for a while. My stuffed pitas had taken the edge off my appetite but not suppressed it, so I decided to go into the hot pot restaurant for dinner.
I'd been told to have lamb in Xi'an, so I ordered up a lamb hot pot. In due time the waitress arrived with a cart and a clay pot over a sterno burner. The pot was full of bubbling, fragrant broth. The waitress emptied a plate of freshly-cut vegetables into the broth, covered the pot for a
few minutes, and then added the raw chunks of lamb. In another two minutes all was cooked and the pot and the burner were transferred to my table. With this I got a bowl of rice and a plate for my bones. (Meat and poultry in China are not de-boned, they just chop the whole carcase up with a cleaver and cook it. And if fish is ever filleted, I never saw it.)
Afterwards the waitress asked me to fill out a card telling the management how well she did. She was pretty clearly bucking for a promotion. I decided that an incomprehensible compliment was the best of all, and so wrote "Mei knocks the other girls for six," my best Bernard Montgomery style.
Afterwards I digested in the lobby while listening to the string quartet, them moseyed to my room.
I got to bed early, because the next day was going to be full. I was going to see the Terra Cotta Warriors of Xi'an, and much else besides.
February 22
I recall now that I forgot to mention one surprise of the previous day. Late in the day, when I was trekking up Jiefang Road on my Quest for Dumplings, I noticed a side street that seemed to be lined with restaurants.
In China restaurants usually have red lanterns and red doorposts. As I walked down the street and was hailed by several jolly ladies who lounged in their narrow shops on small, cheap vinyl couches, I realized that red lanterns might signify the availability of a another sort of dumpling
altogether.
I was a little surprised to see prostitution practiced so openly in the People's Republic. Even in Hong Kong, where prostitution is legal, the ladies aren't allowed to solicit— from what I could see, they just stand in a public place and chew gum at the passersby in a very aggressive manner.
I wondered about the cheap vinyl couches, the type you see in doctors' offices and which were in every knocking-shop on the street, and which seemed a little small and rickety to support actual intercourse. Surely, I thought, there had to be a bed in the back somewhere. Unless, of course, the Chinese male is fond of Oriental sexual techniques with names like The Phoenix Flies to the Vinyl Couch of the Heavens.
In any case, I left Vinyl Couch Street without investigating further.
Saturday morning I had my choice of breakfasts, Chinese or Western. I'd already sampled the Chinese idea of an English breakfast at my Hong Kong hotel's breakfast buffet, and afterwards recoiled in horror, preferring instead for the many pastry shops in the neighborhood. The pastry is allegedly Western, which it isn't, but it's tasty, and the pastry shops are crowded at mealtimes. My most reliable breakfast was the Red Bean Bun, which was sweet and nourishing. The buns with pineapple
were sort of interesting, and the ones allegedly filled with cream were filled instead with a tough plasticlike substance that tasted as if it were synthesized from petroleum. I never dared try the tuna bun. Tuna that had spent the day under a hot light in a pastry shop counter was just too
scary.
Be that as it may, the idea of the pastry shop had yet to penetrate Xi'an. CITS had assured me that breakfasts were included in the package, but the Jianguo Hotel insisted they weren't. Since the cost of the Chinese breakfast was something like thirty cents, I didn't mind.
The Chinese breakfast included many kinds of buns (some stuffed with unidentifiable substances, some not), noodles, and rice porridge on which you could sprinkle various other substances, none of which I recognized. With this came lots of hot tea. The meal was bland but solid, if not actually dense. (Some of those buns could have been used as weapons.
The idea of fluffy pastry hasn't penetrated the north as yet.)
Since I only had two days in Xi'an I had signed up for a couple tours. I'd never actually toured this way before, but I figured I had limited time, a lot to see, a bare acquaintance with language and customs, and if the tours
shortchanged me in any way, I'd come back later on my own. Plus, the only way for a foreigner to see the Terracotta Warriors is to take a tour.
Rather to my surprise, I had a terrific time and learned a lot.
There were eight of us on the tour minibus. There was a British woman on her way to meet a friend in Beijing, an Austrian couple, two businessmen from Taiwan, and a guy from (I think) LA. To this was added our tour guide Liu Yu, who allowed as we could call him Aaron. He was a charming guy with a strong resemblance to the actor Jet Li.
Our first stop was the Big Wild Goose Pagoda, which is distinct from the Small Wild Goose Pagoda a modest distance away. (I could explain why it's called Wild Goose, but the story is long and Buddhist and I'll spare you unless you ask.)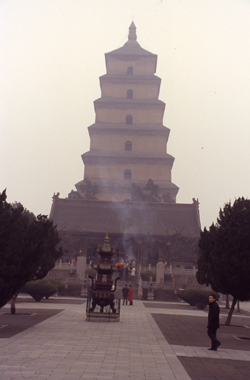 The Wild Goose Pagoda is a huge masonry structure, very tall, six stories above a large base, which is slowly toppling and will eventually collapse. It was first built in the seventh century AD in the Tang Dynasty (it's been
rebuilt since, after earthquakes), and was intended to house Buddhist scriptures brought from India by the monk Xuan Zang (aka Hsuan Tsang), who left China in 629 to spend 17 years in India studying the Doctrine, and who had returned with a whole library of scriptures which he spent the rest of his life translating. The Emperor was sufficiently impressed on Xuan's return to Chang'an (as Xi'an was then known), that he ordered the Big Wild Goose Pagoda constructed in order to house the scriptures.
Pagodas are a Buddhist structure. If it's not Buddhist it isn't a pagoda. They are a Chinese version of the stupas that were built to house Buddhist relics in India.
Buddhism came to China prior to the Tang Dynasty, but it was carried by merchants up the Silk Road, and there was little understanding of actual Buddhist doctrine. Buddha was placed in the temples alongside other Chinese gods, and there was no unified doctrine, or scripture.
In the Tang Dynasty, Chinese began to travel to India to learn actual Buddhist dogma, and Xuan Zang was the most famous of these. A great many legends rose about him, including a kind of Moses story, in which he was placed on the river on a piece of driftwood by his mother, who wished to preserve his life from his evil, murdering stepfather (who had killed Xuan's father in order to possess her). Eventually Xuan rescued his mother and his abandoned grandmother, and was reunited with his murdered father, who had been resurrected by the River Dragon.
Having become a character in Chinese folklore, it would seem a natural step for Xuan Zang to then become a central figure in the fabulous and incredibly lengthy novel Journey to the West , where his exploits became fantasy fodder, and he became the straight man to the Monkey King. Since the Monkey King has become enormously popular, I was impressed by the fact that the monastery has refrained from exploiting
the connection. I didn't see a Monkey King doll for sale anywhere.
After Xuan Zang's visit to the West, Buddhist doctrine in China became much more unified, and depictions of the Buddha were standardized. This was very clear from museums and other exhibits.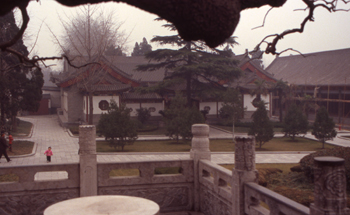 The pagoda is surrounded by an extensive monastery and grounds, which appears to be thriving on government subsidies and the contributions of pilgrims. There seem to be a large number of monks in residence, and male children as well, by which I conclude that the monastery may also serve as an orphanage, raising boys in the hopes of turning them into monks. Most of the original buildings were wrecked in an earthquake, so most buildings now date from the Ming Dynasty, as you can tell by the Favorite Little Boy of the Earth Dragon, who is perched on the rooftops.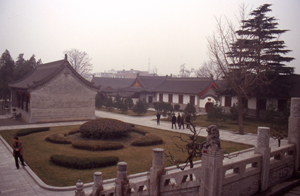 The Earth Dragon has nine children, all boys. The Earth Dragon, who slumbers more or less all the time, occasionally rolls over in her sleep, thus through inadvertence causing an earthquake. The Chinese have attempted various solutions for this problem, including building large structures to pin the Earth Dragon down. The Ming built effigies of the
Favorite Little Boy of the Earth Dragon and placed them on their roofs as a decorative motif. Surely the Earth Dragon wouldn't be so rude as to cause an earthquake and knock her favorite child off the roof!
The Earth Dragon, by the way, also has a Least Favorite child, who is for some reason shaped like a turtle (which probably explains the Least Favorite status). It's not uncommon to see in China is a large sculpted turtle bearing on its back a stone stele carrying a message from the
Emperor, or some other such august personage. The turtle presumably carries the message slowly but surely about the empire. But bear in mind that the turtle is not actually a turtle, it's a dragon in the shape of a turtle.
Just so you know.
The Tang Dynasty architects also chose a distinctive architectural element to avert disaster. Their roofs are ornamented with a flat, vertical fish's tail, or at least the upper half thereof. In the event of fire, the tail is supposed to slap the water and drench the flames. I imagine it works at least as well as the roof dragons.
The monastery is filled with a large number of prayer halls and temples.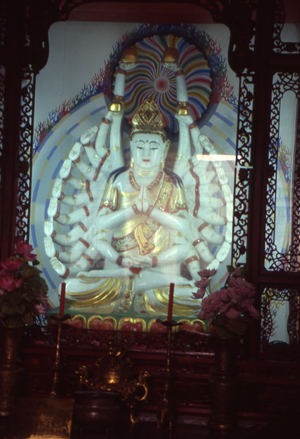 There are gilded bas-reliefs of the Buddha and of Buddhist cosmology, and one spectacular multi-armed statue of the Buddha carved out of white jade.
The central temple is divided into three smaller temples, as is standard in China. The Buddhists adapted the typical three-in-one Chinese temple structure very well, with the different sanctuaries being devoted to the Buddha of the Past, the Buddha of the Present, and the Buddha of the
Future (aka Maitreya). The point seems to be that wherever you go, the Buddha is there to meet you.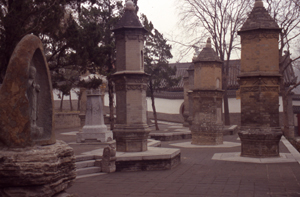 There is a lovely garden attached to the temple, filled with mist and venerable trees, and also the graves of the abbots. The ordinary monks were cremated on death, but the abbots were placed in large pottery jars which were buried in their own section of the garden, each with a little pagoda built on top. It's charming, attractive, and eerie all at once.
From the pagoda we left Xi'an to visit the Ban Po Neolithic Village, a prehistoric site. Ban Po is one of the earliest known settlements in China, and the nearby museum is full of their pottery, tools, and weapons. (The village had a deep moat built around it, so apparently the weapons weren't all for hunting game.) The village is now under one huge roof,
with the excavations available to the public. The villagers lived in round huts with thatched roofs and mud-and-wattle walls. Adults were buried in a graveyard, but children were placed in pottery jars and walled up in the walls of their parents' homes.
Several of the adult burials were uncovered and exhibited under glass. There were one to three skeletons per grave, with grave goods of pottery and other offerings. The bodies lay on their backs facing up, except for one man who was buried face-down. It is theorized that he died in disgrace.
On the basis of no evidence whatever— at least none that anyone was willing to share— the government decided that the Ban Po settlement was matriarchal, and it's known as Ban Po Matriarchal Village. (I'm not saying it wasn't, just that the evidence one way or another seems pretty
conjectural.) Until recently, there was a kind of Matriarchal Theme Park behind the excavations, with people living in replicas of the huts, and Matriarchs wandering around in prehistoric gear that included stockings and heels. This has been closed down, apparently because another prehistoric site has been discovered underneath it, and excavations will now proceed. The modern village is still there, though deserted. Our guide said it was "fun for children."
Our next stop was— a factory! It was our guide's duty to steer us toward government-run souvenir shops and away from private markets. This factory was fairly interesting, though, insofar as it produced replicas of the Terra Cotta Warriors, anything from a few inches tall to full-sized, and was one of two factories authorized to use the dirt from the actual dig site. The factory manager/host/whatever went into considerable detail on how the replicas were sculpted, and showed us how to tell a good copy from a bad one. (The good ones are shiny and black, the cheap knockoffs mud-colored.) There were huge stacks of aromatic wood
standing next to the huge kilns.
The factory made a good deal more than replica warriors. One barn-sized showroom was filled with gorgeous replica furniture, much of it inlaid with gold or mother-of-pearl. If I ever win the lottery I know where to go to furnish my mansion. Another enormous room was filled with incredibly gorgeous jade carving. There were counters and counters
filled with jewelry.
I never dared ask the price of anything. Either it would be incredibly high, or it would be so cheap that I'd run amuck and buy out the store.
After feasting our eyes on the colossally gorgeous goods for sale, we piled into the bus and headed toward Hua Qing Hot Springs. This was an ancient resort community in the nearby mountains, which were dramatically covered by mist and snow. A ski lift was visible on one slope, though I saw no one skiing.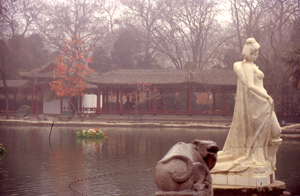 Hua Qing has been in use since at least Han times, and consists of a series of bathhouses and pavilions surrounding a large ornamental lake, itself surrounded filled with flowers and blossoming trees. (Closer inspection showed that the flowers and the cherry blossoms were made of paper,
and that someone had glued them to the trees.)
With Xi'an (or Chang'an) being the capital for so many years, Hua Qing was a preserve of royalty. Preserved in one of the buildings is the giant pool, carved out of the rock, reserved for members of the Emperor's harem (and, of course, the Emperor). The Emperor's personal tub, only slightly smaller, is nearby.
Hua Qing is also the site of the famous "Xi'an Incident," in which Chiang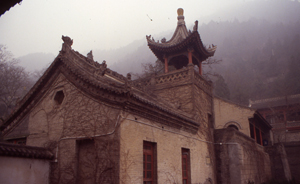 Kai-shek was kidnapped by two of his own warlords, including General Chang, known as the "Young Marshal." In the Thirties, China was being invaded by Japan, but Chiang had concentrated the army against the
Communists. The Young Marshal and his cohort decided to kidnap Chiang and force him to sign a document committing China to war against Japan. One night when the Generalissimo was visiting Hua Qing, warlord troops stormed the resort and killed Chiang's guards. Chiang took alarm
and fled into the snowy mountains in his pajamas, leaving his teeth behind in a glass by his bedside. In the morning the warlord troops found the shivering generalissimo and carried him back to the hot springs. A few days later, Chiang agreed to ally with the Communists against Japan. He
was released to command the forces against Japan, and the Young
Marshal was placed under house arrest for the next forty-odd years, till after Chiang's death. (He died in Hawaii in the 1990s.) His partner in crime was assassinated. Chiang did badly against the Japanese, Mao did well, and then Mao conquered China.
Our guide Liu Yu turned to the two Taiwanese guys and said, "You two probably learned a different version of this story."
"We did," one of them said, "but I agree with you."
Hua Qing has a wall of memorabilia, with photos of Chiang, Mao, and other bigwigs who have visited there. The Taiwanese guy pointed out a photo of Madame Chiang Kai-shek, the last of the fabulous Soong sisters, who is still alive and living on Long Island at the age of 104.
There was also a sample of Mao's calligraphy. Mao was renowned for his "grass hand," in which each character is written with a single stroke (instead of four or five). A classical poem in Mao's hand is carved in stone and mounted on one of the buildings.
From Hua Qing we were taken to lunch, hustled past some souvenir stands (not that I had a problem with this). The lunch came with our tour, and we were seated at a large table, with a huge lazy susan in the middle. Waitresses arrived and began plopping down plates and bowls of soup.
The food was abundant and tasty, if not exactly haut cuisine.
The Terra-Cotta Warriors, are the coolest things ever built by a megalomaniacal mass-murderer.
The megalomaniac in question was Emperor Qin Shihuangdi, who in the Third Century BCE ended the Spring and Autumn period by conquering the other six Chinese kingdoms and unifying the nation for the first time. He also unified the currency, the legal system, the width of cart axles, and the calligraphy. In addition he ruled with an iron fist, required internal passports for all citizens, conscripted millions of Chinese to build the Great Wall, his tomb, and other projects, and burned the books of anyone who disagreed with him (which was pretty much everybody).
He conscripted 770,000 peasants to work on his tomb complex near Xi'an, which took 40 years to build. In order that the conscripts not reveal the tomb's secrets, he then had them all liquidated. Their bones are still regularly being turned up in peasants' fields (I've seen a few of them).
The tomb is actually an underground palace buried under a huge pyramidal-shaped mound of earth with a circumference of over six kilometers. It was once 175 meters tall, but with settling of the earth is now only about 75 meters tall. It's now covered with trees. The site was chosen according to Feng Shui, with a mountain on one side and a river on the other.
The First Emperor supposedly lies in a suit made of jade, with his sarcophagus lying on a map of China. The rivers are made of running mercury, kept going by some kind of magical perpetual motion machine. Overhead is a dome with a star map, which continually rotates (powered by another perpetual motion machine, apparently). The ways to the
emperor's tomb are filled with traps, pitfalls, tripwires, and crossbows set to skewer anyone within range.
For over two thousand years no one knew exactly where in the huge mound the emperor's body lay, until radar imaging revealed the location in the 1980s. Apparently the tomb has never been looted.
The Chinese maintain they have neither the money nor the technical skills to excavate the tomb at this time. (Their whole archaeology budget is currently taken up with salvaging what they can from the floodwaters of the Three Gorges Dam.) I appreciate a government that knows its
limits. Not only would the excavation be technically very challenging, if there is mercury in the tomb (in liquid form or not), the whole complex would be poisonous in the extreme, and you'd expect the first batch of archaeologists to drop dead on the spot.
In the meantime, excavation continues on the satellite sites of the tomb complex. Near the mound were found 31 pits containing rare birds and animals, a complete stable with 98 pottery horses and attendants, a pit with two bronze chariots complete with drivers and horses (I saw replicas of these in Hong Kong, in an exhibit claiming they were the real thing), a pit with terra-cotta acrobats, the seventeen tombs of the First Emperor's children (all liquidated by their brother, the Second Emperor), a pit holding many sets of armor made of stone (and you have to wonder what that was about), a pit holding effigies of civic officials, and 8100 square meters of "mass graves," with hundreds of men, women, and children all buried together. And since their skeletons lie in attitudes of struggle, it is apparent they were all buried alive.
A real charming guy, that Qin Shihuangdi.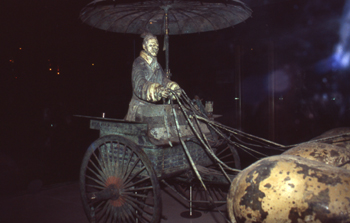 None of these items were on display in Xi'an, except for the chariots. I had seem the acrobats and the stone armor (or replicas thereof) in Hong Kong, as part of a traveling exhibit. The chariots are plated by bronze and drawn by four horses, three mares and a stallion on the right, marked by a plume on his forehead. The first chariot has a single driver under a huge umbrella. He's a guard, as demonstrated by the crossbow set in a bracket by his left hand. The second chariot is enclosed, with a round umbrella-like roof, and probably was built to transport a general or other dignitary. The driver sits in a squatting position in front under the low roof.
The chariots are about half real size, unlike the terra-cotta army, which are life-size or larger.
The terra-cotta army was unearthed in 1974, by a group of peasants digging a well. One of them was down in the well while the others shouted encouragement from above. The excavator swung his pick, and it made an unusual chunking sound. He looked at his feet and came up from the well with— a human head, made of pottery. The other peasants fled, figuring this was trouble. But the loyal excavator took the head to the local magistrate, and an investigation commenced.
The government ended up buying the peasant's land for a "small but fair sum" (according to our guide) He was then hired as vice-president of the museum, a post he continues in to this day. As he was illiterate and a peasant, his subsequent contributions to archaeology were limited, and in
fact his job consists of sitting in the gift shop and autographing souvenir books. (They had to teach him how to write his own name, but he's had a lot of practice since, and he subscribed my book in a rather elegant grass hand.)
I never did catch the man's name, and I can't read the signature, so I may never know. He's now in his sixties, and wore a blue Mao suit and cap. He wore glasses with round rims and occasionally stepped outside the gift shop to smoke his small steel pipe.
He was pleasant when I met him, but wouldn't let me take his picture. Some days, our guide says, he's annoyed at the world and won't sign. He's planning retirement soon.
Once the terra-cotta warriors were discovered, spot pits were dug throughout the vicinity to determine the extent of the burials. Three large pits were found, and before any were excavated, the government built huge poured-concrete structures to enclose the pits and protect any discoveries.
Two thousand warriors have been uncovered by archaeologists, and a further 8000 are estimated to be still in the ground. Apparently the First Emperor wanted to be buried with a full 10,000-man regiment.
The warriors must have been made on an assembly line and over many years. The bodies are standardized and were made in molds, with the higher-ranking soldiers having larger and thicker bodies. Each head, however, has a unique face and hairstyle. It's hard not to believe that each was modeled after a real soldier.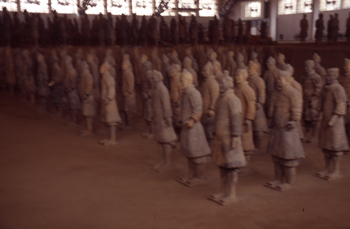 The soldiers were once brightly colored, but the paint was applied over an inferior primer (those government contractors!) and it flakes off within a short time after excavation, leaving a kind of iron-gray cooked into the
figures by the kiln process.
The largest burial contains most of the soldiery, in battle formation. In the lead are the arrow fodder, spearmen without armor. (The opponents of Qin were scandalized that unarmored men were sent into battle, because they fought all the more fiercely because they had no protection. In the
Qin army, you only rated armor after you'd killed five enemies.) Behind the vanguard are archers, chariots, and armored spearmen. Kneeling crossbowmen guard the flanks and rear. All once held real weapons.
In Pit Two are another formation of chariots, cavalry, archers, and crossbowmen, with some high-ranking officers. The chariots aren't quite life-sized, and feature a driver (with armored sleeves, since he can't protect his arms while driving), and a halbardier holding a horse on either side.
The wooden bodies of the chariots have disintegrated, and they can only be deduced from the imprint the wheels and carts made on the soil.
Pit Three is the smallest and holds the general with his command staff. He's surrounded by guards who once carried banners, aides with ink-horns and pens, and a colorfully-painted chariot.
The warriors were originally stood upright in long trenches with brick and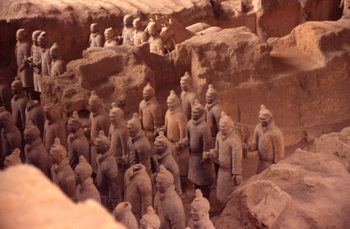 rammed-earth walls. They carried genuine weapons. The structure was then roofed with timber, earth, and sod. They were not deliberately buried, but rather stood upright in underground passages.
Unfortunately for the warriors, however, the Second Emperor's reign was brief. Revolts swept the land, and one of the rebel armies sacked the First Emperor's tomb complex. Rebel soldiers broke into the structures containing the warriors, looted them of most of their weapons, and smashed the vast majority of the terra-cotta figures. They then set
the place on fire and marched on the capital, which they subjected to similar treatment.
The result is that very few of the warriors are found intact. Most are in many pieces, and buried under the petrified remnants of the collapsed wooden roof. It takes six months to painstakingly restore a single figure! The work is ongoing and will take many more years to complete.
From the few weapons that remain, we now know that the Qin had an astonishing grasp of technology. All weapon parts are completely interchangeable. (I'd been taught that interchangeable parts were invented by Eli Whitney in the 1790s.) Spear hafts match all spear heads (which aren't spears, exactly, but a strangely F-shaped halberd blade), and all the complex parts of the crossbows are made to within a millimeter's tolerance.
The most astonishing thing was the chrome plating on the swords. (Chrome plating is supposed to have been invented in Germany in the 1920s.) The swords are still sharp after 2000 years and will cut paper.
All these technologies were lost after the fall of the Qin. Or perhaps the First Emperor liquidated all the artisans.
Terra-cotta figures, sometimes in large numbers, have been found in the tombs of the later Han Dynasty, and some of them are great works of art, but all of them are miniatures. The Qin tombs are unique in all the world, so far as we know.
After my return to my hotel, I had a few gins-and-tonic in the bar while writing in my diary, and then decided I was too tired to go to town and ate dinner in the hotel hot pot restaurant. I had rabbit hot pot, delicious but for the bones. Once again the waitress, bucking for promotion,
asked me to fill out an evaluation. "Mei is the cat's pajamas!" I wrote, and shambled off to bed.
February23
Another morning, another Hotel Jianguo breakfast buffet, with heavy but nourishing dumplings and buns.
Our guide had agreed to pick me up rather later, at 9:30 I think, to give me a chance to sleep in. (Very obliging, I thought) As it happens, I didn't sleep late because the damn geese in the ornamental lake woke me at an early hour.
The guide came alone, with a car and driver— the other tourists having had no particular objecting to rising earlier. So now I had my very own guide, and my very own driver. Most obliging— but I figure it was a bureaucratic deal. Here he was, a state-sponsored tourist guide, and it
wasn't the tourist season. He was hustling up work for himself and for a few friends.
Or maybe he just liked me, I dunno.
Our first stop was the Shaanxi Historical Museum, which was an absolute treasure house. Xi'an was the capital of China for most of 2000 years, including the arguable high point of the Tang Dynasty, and the size and scope of the collection was staggering. They had artifacts from the Ban Po neolithic settlement to relatively modern times, and I looked in staggered amazement through room upon room of bronzes, porcelains, gold and silver work, paintings, scrolls, and statuary. Their collection was weakest on the Yuan, Ming, and Ching, since by then the capital had moved to Beijing, but the collection was colossally rich and wonderful.
From thence we traveled to the Forest of Steles, an old, very large Confucian temple. Buddha, I noticed, has been somewhat rehabilitated in the PRC, with monks visible in public and new monks being trained, but I don't think the same treatment is being offered to Confucius. Perhaps
because of his sexism, I don't know. The Forest of Steles was very much a state enterprise.
Since Tang times the temple has been used as a repository for imperial and other important decrees, all of which were carved on stone tablets and stood upright within the halls of the temple. Some of the steles are carved in imitations of the calligraphy of the emperors and princes who issued the decree.
In addition there is the original bell from the Bell Tower, and the only piece of artwork known to have been created by the Huns, a life-sized stone horse. Since I am of Hun ancestry, I took a picture.
The steles included a carving of Ta Mo Crossing the River from West to East. As Ta Mo (aka Bodhidharma) is the alleged founder of my martial arts style, I wanted to get a rubbing, maybe to donate to the karate school, but somehow I forgot when time came to leave.
On one of the steles is the first official mention of Christians in China, dating from the 4th Century AD. Apparently Nestorian Christians came up the Silk Road. (This is not the history we are taught in the West, or at
any rate it wasn't when I was in school. Perhaps our teachers didn't consider Nestorians to be real Christians.)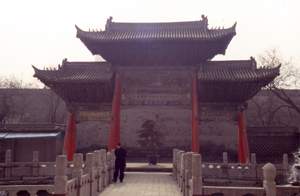 Also in the temple is a large gate, a memorial to a virtuous Confucian woman. Confucian women weren't supposed to remarry if they were widowed: they were supposed to devote their lives to their offspring and to their husband's family. If they did this successfully, the family might
erect a gate to them. Here was one such.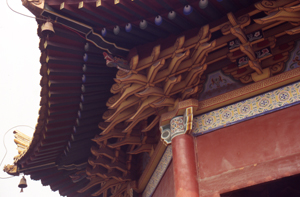 Lunch was at the large restaurant/club that featured the nightly Tang Dynasty Show that I hadn't ever signed up for on the assumption that it would be tourist schlock. I really should have gone, especially considering how exciting my Xi'an nights had turned out to be. I was the only customer in the place, so once again the entire wait staff stood around watching me eat a perfectly colossal seven-course meal which just kept coming out of the kitchen, one platter after the next. Clearly they were used to catering to large groups. Any one platter would have sufficed. I wasn't even hungry but I tried to do it justice.
After lunch we went to the Anyuan Gate for a stroll along the city walls. The gate was built around a courtyard into which invaders could be lured and slaughtered. This couldn't be accomplished nowadays, since stone stairs have been built from the courtyard up to the walls for the benefit of tourists.
The walls were wide enough for three or four chariots to run abreast, not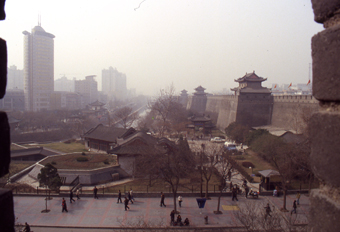 that the Chinese were exactly known for that sort of thing. A huge barracks-cum-tower had been built over the gate, and there was a huge dry moat outside.
A photographer had set up his shop on the wall. For a fee you could dress as the Ch'ing Emperor and have your picture taken on a throne, with the gatehouse in the background. Several gleeful Chinese had taken advantage of this and were capering about in costume and enjoying themselves enormously.
Just below the gate I saw a huge palace, covered with red scrolls and lanterns. It looked like the most authentic thing I'd seen so far, but our guide said it was a new restaurant that hadn't yet opened.
From the Anyuan Gate it was a clear shot down the main north-south artery to the Bell Tower. The tower dates from the 1300s and sits square in the town's intersection, surrounded by a traffic circle with six lanes of whirling traffic (and no traffic lights). Taking our lives in our hands, we crossed to the tower. It was an enormous structure, wood on top of a stone base, with the usual complex Chinese roofbeams.
A replica of the original bell stood outside. You hit it once for good luck, twice for money, a third time for something else. I didn't hit it at all, possibly because it was being monopolized by some Chinese kids and their families
Inside the tower was an exhibit of absolutely wonderful porcelain. I wandered through it with my eyes getting wider and wider.
This ended my tour, in the middle of the afternoon. I asked the guide for a good dumpling restaurant— I still hadn't got the Xi'an dumplings that had been recommended to me— and he pointed one out across the square.
"What should I see now?" I asked.
He asked if I'd seen the mosque, and I had. "You should go shopping!" he said.
I briefly considered heading for the Memorial Museum of the
Eighth Route Army (which was what the Communist forces were
called in the Second World War), but according to my guidebook the exhibits were only in Chinese, so I ended up following the guide's advice and went to the mall.
I didn't buy anything, but I wandered through two huge shopping malls, which are built vertically into the ground, though one extended some ways above ground too. They were full of all kinds of pricy consumer goods, as well as a McDonald's and a Kenny Rogers' Roasters. I considered
stopping at Kenny's for a beer but decided against it.
I began to stroll back to the hotel, found a bookstore, and stopped in. It was full of textbooks, plus lots of children and moms looking for textbooks (the schoolyear in China starts in the spring, I believe). The most popular English textbook was called Crazy English, available in multiple, colorful editions. I didn't check it out to see what was so
crazy about it.
I also bought a Chinese DVD of the Jet Li film Hero on the first day of its release, which I hoped might have English subtitles. It cost me two bucks. (It did in fact have English subtitles, but I had to wander through a Chinese menu to find them.)
I headed back to the hotel to digest my huge lunch, a process that involved downing some gins-and-tonic in the bar.
When I got back to my room I discovered that someone had been in it, and that someone had been smoking. Possibly the workers that had been repairing my heater had returned, or possibly the room was given a toss by the local security services (who really don't have anything better to do, from what I saw).
I watched TV for a bit, and caught a children's show featuring the exploits of the Monkey King. Monkey, Pigsy, and the sour-faced Monk were all done very well. Special effects were primitive but not bad.
After night fell I got a taxi for the center of town and the dumpling place. The cab driver, a young guy, was deeply impressed by my Mandarin. When I told him "Wo shuode buhao," I don't speak well, he gave me an enthusiastic thumbs-up and said "Hunhao! Hunhao!" (very well!), and then talked nonstop for the rest of the ride. I didn't understand a word he said. Every so often he'd point out something and pause for a comment, so I just said "Hunhao."
He dumped me off three blocks early when he saw a fare. I hiked to the dumpling restaurant. Once again the place was the size of an aircraft carrier, and once again I was the only foreign devil in the place. "This is a dumpling restaurant!" the hostess said to me in amazement, and I said
that was just what I wanted.
I had a choice of lamb dumplings or vegetarian dumplings. I asked if I could have both mixed together, and was told yes. With this I had a salad— about the only one I saw in China— and a bottle of Tsingtao, which was disappointing. Here and in HK, Tsingtao is real beer, but on the mainland it's lite beer. Very odd.
A plate of dumplings came, and they were all vegetarian. Oh well, I thought, they must have misunderstood. I ate about half the plate, which was tasty and quite filling, and then the other plate of lamb dumplings came.
Oh my. Overstuffed again.
I managed to eat half of each plate and then headed out for a taste of Xi'an. There were lots of people wandering around, but they didn't seem to going anywhere in particular. Eventually I caught a cab back to the hotel, and channel-flipped through the fourteen or so regional TV channels, many devoted to one particular dialect. I settled for Rupert Murdoch's Star TV English-language channel, and listened to the news. The Iraq thing was looking pretty serious.
I had an early plane, and so went to bed.
2-24
I had another rather heavy Chinese breakfast at the Jianguo hotel, then got a cab to the airport.
I had found Xi'an friendly and welcoming, but the least friendly and welcoming place in the city is the airport, which is of course the first and last thing all tourists see. Despite the big-character banners proclaiming "warm service," the airport is a confusing, heavily bureaucratized, and mildly hostile place.
The cab driver dropped me off at the wrong terminal, which didn't help, so I had a long walk through several parking lots to the right one. Then there were several queues to get through— there was one queue for your exit papers, another for airport tax, another to get your passport
stamped, another to get your boarding card. While paying the airport tax I managed to get my renminbi changed to HK dollars.
Then there was more standing around in the gift shop, which was full of the same stuff as everywhere else, and standing around in the barnlike waiting room, before the doors boomed open and we were allowed to walk across the field toward our Dragon Air flight.
After a pleasant flight I landed in HK and took the Airport Express to Hong Kong Island to meet Erick. He and Kate had moved into a swank hotel for the length of the electronics convention, and to join them I had to take the train that passed under their apartment in Tsim Sha Tsui.
My chief problem was that I had no idea where I was spending the night. I had been staying at the Concourse in Mong Kok, which gave deep discounts if you stayed a week or longer, but I didn't feel like paying full price for the two nights remaining of my trip, and had pretty much exhausted the possibilities of Mong Kok anyway. Erick had promised to
book me into another hotel, but this hadn't actually been done before I left for the mainland, so I had no idea where I was actually staying.
I called Erick on my cellphone, and was told of a more important problem. Kate had fallen very ill of a bronchial complaint, and was in her hotel room very sick and awaiting a visit from a doctor. As SARS— or "bird flu" as it was called at the time— was just beginning its rampage, this was a matter of some concern. Erick was dealing with this
and didn't have a lot of time for lengthy conversations or a lot of explanations. What I gathered, however, was that Erick had got me lodgings, and these lodgings were in their hotel.
Only the first half of this turned out to be true. I got to the island, hauled my bags into a bus, and headed for the hotel. Once there I tried to check in, but discovered that they had no reservation for me, not even one under Erick's name. I stowed my bags with the concierge and made another
call to Erick.
We met outside their hotel room and conversed in hushed tones so as not to disturb Kate, who was trying to rest. What I finally discovered was that my lodgings were in fact back in Kowloon, at the Hong Kong Polytech Visiting Scholars' Residence. I was pleased to be a visiting scholar, but the thought of having to haul my increasingly heavy bag along more public transportation was more than I could bear, and I decided to take a cab.
This turned out to be a mistake. The hotel's magnificently-dressed Sikh doorman (all swank Hong Kong hotels have magnificently-dressed Sikh doormen) found me a cab and explained where I needed to go, but the cab driver was an individualist. It may have been necessary to drive
nearly to Happy Valley before turning around and diving into the auto tunnel that connects Hong Kong with Kowloon, but once in Hung Hom the driver got completely lost, or simply feigned being lost, and ended up having to stop the cab and ask a local truck driver, and I was in a colossally bad temper by the time he found the Scholars' Residence, and I
had to pay him for all that wandering around Hung Hom with the meter running.
The Scholars' Residence was pleasant. It was quiet compared with anywhere else I'd stayed in China. I had a private room, and shared a bath, kitchen, and living room with a couple other visitors. I put on my complimentary bath slippers and took a shower and began questing for companions for a dinner expedition. Erick was unavailable as he was
looking after Kate. I contacted Joe Williams and after various comic misadventures, which weren't particularly funny after the misadventures earlier in the day, we met at the Garlic Factory for supper.
The convention now over, Joe had been joined by his delightful wife Mary, and I was able to introduce them to the delights of garlic pizza and eel grilled on a hot stone (Mary could not bring herself to eat the eel).
Afterwards we wandered into Tsim Sha Tsui and the Temple Street Night Market, a market that only exists after dark. Several long blocks of Temple Street had been filled with kiosks and tables selling, well, just about everything but food and furniture. Jewelry, paintings, CDs, souvenirs, DVDs, jade, clothing. It took us several hours to progress
the few blocks of the market, during which time I got a call from Erik Todd and Anneke, who were atop Mount Victoria and wanted me to join them. It would have been fun if I'd had more energy, hadn't been shuttling between Kowloon and Hong Kong Island half the day anyway, or been in a less interesting place, but I declined and promised to get together with them the next night.
Joe bought some paintings on traditional Chinese topics— and very good ones— from the artist. I bought some shades to replace some I'd lost. (They began to fall apart right away)
Temple Street ends at the Tin Hau Temple, the large and spacious temple set in its lovely park full of banyans. Many fortune tellers had set up their tables there, with their rates posted in English and Chinese. I looked for a
lady I'd seen profiled in the paper, who used magic birds to peck fortunes from a layout on her table, but didn't see her.
A Chinese band was also playing on traditional Chinese instruments, and very expertly. They'd gathered a crowd. We listened for a while, tossed some money in the collection box, and made our way back to our respective lodgings.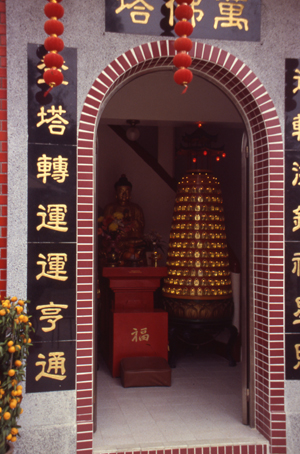 2-25
Kate was still sick in the hotel room (she eventually ended up in the hospital), and Erick had taken the day off to look after her, and Erik Todd was filling in for Erick's classes. I met Joe and Mary for an excellent dim sum breakfast at a seafood restaurant near their hotel. (The waitress insisted we order a vegetable in addition to a wonderful variety of dumplings, and the vegetable of course turned out to be the inevitable Chinese broccoli in hoisin sauce.)
Mary had just had an hour-long foot massage and was sort of floating with this blissed-out smile on her face. They were heading back to the States later that day. Mary might have ended up spending more time in planes and airports than she did in Hong Kong— though presumably she's had the opportunity for many more foot massages since, as Joe ended up being Erick's successor at Hong Kong Polytech.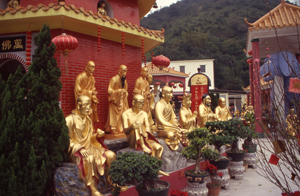 The day's adventures took me on the KCR to Sha Tin, farther up the peninsula. I walked past some rather lovely old apartments, and then up over 500 steep steps, through bamboo and pine groves, to the Temple of Ten Thousand Buddhas Monastery. (There are actually over 12,600 Buddhas on the premises, each one at least slightly different from the
others) The place is full of Buddhas and bodhisattvas, many of them life-sized, and each, like Catholic saints, distinguished by their particular symbol or token. There was the bodhisattva with the long eyebrows, and the bodhisattva who rides the tiger, and the bodhisattva who rides the ass, an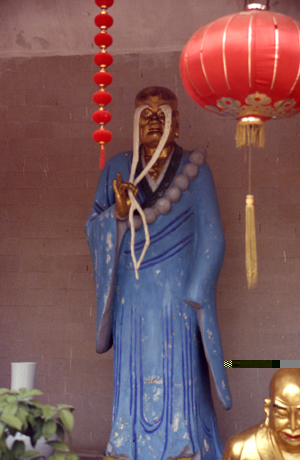 d the bodhisattva who rides the elephant, and the bodhisattva with the really, really long arms, and so on. Some are lined up on the broad patio, or by the rails with lovely views of the surrounding hills, and many
occupy verandas built along the various halls of the temple. There is a seven-story pagoda filled with niches, each of which has a gold Buddha in it, each the size of your fist.
Once again I was in Buddha-land. The centerpiece was the temple itself, which is huge and barnlike, and entirely lined with niches full of little gold Buddhas. There are also large Buddhas, mostly gold, though some are of ivory or bronze or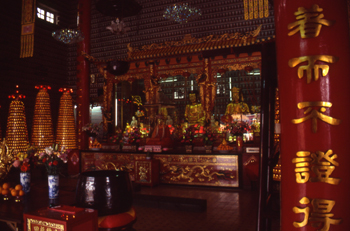 porcelain. In front of the main altar is the corpse of the founder, the Rev. Yuet Kai. When he died in 1965 he was embalmed in a crosslegged posture and then covered with gold leaf. He was a sharp-featured man, judging by his effigy, and has a triumphant smile, which perhaps you would also have if you were due to be covered
in gold leaf when you died.
I descended the mountain, returned to the KCR station, and went one stop farther along to another part of Sha Tin. There, in an ecumenical spirit, I checked out the Che Kung Temple, which was raised to the Song Dynasty general who accompanied the last Song Emperor on his ultimately tragic journey to Hong Kong.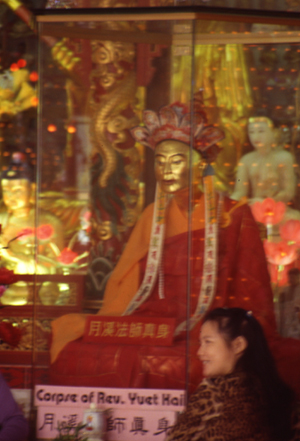 While Che Kung was in the neighborhood he saved Sha Tin from a plague, and so the locals deified him.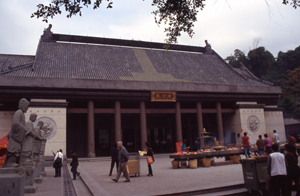 The temple was rebuilt in the 20th century in the more austere Japanese style, and so is one long room rather than divided into three as is traditional in China. (The older, funkier Chinese temple, closed to the public, sits behind the new temple.) A very large statue of Che Kung dominates, with the usual number of subsidiary dieties off to the
sides. There is a sort of hand-cranked prayer wheel which you can clank for luck.
Outside in the pleasant park I drank a soda purchased from a machine I found in one of the side cloisters, read a paper, and rested my weary feet. I enjoyed a bunch of New Year decorations left over from the holiday, huge colorful pinwheels that spun in the breeze.
From thence I retraced my steps to the KCR station and passed through it to a series of tunnels and ramps. There were two more sights in Sha Tin I wanted to see, first the Hong Kong Heritage Museum, which was highly recommended, and then the Tsang Tai Uk (Tsang's Big House), a fortified mansion built in the 19th century. Depending on which version of the story you prefer, Tsang was either a retired pirate who wanted to protect his plunder, or an enterprising fellow who robbed a bunch of pirates of their loot, and in either case had good reason for living in a fort.
Unfortunately that part of Sha Tin was being torn up to build an expressway, and I ended up following a series of detours through tunnels and along ramps. I ended up walking miles out of my way to get to the museum, and when I arrived found that it was closed.
All museums in Hong Kong are closed on Tuesdays. I should have remembered.
I'd passed Tsang's Big House on the way, and so retraced my steps, but in all the detours I got lost and ended up back at the KCR station. I was hot and tired and footsore and hungry, and damned if I was going to go into that maze again. I grumped my way onto the train, returned to Hung
Hom, had a couple red bean buns and a bottle of beer, and felt much better.
There is one other attraction of Sha Tin that I should mention, and that's Snoopy's World, a Charles Schulz-themed amusement park that you enter through Snoopy's doghouse, with Snoopy himself sleeping on top.
That night I joined Erik and Anneke for an excellent Indonesian meal, and which gave Anneke an opportunity to talk Dutch to the Asian waiter. The restaurant was in the neighborhood of the Scots Guards Lady, a demented local resident who pens long, incoherent essays on pillars of the
flyovers in one particular section of Hung Hom. SCOTS GUARDS, they begin, with a drawing of a Scottish flag, CATS KITTENS, and then sort of devolve from there. I was never able to work out whether the Scots Guards were persecuting the cats, or trying to rescue them from unspeakable evil. It was one or the other, though, I'm sure.
We ended the evening in a swank hotel bar off a square in Hung Hom. Kate was feeling better, though only temporarily as it turned out, so Erick was able to join us. We sipped nonalcoholic beverages while chatting and watching the hookers outside in the square. They had no particular
uniform, though they all seemed to chew gum, and they were doing a brisk business among the businessmen returning to Kowloon from the nearby Star Ferry terminal.
I returned to my lodgings and had a chat about the Jet Li film Hero with another Visiting Scholar, this one a Chinese from Indonesia. "The film doesn't say the emperor was a tyrant," he complained (and quite correctly, though he had no idea how to pronounce the word "tyrant," and perhaps the fact is understood by a Chinese audience anyway).
It was my last night in Hong Kong.
2-26
I was scheduled to fly out in the evening, and I needed to get by Erick and Kate's apartment to pick up the laundry and other impedimenta I'd left with them. In the morning I went to the art museum, which has some lovely things but is mostly empty space— I was surprised at how small the collection was. What are all those Hong Kong tycoons for, if not to collect and donate? They'd better get busy.
There was one exhibition titled "Artifacts of an Old Red Army Man," which was interesting and poignant. It was the mementoes, and the rather small number of possessions, of a faithful soldier who fought the Japanese and the Nationalists, married another soldier during the war, and
after the war moved to Shanghai as an officer in the coast guard while raising a large family. One daughter became a prominent Red Guard, and there are pictures of her parents bidding her farewell as she leaves to become one of Mao's True Soldiers. The actual artifacts were more stirring for there being so few of them. There were some uniforms, a
watch, a well-used pair of binoculars, a small electric fan, and some photographs. It's the most you could expect under Mao, I suppose.
I decided to have one bang-up meal before I left, and because of the timing of my flight, which was at dinnertime, I ended up eating in the middle of the afternoon. I decided to go to the place where I'd had dim sum the morning before— it was a seafood restaurant the rest of the time,
and if their fish was up to their dim sum, I figured I'd be happy.
In fact I think I ended up in the wrong restaurant. There were two nearly identical seafood restaurants on adjacent floors of this one building, and I think (but am not sure) that I found myself one floor below where I'd intended to go. But I had a good meal, so I can't complain.
I started with shark fin soup. I'd avoided shark fin soup up to that point, because of the worldwide decline in shark populations due to overfishing for just this delicacy, but I decided I owed it to myself to try it just once. It was quite flavorful, and with the glutinous texture that the Chinese love but that Westerners find odd.
I followed the soup with a dish of scallops cooked in flavorful herbs, and it was quite wonderful. A couple glasses of beer did nothing but improve the meal. I lingered in the restaurant a while and swore many and various oaths to return to Asia as soon as I could.
My waitress had started with the hard face of the professional being polite to the ignorant foreigner, but when I ordered she realized that I really knew something about Chinese food and became quite friendly.
I spent the next couple hours loitering in the science museum next to the Scholars' Residence. It's a hands-on Exploratorium-type museum, interesting for children, less so for grownups, and even less so for grownups who have actually been to the Exploratorium. Eventually I retrieved my luggage from the Scholars' Residence and headed for Erick
and Kate's apartment to pick up my possessions.
Kate was home but still very ill. I left her the bird paintings I'd bought for her in Xi'an, but never got to see her. Erick's nephew Zack was present, and also sick. I was getting paranoid about SARS by this point and before I left went to the bathroom and scrupulously washed my hands.
Once I'd collected my laundry and other stuff I crammed them into my bags, then carried them down to the Airport Express station below Erick's apartment, where I could check my bags for LAX without having to haul them on the train myself.
Once there, an emergency threatened. My flight to Taipei had been delayed, and would arrive after my LAX connection had already left. My only hope of making the connection was to leave NOW and get on an earlier flight for Taipei.
This meant I couldn't say goodbye to everyone as I'd hoped. Erick had to run up to his apartment and get my check-on bags while I got seats and boarding passes for my new flight. We met at the gate, had time for a farewell hug, and I made a dash for the train. Once at the airport I ran
for the plane, and got there about three seconds before it pulled away from the boarding gate.
Thus my final memories of Hong Kong ended up being of hassle, haste, and anxiety, rather than grateful farewells to the people who'd been so kind to me during my visit.
In the time since, memories of the hassle and anxiety have faded, but the gratitude remains. I had a wonderful journey, and I want to go back.
And soon shall, I hope.