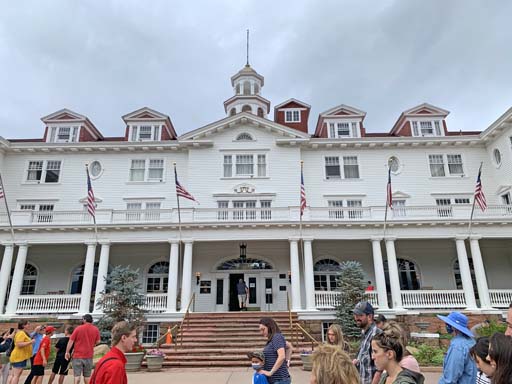 So a few years ago we booked a hotel online in Rennes. Though this wasn't obvious from the online site, the hotel was brand-new, and sat in a half-completed industrial park just outside the city proper. The street it was on was so new that it wasn't to be found on any map. We had a devil of a time just finding the place.
When we arrived, we drove into the underground parking garage and parked. There were no other cars in the garage. We walked through the cold echoing garage to the elevator, checked in, and went to our room. We saw no other guests. The bar hadn't opened, nor had the restaurant. The exercise/pool area was closed. Next morning we went to the substantial breakfast buffet, enough food to fill 100 people, and we were the only guests.
At one point I leaned over to Kathy and said, "If this were a horror movie, we'd be the first to die."
This memory surfaced when we toured the Stanley Hotel in Estes Park a couple weeks ago. Over forty years ago Stephen King and his family were stranded in Estes Park by a blizzard and ended up staying at the Stanley, which had already closed for the winter. They ate alone in the dining room, and King drank alone in the bar, and drank for free because the billing machine had been shut down. The bartender was named Grady. Later that night King, staying in room 217, had a nightmare in which his son was chased through the corridors by a fire hose. Mulling on this, he produced The Shining in four months and the book became a bestseller. It featured a bartender named Grady and goings-on in Room 217.
It has to be admitted that King made better use of his time in the spooky hotel than I did.
The hotel was built by FO Stanley in 1907. FO was the twin brother of FE, both entrepreneurs and inventors, who had sold their dry-plate photography process to Kodak and became among the richest millionaires in the county. They also owned the motorcar company that produced the Stanley Steamer. As money was no object, the property featured a full-size concert hall, music room, basement theater, billiard room, and an entire second hotel 2/3 the size of the main building, known as the Lodge. There was a whole system of tunnels underneath the hotel for servants to move around unseen, now mostly blocked up.
The hotel is supposed to be haunted, but no ghosts walked while I was present.
I thought about getting a room for the night, so I could say I'd been, but none were available, so I had to find a non-haunted hotel somewhere else.