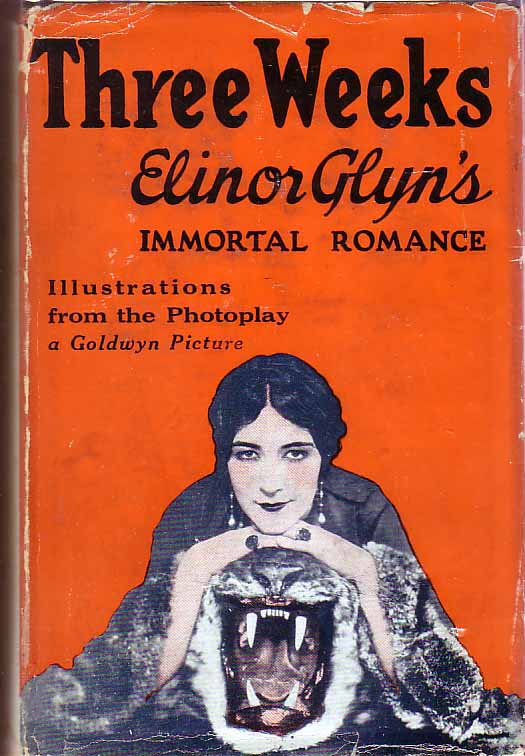 I stumbled across a review of Hilary G. Hallett's Inventing the It Girl, a biography of the potboiler novelist Elinor Glyn, who is credited with inventing the form and style of the Hot Romance in the early 20th century. You'd likely recognize the image of a person in a sleek gown of silk velvet, languidly playing with a long strand of pearls around her neck (and possibly clutching a rose between her teeth), as an early icon of sexually-emancipated modern womanhood. Who among us can't identify strewn rose petals, piles of silk pillows, a tiger skin by the fire, and slinky lingerie as the trappings of a classic seduction scene?
More on the tiger later.
I've been interested in Glyn for a while, as I would be in any wildly successful author who successfully re-invented the form. Glyn was born in Jersey— the one in the English Channel— as a daughter of the upper middle classes, and married in 1892. Her husband wasn't exactly an aristocrat, but had access to the upper classes, who were in their Proud Tower heyday. An aristocrat— one with money, anyway— was pretty much allowed to do anything, provided it wasn't done in the street and frightened the horses. Glyn was at home in this milieu. She found her husband disappointing and had affaires.
By 1908 her husband was also bankrupt, and Glyn was forced to turn to her pen in order to support herself and her daughters. She'd written novels previously, but apparently more as a hobby. Now she produced Three Weeks, which became a scandalous success and sold millions of copies.
It was about a middle-aged royal who finds herself disappointed in her husband and who takes a three-week vacation in order to tutor a younger man in the arts of love, complete with all the appropriate props, the rose petals and pearls, etc. The book includes a famous scene in which the heroine rubs one out on top of a stuffed tiger. The book was such a success that it got Glyn invited to the Russian court.
It also immortalized her with a piece of doggerel, supposedly written by Bernard Shaw.
Would you like to sin
With Elinor Glyn
On a Tiger Skin?
Or would you prefer
To err
With Her
On some other fur?
More importantly it and her subsequent work (Saint or Satyr? When His Hour Came, The Man and the Moment, etc.) got her invited to Hollywood in 1920, where she found herself employed to teach movie people how to be stylish and sexy, preferably at the same time. Glyn's upper-class accent, cosmopolitan savoir-faire, and impeccable style positioned her to be the glamorous grande dame capable of teaching her often uncouth, very young co-workers how to concoct sexy stories that made audiences swoon the world over, without getting the moral reformers too worked up.
Glyn's earliest proteges included glamour queen [Gloria] Swanson, "It Girl" Clara Bow (Glyn's tag), the great "Latin Lover" (as the press called him) Rudolph Valentino, and John Gilbert, who Glyn dubbed the "Black Stallion," much to his chagrin. (All of these stars feature as characters in Damien Chazelle's film Babylon, forthcoming in December, starring Margot Robbie, Brad Pitt, and Jean Smart as Elinor Glyn.)
Glyn was fifty-six years old when she arrived in Hollywood and pretty well conquered the place. She wrote film scripts (at that time called "scenarios"), directed a couple of films, and made sure all the props were in place to make the sex scenes glamorous and sophisticated. The tiger skin got a real workout.
By the 1920s, "if a director wanted to show that one of the characters in his film was leading a racy life, all he had to do was show her holding a copy of Three Weeks in her lap…just holding the book was enough to tag her as independent and modern," a silent-era film archivist observed, explaining why Ohio censored a Disney cartoon in 1930 for showing Clara Bell, the cow, in a field reading Glyn's "bad book."
Glyn was also on William Randolph Hearst's yacht on the infamous occasion in which Hearst, aiming at Charlie Chaplin, allegedly shot and killed producer Thomas Ince. (The story seems not to be remotely true, but it made a successful Peter Bogdanovich film, The Cat's Meow, with Joanna Lumley as Glyn.)
In the 1920s Hollywood needed someone like Glyn to supervise and validate their product. Now it's Hollywood that does the validation— you're nobody unless Hollywood needs you, or at least turns you into a running gag on the Tonight Show.
I'm not sure that the modern writers who use the tropes that Glyn pioneered could match her in sophistication. They mention a lot of brand names, but no matter how many Louboutins you give to your heroine, it's not going to get you invited to the Russian court, is it?
I see that I can get 18 Elinor Glyn novels for 99 cents on Amazon, but I'm not sure they're exactly my thing. The biography sounds like a lot of fun, though.