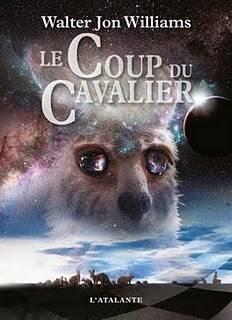 My 1985 novel Knight Moves, translated into French as Le Coup du Cavalier, is now available for your reading plaisir.
It's also gathered an extremely flattering review, which (insofar as I can understand it at all) seems to suggest that the novel possessed the literary qualities of Robert Silverberg mingled with the dose d'humour of Iain Banks.  I am not in a position to disagree.
The review also states that Hardwired is a foundation stone of the edifice of cyberpunk, which is pretty damned nice of them.
2011 is looking better and better.
Now if only someone would explain to me why there are glittery bunnies on the cover . . .