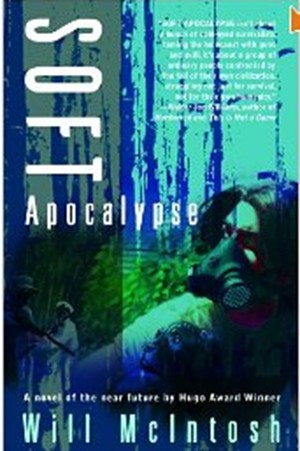 My sometime student Will McIntosh (Taos Toolbox 2008) has published his first novel, and it's a very fine work indeed.
Soft Apocalypse— the very title of which introduces a useful idea into science fiction— is what happens when your civilization starts to crumble and then just keeps on crumbling.  There's no bang, there's no war, there's no great dramatic moment when the cities burn, there are no armies of zombies, there's just a slow and steady erosion of everything that makes your society work.
The military can't help, because there's no one to fight.  The politicians can't help, because what's happening isn't political.   Ordinary people can't help, because what's happening isn't ordinary.
What ordinary people can do is try to hang onto their humanity as long as they can.  And that's what this book is about.
You all should read it.  This is a catastrophe that's anything but cozy.
And— if I may interrupt this commercial interruption for another commercial interruption— I should point out that this year's Taos Toolbox still has a few places left.  So if you want a two-week experience in the New Mexico mountains in which you will obsess over writing fiction to a dangerous degree amid scenes of natural splendor— the very same experience which Will McIntosh, the newly-published writer had a few years back, you might just consider applying for this year.  Cuz you never know what insight may put you over the top, and it might even be one of mine.