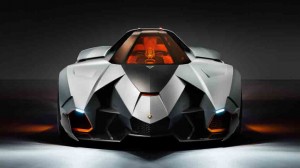 This is the new Lamborghini.  It's called the Egoista, which means just about what you think it does.  it's got a 5.2 liter V10, lots of carbon fiber, and room for only one person.   (I'm guessing, from the appearance of the vehicle, that it's intended for the Dark Lord himself.)
The driver compartment is detachable.  Like an ejection seat.  Just in case, y'know, you need to leave the vehicle for some reason, like maybe James Bond has got a bead on you with his rocket launcher.
I'd really like one.  Just so I could get all egoista on y'all's asses.  Don't ask me for a ride, because there's nowhere to put a passenger!  Mwa-ha-ha-ha-ha! Dark Lords only on this trip!  Prepare the missile pods!
Elsewhere in the world of motoring, Rolls Royce is sponsoring the Bloodhound Project's attempt to break the land speed record by going 1000 miles per hour— with, of course, a Rolls Royce Eurojet EJ2000 jet engine (plus a pack of solid-fuel rockets).  Bloodhound's design will be supervised by engineer Richard Noble, and the car will be driven by RAF Commander Andy Green.  (The two of them already hold the land-speed record, having built and driven the world's first supersonic land vehicle.)
It has to be said that I feel no urge to drive a Bloodhound myself.  Solid-fuel rockets just have this sense of finality to them.  You can't shut them off.
Plus, I'm not too sure about the design.  It looks as if the jet will inevitably suck the driver's head into the intake.
Still.  Who says there's no more adventure in the world?