Two bit of good news arrived on the same day!  First, a review of Fleet Elements from Booklist.
Fleet Elements.
By Walter Jon Williams
Dec. 2020. 512p. Harper Voyager, paper, $16.99 (9780062467041); e-book (9780062467065)
This follow-up to The Accidental War (2018) fulfills the promise of the first book, which seemed to be more about opera than space, by delivering two exciting fleet battles. Terrans have been declared outlaws by the Convocation of the Praxis and are gathering their battered forces at Harzapid. Gareth Martinez leads a rescue mission to gather up a fleet being chased by the Praxis. Lady Sula, meanwhile, is on Harzapid, overseeing the restoration of ships to fighting fitness and dealing with saboteurs. Once they have mustered what ships they can, they are still outnumbered by more than two-to-one when Praxis forces approach. Martinez, with Sula as his tactical officer, is counting on Lord Tork, Supreme Commander of the Fleet, to follow his arrogant, outmoded tactics. The opera elements are as tight as the fleet elements, making readers care about those inside the starships desperately evading missiles and proton blasts. A satisfying setup for the final showdown at Zanshaa promised in the next book.
—Don Vicha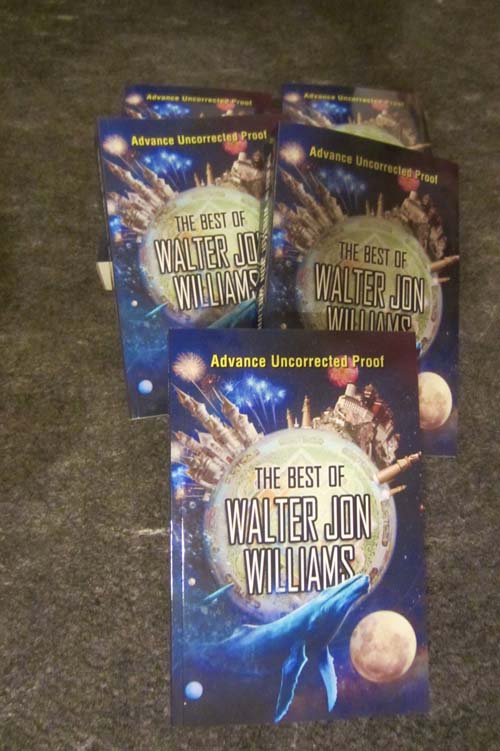 And second, a starred PW review of the Best Of collection.
Best-known for space operas, Williams (Fleet Elements) showcases his versatility in this impressive collection of 12 stories, whose wide-ranging subjects include a superhero-supervillain battle in the Old West ("The Golden Age") and a moving account of a child who learns that his world isn't want he believed it to be ("Daddy's World"). In perhaps the most ambitious and memorable entry, "The Green Leopard Plague," Williams concocts a gripping plot involving an ape turned mermaid, a mystery surrounding an influential academic, copyright police, Sovietism after the fall of the Soviet Union, and ethnic cleansing. Fans of Williams's Praxis series will also welcome "Margaux," a taut prequel that provides the complex backstory of a major character in those books, and which maintains suspense even for those who already know how it will end. Across every entry, Williams displays his superior prose, an ability to craft well-rounded worlds, and a facility for creating engagement and empathy in readers, whether for a recognizable human character or an alien intelligence. This stellar volume should grow Williams's devoted fan base. (Feb.)
Am I really best known for space opera? Who knew?