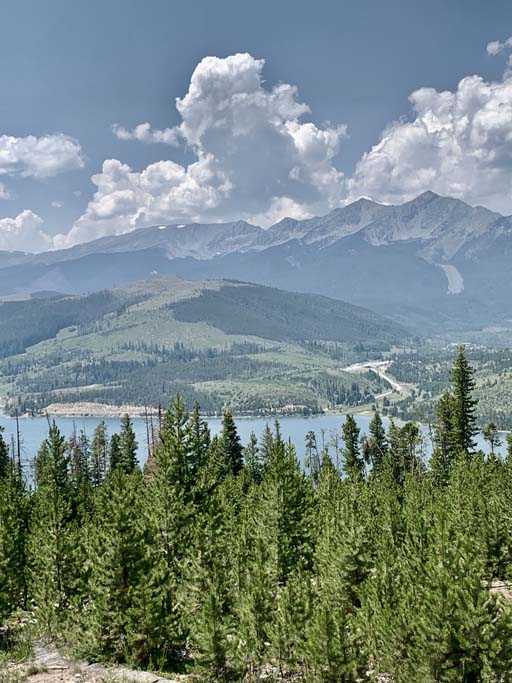 Our week-long trip to Colorado is over, and now that I'm back, I can't help but feel this vacation was a little too much work. The plan of driving somewhere new (nearly) every day was too busy. We should have chosen a base or two and stayed there for a few days at a time.
Which isn't to say there wasn't plenty of spectacular scenery to enjoy. Here's a grandiose view of Dillon impoundment with mountains and clouds in the background. This was taken with my iPhone, because though I took a proper camera it broke first thing— so what you see here has less depth of field as you'd see in a real camera, so it looks a little post-cardy..
You see this kind of scenery everywhere in central Colorado, enough so that you're tempted to become a little jaded.
To give an idea of how much up-and-down we enjoyed, we crossed over Wolf Creek Pass (10,550 ft.), Poncha Pass (9,010), Hoosier Pass (11,541), Rabbit Ears Pass (9,426), Milner Pass (10,758), plus of course the (mostly rugged) country between. I don't believe I've ever encountered so many runaway truck escape ramps in a single 24-hour period.
We walked across the Royal Gorge Suspension Bridge, which is the highest in the world and stands 1000 feet over the river below. In Rocky Mountain National Park, I was driving along very carefully with a deadly precipice to my left, only to look across to discover another deadly precipice on the right. Even balancing on the razor's edge, the all-wheel-drive WRX performed magnificently, though at the higher altitudes it lost a bit of vim, even with the turbocharger whining away.
I do not recommend that acrophobes follow in our footsteps.
Of course our trip was considerably less heroic in a WRX than in a Conestoga wagon, but then we got to sleep in a bed every night, often in an air-conditioned room. (Not all were air-conditioned, because of low temperature at altitude, but they all needed air con.) The last two days the rain pelted down, the mountain roads were slippery, and the WRX never faltered.
I'm glad to be back in the thick air again, home at 5200 feet.