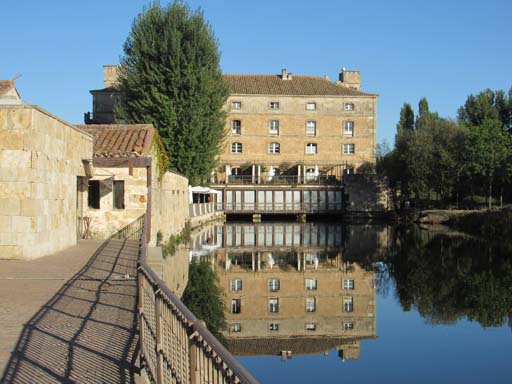 We spent one night in the Hacienda Zorita outside Salamanca, a former monastery now converted to a hotel, vineyard, and farm. The hospitality included a tasting of Zorita's own wines, followed by a supper of chicken and veg grown on the property. The breakfast the next morning was phenomenal: organic eggs, bacon and ham from the farm's own stock, cream from the cows, bread from grain grown locally.
Back in the 15th Century, the monastery was where Christopher Columbus hung out waiting for royal permission to sail, which was duly delivered.
It's interesting how present Columbus is in contemporary Spain, far more than he is in the States. We seem to meet him everywhere: his point of embarkation, his tomb, his many statues. Columbus Day is a national holiday. The controversy that has embroiled him in the US does not seem to have reached this far.
Spanish history is so sanguine that it's hard to find any political figure without blood on his hands. Philip II is celebrated for establishing Madrid as the capital and for his building and administrative projects, not for the number of heretics he burned and slaughtered in the Low Countries, or the number of Africans enslaved. The Catholic Kings, Ferdinand and Isabel, are famous for reuniting the country, not for expelling 30,000 Jews or unleashing Torquemada on the population. Columbus is celebrated for some things, not for others.
You have to pick your heroes carefully.