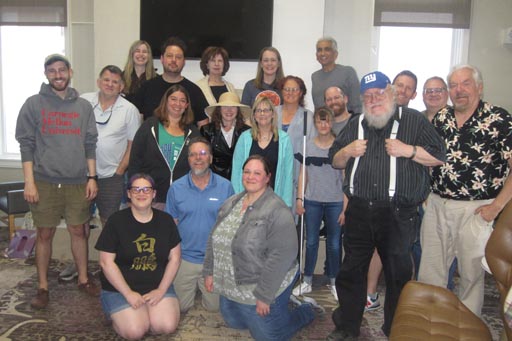 I've spent the last week at our new, undisclosed location, teaching with Nancy Kress at Taos Toolbox, the master class for writers of science fiction and fantasy. This year is actually the workshop for 2020, 2021, and 2022, due to repeated postponements due to the pandemic. Kudos to those accepted for earlier years who hung in there and worked hard during the interim, because their first week's submissions were all superior to their application stories.
Here we are with guest speaker George RR Martin, who very kindly interrupted his busy schedule to give us a two-hour talk, and who then shared his time at a barbecue dinner and afterwards.
Other than reporting that our 17 cadets are working hard and improving day by day, there's not a lot to report, so I'm going to steal from Nancy's collection of amusing comments drawn from our critiques. They're completely out of context, but that's part of the fun.
"I didn't believe that a prisoner would be worried about using the politically correct term for her captor."
"What is 'low-quality blood'?"
"I'm really bothered by those deeply padded chairs."
"Be semi-visceral."
"Consider adding a conspiracy by the silver lobby."
"Setting his father's study on fire should get a bigger reaction from the father than, 'Oh, let's go walk in the garden.'
"You need more danger."
"You need more clarity."
"You need more horses."
"Druids and Romans were not friends."
"I like that they go into extreme danger for ice cream."
"He's sort of like an evil being from ANIMAL HOUSE."
"I got a lot of pleasure out of feeling that the profit millionaires are all unhappy."
"If there were a kid in my garage building an atomic bomb, I might say, 'You know what? Let me just help you with that.'"
"I knew from the first cough that this is a dying-Victorian-child story."
"The grandmother is a hard-ass and I want to see more of her."
"I like the psychic distance from the characters; I spend most of my life disassociating."
"Does she have mice in her hair? She IS a god."
"I was genuinely scared of the forest."
"A trained warrior wouldn't talk so much while trying to escape."
"Your character is a Mr. Bingley, and you need a Mr. Darcy."
"It was brilliant but I wish I could understand it."
"This is a light-hearted read about the genocide of whole planets."
It reminded me of watching French anime while smoking."'
"I wish the alien had been weirder."
"I wanted to be dragged in more."
"The sentient combine was my favorite character."
"There is too much eyebrow action."
"I like that this is a post-apocalyptic story with NO zombies."
"A woman waking up in bed, at least alone, is not a grabber of an opening."
"I liked the characters and then you killed them. That was good."
"How did they build such a giant wall in so few years? I lived in Boston during the Big Dig!"
"I liked that she is old enough to not give a f***."
"The plot needs to thicken."