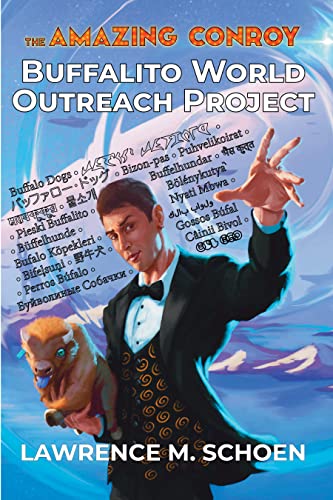 Lawrence M. Schoen has published widely, has won both the Hugo and Campbell Awards, and speaks fluent Klingon. He's also a veteran of Taos Toolbox, the master class for writers of fantasy and science fiction.
His latest publication in 2022 is based on a singular idea. His popular "Buffalito" series about far-future stage hypnotist the Amazon Conroy and his oxygen-farting pet, Reggie, began with the story "Buffalo Dogs," which has been translated and published around the world. Buffalito World Outreach Project reprints that original story— in thirty different languages.
I have to say, this will wildly increase your chances of finding a version of the story you can read.
But why engage in such a project. In Lawrence's words, Maybe, just maybe, the power of the buffalitos will bring us all together and we'll begin treating one another better. Hey, we might even resolve climate change, inspired by the power of alien farts.
Why the hell not? Let us breathe those lovely farts together, friends.
And, just in case you've forgotten, the submission period for the Taos Toolbox of 2023 will begin on January 1. Step right up and submit!