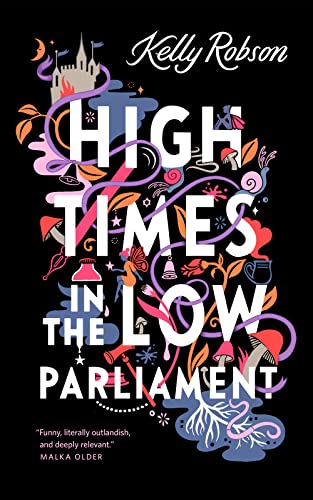 I'm continuing my survey of 2022 works by veterans of Taos Toolbox, the master class for writers of science fiction and fantasy.
Kelly Robson was at the very first Toolbox in 2006, and since then has carved a career for herself, filled with nominations for Hugos, Nebulas, Campbells, and Auroras. She writes like no one else, and is therefore irreplaceable. Her new book High Times in the Low Parliament, was described by Library Journal as "A satirical send-up of politicians and bureaucrats wrapped in a story of queer love and female friendship, sprinkled with fairy dust . . . "
Award-winning author Kelly Robson returns with High Times in the Low Parliament, a lighthearted romp through an 18th-century London featuring flirtatious scribes, irritable fairies, and the dangers of Parliament.

Lana Baker is Aldgate's finest scribe, with a sharp pen and an even sharper wit. Gregarious, charming, and ever so eager to please, she agrees to deliver a message for another lovely scribe in exchange for kisses and ends up getting sent to Low Parliament by a temperamental fairy as a result.

As Lana transcribes the endless circular arguments of Parliament, the debates grow tenser and more desperate. Due to long-standing tradition, a hung vote will cause Parliament to flood and a return to endless war. Lana must rely on an unlikely pair of comrades—Bugbite, the curmudgeonly fairy, and Eloquentia, the bewitching human deputy—to save humanity (and maybe even woo one or two lucky ladies), come hell or high water.
This sounds like a lot of fun. And reviewers seem to agree:
"[A] cheeky lesbian stoner fantasy . . . This is gallows humor with a light touch."—The New York Times Book Review
"Witty, warmhearted, frequently gorgeous, and an awful lot of fun."―NPR

"High Times is funny, literally outlandish, and deeply relevant. A dazzling world, a terrifying predicament, and a lot of hallucinogenic drugs combine in an unlikely, engaging tale of friendship, wit, heroism, and romance."―Malka Older

"Hilarious, and at times hallucinogenic, Kelly Robson's High Times in Low Parliament lives up to its title. This book could flirt the knickers off a nun―or a politician―or a wicked fairy―then swagger back to snuggle us before our pillows grew cold."―C.S.E. Cooney