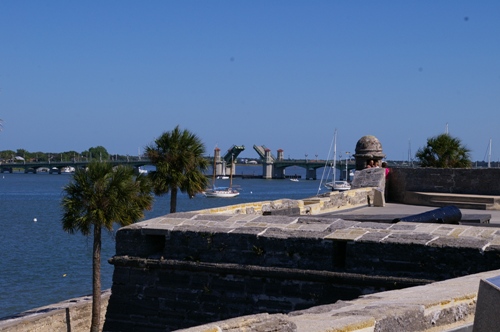 We are spending the weekend in St. Augustine, the USA's oldest European settlement.  (As a resident of the state with Acoma in it, I am resolutely unimpressed.)
We arrived in late afternoon, and then had to deal at length with a mixup in reservations (not our fault), so all I've seen so far is the fort, which as a European star fort is rather rare on this continent.  (Ticonderoga's still there.  Any others left standing?)
Dinner was at a local hangout called the Conch.  Tiki bar, Hawaiian band, all cues for the wrong coast, but the food was good and the margaritas potent.
I had the conch fritters and the item that you find on every decent seafood joint: the Big Heap o' Fried Things Platter.  Fried shrimp, fried oysters, fried stuffed crab, fried wahoo.  All enough to send me rolling home.
The beach is lovely, very fine white sand.  I hurled myself into the surf with vigor, enjoying the clash with rollers coming in all the way from Africa.  The water is cool enough to be bracing, not so cold I wanted to flee immediately into a hot bath.
No definite word yet on the shuttle launch.  Still in freefall.