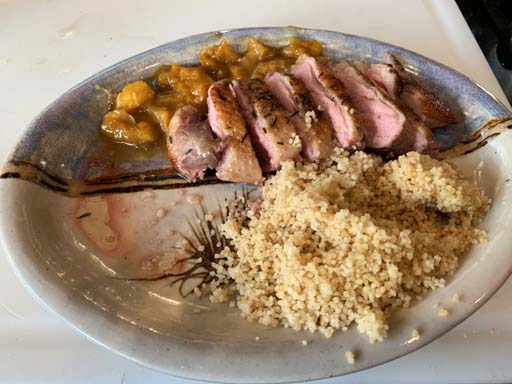 I found some duck breasts at the market, and it occurred to me that I liked duck breast but had never cooked one, and that this could serve as the seed for another fine culinary adventure.
The label assured me that the duck breasts were antibiotic-free and had been raised vegetarian (which isn't the case at all with ducks in the wild, who enjoy chowing down on a nice frog now and again).
So I looked up recipes online, and they were all basically in agreement, so I picked one, cooked the breasts sous vide for a couple hours, then seared the skin on the stove top till it was crackling, and served it with a sauce of apricots and oranges, couscous, and fresh sweet corn from the farmers' market.
And the results were, well . . . okay. The corn was very good, the couscous was couscous, the sauce was a sauce. The duck skin was crispy, the breast was medium-rare, and the taste . . . well, it just didn't taste like I expect a good duck breast to taste. The taste was a little muddy and altogether boring.
So sometimes the magic just doesn't work. Since everything but the taste worked out I'm inclined to blame the duck breast. It wasn't raised right, or just had bad taste genetics, or something. Clearly more experimentation is required.
Maybe it just needed more frogs in its diet.