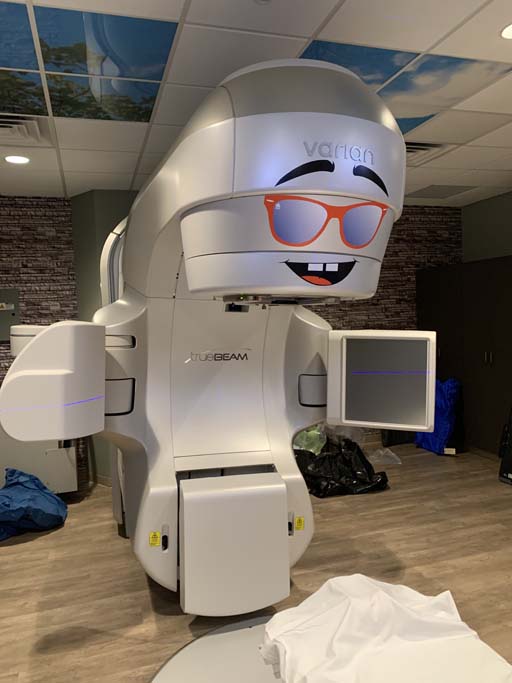 Here's the machine I visit most mornings to get zapped with x-rays. (I've had nine treatments so far, seventeen to go.) I lie on the gurney-thingie in the lower right, and am rolled more less into the middle of the array, after which I am orbited by scanners and projectors and some things which I haven't worked out yet. (Most of them aren't visible in this photo.) The procedure is short, painless, and rather dull. After which I usually have lunch in a local restaurant, then make the hour-long drive home.
Mr. Zappy looks rather jocular for a thing whose job is to irradiate my innards. I think he may have tried out for the job of emoji, but didn't make the cut. Nevertheless I have developed an affection for the critter, since he's the only amusing thing in the joint.
Spending time in the arms of a grinning android inclines me to meditation, and what with the Thanksgiving holiday growing nigh, I've been calling to mind the things for which I'm grateful, and there turns out to be a lot. Including, odd as it may seem, my health.
But mostly I'm thankful for my friends. Seeing so many at WFC, after the pause of years, was a boost. So was the Ten-Day Birthday Carouse. So was hearing from so many friends on social media.
We'll be spending the holiday with friends to help us eat the sacrificial turkey, and I hope you will as well. I've just finished making the Heart-Attack Stuffing, so that when we go, we can all go together.
Have a great weekend!
{ 3 comments }